Liva- The awesome package!
Look and Style : Great looks and while interior plastics may be a bone of contention for many trust me it looks not so bad and it boils down to your preferences. For example the new Swift is horribe for the people at the back bench because the rear window is really tiny. You feel like you are in a jail! Comfort : Very comfortable. There is lot of chatter of external noise coming inside the cabin etc etc all is a complete untrue pic. I drove the Liva twice and o two diff days the last being yesterday. It is as good as any other car. Infact as far as space is concerned I must put this on record that Liva is the ONLY car in India which welcomes the fifth passenger lovingly. We sat in all brands including i10,i20,punto and of course swift. Nothing I repeat nothing comes even a distant second as far as space is concerned to the Liva Pickup- Believe it or not when I took a Test Drive of the pertol model (G) there were 7 people in all and the car was still willing to play ball and did not feel sluggish once it got going. And believe me we all come from a well endowed background...physically that is :-) Mileage : While I only took a TD hence cannot comment on this much. But irrespective of the claim all petrol engines nowadays deliver an efficiency of 11-13 kmpl in city and the Liva should be no different. Best Features : I think space at the back because the floor is very very flat is the best feature. Plus the company provides two speakers and two tweeters as a factory fitting in G model hence you have to just buy the system and not the speakers. The steering is feather touch and moving around in the city is really a song! Needs to improve : Three things probably...one is the dashboard more in terms of its look second the outside door handles..can be replaced with more contemporary ones and lastly a light in the middle of the cabin will be a welcome addition. Despite this thr Liva makes for a great package and should definetly be on the shopping list for every practical car buyer Overall Experience : Absolutely wonderful. A highly underrated car! Give it a try
Write your Comment on Toyota Etios Liva 2014-2016
1
a
abhirupa sengupta
Apr 22, 2012 8:26:09 AM
Hi Vimal, Currently I am planning to buy my first car and I choosed Liva.. but still cofused..will it be good choice?please make it clear about the cabin noise and poor plastics.
Reply
1
v
vimal pant
Nov 22, 2011 5:27:52 PM
I own a Liva since july and believe me i m impressed. Its a trouble free car with acres of space. What else do u want in a hatch for middle class? Its comfortable, spacious n economical to run... Looks great specially from the rear.. There might be issues with plastic, absence of door gaskets etc but the pros far outweigh the cons... i have the V version and ABS, EBD, music system, 15 inch alloy wheels make it a rewarding experience. Even auto experts have rated it next only to swift which i think is a gud car too but is cramped at the rear and the boot.. To top it Liva has the toyota badge which i think does come with quality assurance.
Reply
2
s
sreekys
Nov 22, 2011 11:50:18 PM
Vimal, Just couple of points I wanted to clarify..1 there are some reviews which say that car body is permeable to insects and lizards etc Also during rains some water comes in...are these all true? Being a real user for the last many months am sure you can throw some light on this. Second point is wrt fuel efficiency you are getting..these two issues answered will give a lot of clarity to potential buyers. Cheers :-)
Reply
3
v
vimal pant
Nov 23, 2011 9:07:49 PM
hi sreekys, the first point you raised relates to the absence of door gaskets on etios. It does lead to some dust on the panels which has to be cleaned. However, insects n lizards entering inside is exaggeration. There is absolutely no water sippage during rains. I drove the car during monsoon and there were no such issues. Cmon toyota engineers are not fools to not subject the body shell to a water test. Also when i asked toyota about the gaskets, they asked me to contact the dealer so may be even they can be placed later. As far as mileage is concerned i am getting mileage of 15 after first service (1000 km). There are no maintenance costs till 10,000km. The moot point is none of the hatch is without any issues so we have to see it relatively. Swift n Liva are the best hatches around. Swift is for the driving enthusiast while Liva is for the family comfort. So check out by test driving n then decide. I chose Liva coz i wanted space and comfort which is best in Liva by a wide margin. Our cities as well as highways are not in a state to go gung ho and so in that chaotic traffic space and comfort does turn out to be the biggest virtue.
Reply
Toyota Etios Liva 2014-2016 User Reviews
Chance to win

iPhone 7 &

vouchers - T&C
*
Rate & Review
All (6)
Mileage (6)
Performance (1)
Looks (5)
Comfort (5)
Engine (5)
Interior (5)
Power (1)
More ...
Look and Style Eye catching impressive  good look. Colour and painting is classy. frontal, rear and total design and  appearance of LIVA is simply beautiful. The frontal ...Read More

Well the Etios family is dominant in the market as taxis and 2nd vehicles, all the models have almost same features except the dimensions. Liva is a good car. I have com...Read More

Look and Style : Great looks and while interior plastics may be a bone of contention for many trust me it looks not so bad and it boils down to your preferences. For exam...Read More

We bought our car in August 2014 and we have done travel of 13k km till now. We go to our home town, which is around 750 km from Indore. We visit there twice in a year. I...Read More

Look and Style I bought a liva G (petrol) in dec 2011 n have driven around 10500 kms till now. Since i'm pretty satisfied with my car, i thought i'll share it here. i'm h...Read More

Look and Style I was looking for a good looking fuel efficient car at an affordable price and finally I have settled down with the new Toyota Etios Liva. Toyota Etios Liv...Read More

View All Etios Liva 2014-2016 Reviews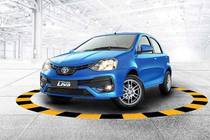 This car model has expired