Pathetic Sales Service
Pathetic Sales Service
I made the mistake of opting for a Renault Fluence (over it's more established competitors like Toyota Corolla Altis and Hyundai Elantra), and would strongly advise all of you considering buying Renault products to think twice before you go to their showroom. Their products seem to be selling 'despite their sales team' not because of the sales team! 1st date promised for car delivery: March 19, 2013 - At the last moment they backed out saying that they have only received a booking order from the leasing company and have raised the Invoice, but don't have a delivery order. 2nd date promised for car delivery: March 26, 2013 - Dealer backed out again on the morning of March 26th saying he only had delivery order, but the final payment was still being processed. 3rd date promised for car delivery: No more promises! Am seriously considering asking my leasing company to stop the payment and opt for a more established brand like Toyota.
Write your Comment on Renault Fluence
1
m
murali
May 27, 2013 1:47:39 PM
I thought this happened only to me, I had a very similar experience when i booked my renault scala. The dealers here are TVS company(Kerala). They just dont care for the customers. Hopeless people
Reply
2
v
vinod kumar
Jun 14, 2013 4:43:24 PM
How is the engine............is there a heating problem with this car?,..........n how is the mileage?
Reply
3
M
murali
Jun 15, 2013 9:34:05 AM
Engine is fine and the mileage superb-gives me 21 km/l with AC in city limits. The vehicle is a fantastic one,Good space,driving comfort,safety features.ONLY PROBLEM ARE THE DEALERS
Reply
4
a
ashok
Jun 15, 2013 7:02:18 PM
my renault fluence is giving only 12.9 KM mileage, can you advice what to do ?
5
J
jaison
Jul 2, 2013 6:41:39 PM
I am planing to buy new E4 D. Any suggestion big brothers?
2
S
sajin
Nov 28, 2013 2:49:56 PM
I am a renault fluence E4 customer. I am satisfied by the product and the brand that i had chosen. I purchased it from TVM outlet. But after sales service is really pathetic and i felt why these guys are getting paid by the company. when i gave my car for service after 2 months it was in proper condition and no issues were there. They had done a water service and used oiled clothes to clean the glasses and while installing the back camera they broke the net clip in boot and didn't even inform me or replaced it. I called the service and complained abt this and they didn't take any action on this.
Reply
3
s
sumesh
Nov 11, 2015 7:12:28 AM
Bro how is the after sale nd service renault trivandrum. R u satisfied..
Reply
1
J
jas
May 26, 2013 4:55:49 PM
Correction in the review: Read the month of car delivery as May instead of March.
Reply
2
k
kkkanji
Jan 16, 2015 5:38:11 PM
Their maintenance cost also too high. They tell something during purchase and even the chart given in the CARDEKHO also wrong. Minimum charges arround 16000 evry 10000 km so maintenance charges minimum 1.5 per kilomete
Reply
Renault Fluence User Reviews
All (2)
Comfort (1)
Engine (1)
Price (1)
Seat (1)
AC (1)
Cabin (1)
Dealer (1)
More ...
Overall Experience After a lot of research on D segment cars, I have finally zeroed in Elantra and Fluence, as both were coming with the same price tag for the high-end v...Read More

I made the mistake of opting for a Renault Fluence (over it's more established competitors like Toyota Corolla Altis and Hyundai Elantra), and would strongly advise all o...Read More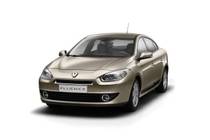 Rs.14.72 Lakh - 16.30 Lakh*
This car model has expired