Stick Slicker- BMW 5 Series review
Published On Jan 25, 2014 By Prithvi for BMW 5 Series 2017-2021
One of BMW's recent introductions to the Indian market has created quite a stir, not just simply due to it looks but also due to the performance that it provides on road. Is the 530d the ideal city slicker is something that we are just about to find out in our outing in this premium saloon.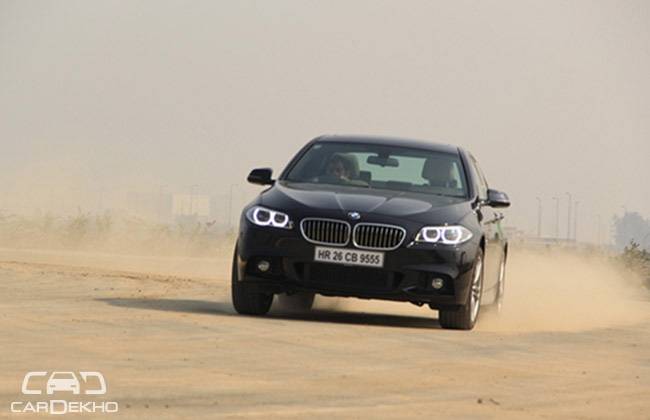 Into its 6th generation, the latest generation is more of an upgrade rather than a new product put altogether. Therefore, what one does see is an enhanced front and rear end with a couple of subtle changes being given to its side profile. However, having said that, the biggest plus point here is that this particular variant features a M Sports package which directly indicates that it is more glamorous and sporty than the stock 530d and more so than its predecessor.

Design:

Having mentioned already about the M sports package, this particular 530d brings forward sporty exteriors especially when it comes to the front end, which is more opulent than before. Therefore what is visible to the naked eye is a reworked front apron which bears a sculpted bonnet, a meatier grille with chrome surrounds and fog lamps that are highlighted with chrome.

Another aspect that contributes to its appeal is the bumper which features edgy and slimmer air intakes giving it a similar look to that of the M5. Meanwhile, the sides cater to chunky 18-inch alloys with an M badge along with the more prominent ones visible on its side fenders. Whereas, the rear caters to twin matt-black finished exhaust pipes along with sleeker tail lamps.

Interior:

Since this is an improvised version, the new 5 Series gives rise to a more luxuries and user friendly interior. To begin, it offers a new instrument cluster that caters to both analogue as well as digital dials. The analogue meters are visible in the Eco-pro and Comfort mode, while in Sports and Sports Plus mode the instrument panel changes to red with digital meters giving it that much needed sporty look. BMW's i-Drive System has also been enhanced as it now offers an 18.5 cm display screen along with a large controller located right next to the gear lever for better functionality. Another interesting aspect is the presence of the M Sport steering wheel which is smaller in size in comparison to a standard one; having said that it has a really sporty feel to it along with mounted controls that make manoeuvring a swift affair for the driver. Plus an M sport badge visible on the lower part of the steering wheels is a delight to notice. As for comfort, there isn't anything that one can really complain about rather the under thy support available in the front can be really comforting for the driver as well as the co-passenger. Pair of LCD screens being offered as standard fitment comes in handy to keep the rear passengers entertained while on the move.
Engine and transmission:

Looking at the enhancement carried out in terms of exterior and interior design, the power plant underneath its hood remains the same. Therefore, what one gets under the skin is 2993cc six cylinder engine that is capable of churning out 258 bhp with 560 Nm of torque. In sheer numbers, the performance output if we were to talk about is simply 12 bhp more than the outgoing edition. Inclusion of an 8-Speed Sport Automatic Transmission further adds to the delight of driving this saloon that enables the 3 litre diesel unit to produce a punch.
Driving Dynamics:

Going by the specs, it is clear that the 530d with an M sports package on board has oodles of power available at the tap of the foot. Driving it within the city is a comforting experience especially in Eco-pro (which focuses more on economy) in relation to the Comfort Mode that's more suited for cruising. While Sport and Sport Plus Mode provide a more spirited drive which keeps the occupants stuck to their seats, this saloon delivers on performance. Though, due to its soft suspension setup, the ride can get a bit uncomfortable especially in cases of potholes and broken roads which is the case nowadays. Handling is something which is a plus point of any BMW however having said that this one is a bit different as it does offer a bit of body especially at the time when thrown at corners and turns. Its input is also not that great as one would have expected it to be.

Verdict:

New 530d is a bling affair when referred to its exterior and interior design. Features on board in regards to the cabin are more enriching than before which makes in-house experience a memorable one.

Performance instantly wins the heart from a driver's perspective with ride and handling being a bit of a concern. Rest to sum it up in just a few words it is an ideal 'City Clicker' for urban use if not more.