Renault Duster Adventure Edition Review
Published On Mar 21, 2014 By Rajpal for Renault Duster 2016-2019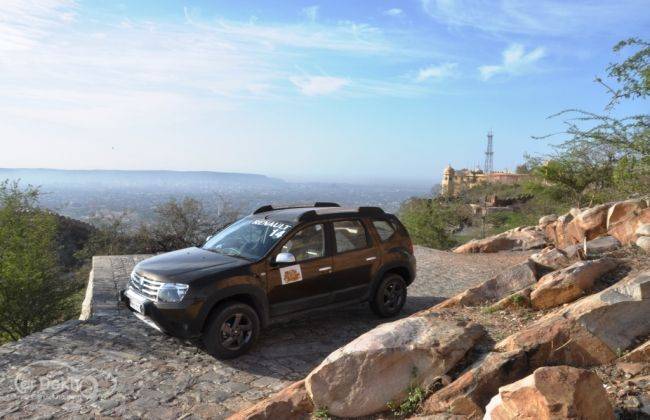 We love all the big cars, and SUVs, in particular attract us the most and if one of these cars returns more value for money, we definitely go gaga at it. One such example is Renault Duster. When the French manufacturer launched this Romanian beast in India some two years back, we took it hand to hand. Duster out-performed all the market leaders and played a vital role to establish its parent brand. The car was launched with three different power-trains, 1.6-litre Petrol, 1.5-litre 85PS and 1.5-litre 110PS. Recently, the company added one more variant to Duster's extensive line-up to make it more competitive and gave it some freshness. The new variant has been named Duster Adventure Edition, which is based on the 110PS RxL variant. It features subtle changes at both exteriors and interiors. We drove the Adventure Edition in the colorful and vivid land of Rajasthan and tried to find out, what the new changes are.
Design:


The overall silhouette of the Duster remains same; however there are some additions that give it a sportier rugged look. Renault has provided smoked headlamps, bold front armour with built in headlamps, R16 Anthracite alloy wheels to mention a few. The Adventure Edition will only be available in Amazon Green colour. The headlamps provided with armour work in the high-beam and give extra illumination for offroading. With this new package the sporty SUV looks more lethal making it an ideal choice in the segment.

Interiors: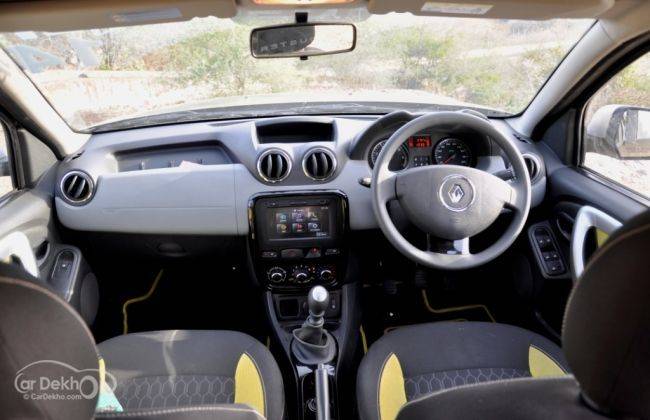 The new Adventure Edition comes with all new interiors; a new bold Black and Grey scheme has been chosen for the new edition. The theme makes it look sportier and gives it a sense of freshness. Apart from it, the adventure comes with new Lime Green upholstery that also adds to its sporty character. The Adventure Edition is for those, who are adventurous and ready to go for adventure on any given time, so company blessed the SUV with its MediaNav system, which comprises of advanced multimedia device combining a navigation system with an entertainment and communication console.

It also gets new Duster badge mats. As it is based on the 110PS RxL variant, it also features steering audio control that has volume controls, call receive/terminate, radio and media controls, however you can't control song tracks and FM channels by the same. Safety features like new advanced SRP (Supplement Restrain and Protection System) airbags for both driver and passenger, which uses sensors to tell the airbag system how to deploy based on whether the seat belts are being used or not. Other safety features are ABS (Antilock Braking System) and EBD (Electronic Brakeforce Distribution) that make the car safe for the occupants.


Engine:
Renault didn't change anything under the hood; therefore Adventure Edition features the same 1.5-litre, DOHC, dCi diesel mill, with Variable Geometry Turbo (VGT) and a 6-Speed manual transmission. The VGT helps it to produce a maximum power output of 108bhp @ 3900rpm and peak torque of 248Nm @ 2250rpm. The engine is refined and powerful, and there is a lot of torque available to use in both mid and high range. However, there is turbo lag below 1750rpm, but once the rpms picks up; it provides that punch, which is needed for highway journeys. Like any SUV the clutch is heavy, though as it is a compact car I was expecting it to be a little bit lighter. Even though it was heavy, I would say that the availability of a larger circumference pedal would enhance the overall driving experience.

As far as, the SUV easily achieves 160kmph, however after 130kmph/3500rpms the engine gets vocal, and you can hear it easily. In short, the engine gives its best in the range of 2000-4000rpms and most of the torque is also available in this range, therefore it performs better on open and wide roads. In cities, one needs to work the gearbox more often than usual that tends to get tad hectic sometime.
Driving Dynamics:

The Adventure Edition doesn't come with any new addition that affect its dynamics; therefore it drives like any other 110PS Duster. However to refresh your memory, Renault Duster is based on the Logan platform, therefore it uses the monocoque chassis, which makes it light and agile. The chassis adds a lot to its dynamics and onroad behavior, and there is none to negligible body role and it's a commendable job done by Renault engineers.

The suspension system uses Independent McPherson Strut with Coil Springs & Anti-Roll Bar at front and Torsion Beam Axle with Coil Springs & Anti-Roll Bar at rear. The suspension is on a stiffer side, which makes its ride pliant, even though the SUV gulps most of the potholes and passes bumps with ease. The biggest plus is its 205mm ground clearance, which allows Duster to go off-road without any hassle. In short, the Duster can go for some mild offroading, and it is drivable on most of the terrains due to its good ground clearance, dynamics and power.
Verdict:

Renault Duster Adventure Edition is basically an adventure kit installed on the 110PS RxL variant. However, as the Adventure Edition has been launched at the price of Rs. 11.69 lakh, which means goodies like front body armour with headlamps, MediaNav and alloy wheels are additional on the Adventure Edition. So, if you are looking for an urban car, which can go for some offroading on weekends, go for the new Adventure Edition.