Mahindra Alturas G4 vs Ford Endeavour vs Toyota Fortuner vs Isuzu MU-X: Comparison Review
Published On Mar 11, 2019 By Arun for Ford Endeavour 2015-2020
You'd have to spend BIG money on these BIG SUVs. But which one gives you the biggest bang for your buck?
Nothing quite says you've made it big, like a big SUV parked in your driveway. And, for the longest time, if you wanted to announce your arrival, you'd head to the Toyota dealership and buy yourself a Fortuner. But, Ford's Endeavour always made a strong case, and with the updated iteration, it's become stronger still. We also have a completely new entrant in this space, in the form of the Mahindra Alturas G4. And, lest you forget (because we didn't!), Isuzu has the low-key MU-X that has tough written all over it.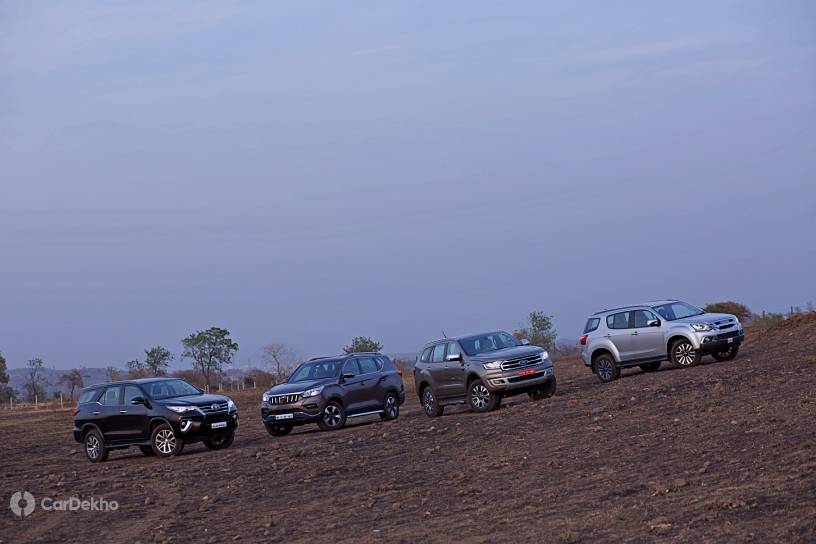 Clearly, each of these SUVs has their own unique identity. Also, each gives you a compelling reason to consider getting it home. Let's get down to business.
Sizing Up!
When you take a good look at these SUVs, the predominant feeling is 'Yes! This is an SUV!'. We're so used to calling everything with a raised ground clearance and fake cladding an SUV, that we tend to forget that a real SUV was always meant to look big and imposing. All four play the size card, but the Alturas and the Endeavour play it slightly better.
| | | | | |
| --- | --- | --- | --- | --- |
| Dimensions | Ford Endeavour | Mahindra Alturas G4 | Toyota Fortuner | Isuzu MU-X |
| Length | 4903mm | 4850mm | 4795mm | 4825mm |
| Width | 1869mm | 1960mm | 1855mm | 1860mm |
| Height | 1837mm | 1845mm | 1835mm | 1840mm |
| Wheelbase | 2850mm | 2865mm | 2745mm | 2845mm |
| Ground Clearance | 225mm | 244mm | 225mm | 230mm |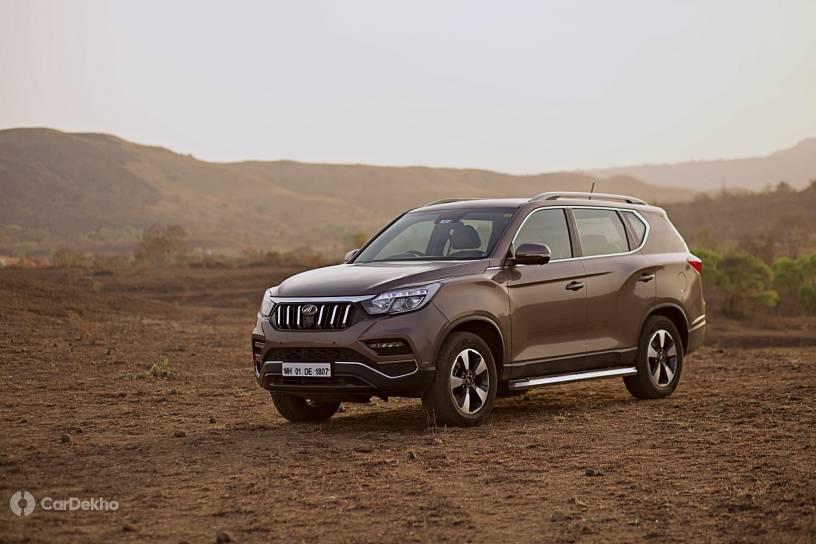 With the Mahindra, you get the width and height to look dominating, and with the Ford you've got length to play bully on the road. That's not to say the two Japanese SUVs are small. They're only smaller in comparison.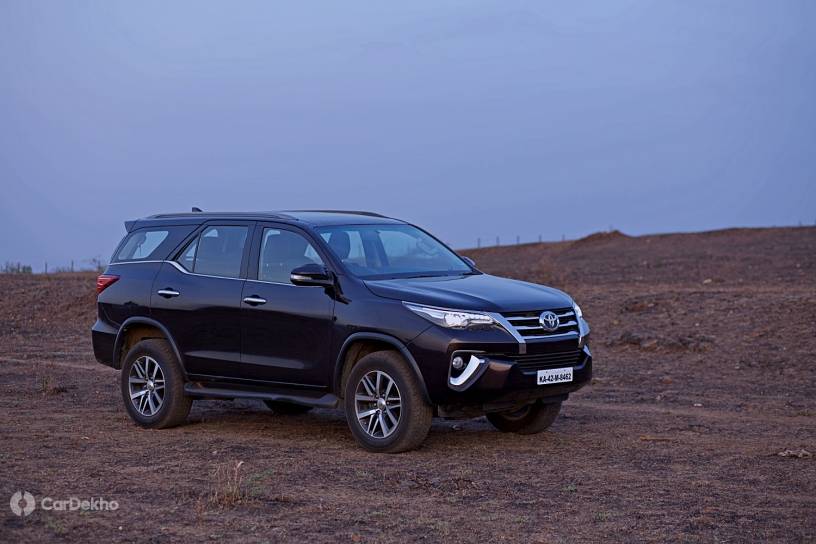 Toyota's Fortuner is the smallest of the lot, but it hits back hard when it comes to design. The Lexus-inspired face with a generous helping of chrome, sleek LED bi-beam lamps, that likeable kink in the window line and the large wraparound tail lamps immediately grabs attention.

Isuzu's MU-X stands at the diametric opposite end of the spectrum. Globally, the SUV is nearing the end of its lifecycle, and the age is beginning to show. There's some flash value here by way of bi-beam LED projectors and machine-finished alloy wheels. But, there's not much else. It might not wow you immediately, but we've got to say that the design tends to grow on you very quickly.
Then, we've got the Ford Endeavour that oozes old-school SUV charm. It's funda of XL-sized everything gives it some solid street cred. With the update, we see smoked headlamps, new 18-inch alloy wheels and a slightly reworked front bumper. It doesn't look vastly different from the outgoing model, and we're glad it continues to look like the lovable giant it always was.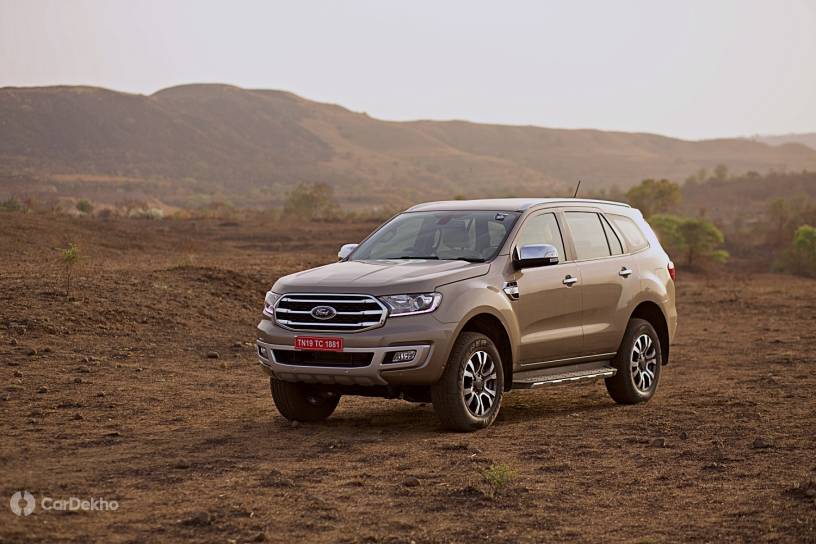 Finally, there's the Mahindra Alturas. It's tall and boxy, but it does seem a bit sombre when you view it from the side. That said, the face, with its large projector headlamps, makes for quite a sight in your rear view mirror. We really wish the glass area was larger on the Alturas. It'd have ensured that the D-pillar doesn't look as bulky.
It's clear that all four of these SUVs will make quite a statement wherever you go. It's now time to find out which one manages to accommodate the family the best.
Climb In!

Pictured: Isuzu MU-X
Surprise surprise! It's the MU-X that is the best seven-seater in this comparison. With some really clever space management, Isuzu has managed to ensure that occupants in all rows have ample room. You'd also notice that the floor height rises as you move towards the rear half of the cabin. This means that view of the outside isn't hindered, even if you're in the third row. What makes the experience here that bit more comforting, is that you've got enough space to rest your hand on either side. Getting in and out of the third row feels easy too, thanks to the one-touch tumble on the second row.
Isuzu MU-X

Interior Measurements

Legroom

Kneeroom

Headroom

Shoulder Room

Front Row

900-1080mm

550-810mm

885-990mm

1405mm

Second Row

-

665-820mm

940mm

1450mm

Third Row

-

630mm

900mm

1345mm
Speaking of which, the second row too, feels plenty comfortable for three adults to be seated in. Here, you'd appreciate that the headliner in no way eats into headroom. There's a small hump on the floor, but that doesn't intrude into legroom too much either.

Pictured: Ford Endeavour
The second best seven-seater of the pack is Ford's Endeavour. And, we're going to start this off with a complaint. We can't figure out why Ford hasn't given the second row a tumble function. It just leans and slides forward. Accessing the third row becomes tricky enough for you to revisit your Yoga classes. However, kids shouldn't have an issue getting in and out. Say you coax two of your adult friends to sit there, they wouldn't be complaining over shorter journeys.
Ford Endeavour

Interior Measurements

Legroom

Kneeroom

Headroom

Shoulder Room

Front Row

900-1000mm

550-790mm

850-960mm

1360mm

Second Row

-

540mm-895mm

910mm

1445mm

Third Row

-

620-720mm

900mm

1250mm
Since the second-row seats slide forward considerably, it's easy to find a position that liberates enough room for both the second- and third-row passengers. Here too, the cabin is wide enough to accommodate three. But, occupants would be brushing shoulders a pinch more than in the MU-X. Also, since the Endeavour has a massive panoramic sunroof, headroom is in short supply — especially if you're taller than 6ft. Then, the controls for the AC vents would take a bite out of kneeroom for the middle occupant if the bench is pushed all the way forward.

Pictured: Toyota Fortuner
As far as the Toyota Fortuner is concerned, we'd call it a six-seater, and we'll explain that in just a bit. In isolation, the third row seems spacious in terms of kneeroom. Here too, just like the MU-X, getting in and out is a breeze, thanks to the one-touch tumble. You even get to recline the backrest in the third row to feel extra comfortable. But, the big bugbear here is the headroom. To make room for the AC vents on the roof, the headliner dives down. This not only makes the third row occupants feel a bit hemmed in, but also obstructs the view out. The large wraparound quarter glass does provide some respite, though.
Toyota Fortuner

Interior Measurements

Legroom

Kneeroom

Headroom

Shoulder Room

Front Row

865-1045mm

550-790mm

880mm-1010mm

1360mm

Second Row

-

660-960mm

930mm

1415mm

Third Row

-

630mm

900mm

1325mm
In the second row, three occupants are a tight squeeze. Add that the seat base is slightly raised in the middle, and that the backrest here protrudes (because of the central armrest) — it becomes quickly clear that it's best to have two sitting here. Yes, the second row has ample travel range just like the Endeavour, but unless you push it all the way back (and eat into third row room) it doesn't exactly feel roomy.

Pictured: Mahindra Alturas G4
If second-row space is all you care about, it's the Alturas that makes the strongest case. It's borderline palatial in here. With the front seat pushed all the way forward, you can sit cross-legged if you wanted to. Also, the sheer cabin width means seating three here is possible. But, the contoured rear seat is best suited for two. You get to recline the backrest here, which means you can literally sit back and relax in this cabin.
Mahindra Alturas G4

Interior Measurements

Legroom

Kneeroom

Headroom

Shoulder Room

Front Row

950-1105mm

550-780mm

880-975mm

1410mm

Second Row

-

635-860mm

970mm

1490mm

Third Row

-

630mm

845mm

1410mm
The compromise comes in the form of the third row, that's mounted on the floor. While kids should be happy here, adults are sure to complain after a short spin. Under-thigh support is virtually non-existent, and the AC vents too are tucked away on the right. We think the Alturas makes for a great five-seater SUV, and a 5+2 at a pinch.
Spoil You Silly!
When you're spending over Rs 30 lakh to get one of these SUVs home, it's reasonable to expect them to feel plush, and be well equipped. And, in this department, it's the Isuzu MU-X that leaves you puzzled with its bare-bones feature list and utilitarian all-black cabin. The cabin features the same hard scratchy plastics and switches you'd find on the D-Max V-Cross that costs half as much. And even though Isuzu has tried to up the premium quotient by adding a dash of leather on the upper glovebox lid and above the instrument cluster, it just doesn't feel enough.

Yes, you do get the basics including leather upholstery, a powered driver's seat, cruise control, automatic climate control and a 7-inch touchscreen infotainment system with an 8-speaker audio system. But, that's pretty much it. Misses include absolute must-haves like auto up/down for all power windows (only the driver gets it), and one-touch lane change indicators. Little bits that round the experience off such as automatic headlamps, rain-sensing wipers and dynamic guidelines for the reverse camera are missing as well. And before we end this rant, we have to say that the touchscreen feels out of place on a vehicle that costs this much. It doesn't get Android Auto or Apple CarPlay, and feels straight out of 2010 in terms of interface, font and usability.
With the Fortuner, the experience is a mixed bag. If you compare it to the generation it replaces, you'd sense a tangible improvement in both — quality levels, and the luxury quotient. You get dark brown leather upholstery, a few wooden-finish garnishes and some subtle silver accents too. The swanky design also means that the Fortuner's cabin feels more inviting than ever.

On the features front, the Fortuner doesn't feel like it's the most expensive car in this group. While it does get niceties like powered front seats, electric tailgate release, and automatic climate control, it does miss out on quite a lot. Bits like a sunroof, ambient lighting, a better audio system and a better infotainment setup with Android Auto and Apple CarPlay compatibility would've definitely helped the Fortuner up its desirability.
That's where the Alturas strikes, and strikes hard. It's packing in quite a few segment-firsts including a 360° camera setup, ventilated seats and a powered seat with memory for the driver. There's a 7-inch screen sandwiched between the dials too, that's as functional as it is good looking. The Alturas also feels the most luxurious of the lot, and by a fair margin at that. The quilted Nappa leather oozes quality, and so does the thin-rimmed steering wheel and soft-touch dashboard.

But, it's not all rosy for the big Mahindra. For starters, there are a few weird misses on the features front. The co-driver's seat doesn't get electric adjust, the mirror doesn't have an auto-dimming function and the 6-speaker audio system sounds just about average. More importantly, unlike the other three SUVs in this comparison, the touch points feel delicate, and don't give you the built-to-last feeling.
Ford's Endeavour mixes that feeling with a dollop of premiumness. Yes, the cabin isn't as posh as the Mahindra's. But, there's leather on top of the dashboard, around the gear lever, on the door pads and a meaty wrap on the steering as well. It does come across as a likeable blend of luxury and ruggedness.

And, in terms of equipment, the Endeavour is kicking things up a notch. For the money, you get a panoramic sunroof, active noise cancellation, semi-auto parallel park assist and two screens packed into the instrument cluster. There's a 10-speaker audio system too (with a subwoofer, no less), and power-folding third row seats as well.
In terms of safety equipment, we're glad none of these top-spec SUVs are skimping out. The Alturas packs in a segment-leading nine airbags, while the Endeavour gets seven. Both the Toyota and the Isuzu get six airbags a piece. Other tech including ABS with EBD, traction control, hill start assist, and hill descent control is offered on all SUVs. Weirdly enough, Ford's Endeavour is the only SUV here that misses out on ISOFIX child seat mounts.
Summing up, the Japanese SUVs give you some tough love. Save for the basics and a few niceties, they don't really have much to offer by way of features. The Alturas and the Endeavour, on the other hand, have their own charm. One entices with luxury, and the other, with tech.
Go For A Spin!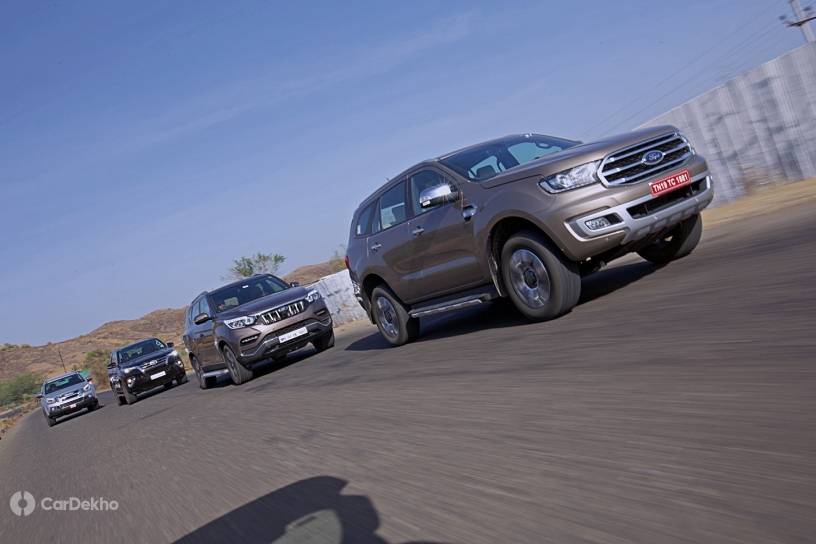 These SUVs have to walk a tightrope. They shouldn't be too taxing to drive inside the city, and feel at ease on the highway at the same time. And, to be fair, all four here manage to do that pretty well. But, they have their own set of quirks too. Before we get down to how each one drives, take a look at the specs, 0-100 timings, the braking distances and the real-world mileage of all the SUVs.
| | | | | |
| --- | --- | --- | --- | --- |
| Specifications | Ford Endeavour | Mahindra Alturas G4 | Toyota Fortuner | Isuzu MU-X |
| Displacement | 3.2-litre | 2.2-litre | 2.8-litre | 3.0-litre |
| Power | 200PS | 180PS | 177PS | 177PS |
| Torque | 470Nm | 420Nm | 450Nm | 380Nm |
| Transmission | 6-speed AT | 7-speed AT | 6-speed AT | 5-speed AT |
| Drivetrain | 4x4 | 4x4 | 4x4 | 4x4 |
| | | | | |
| --- | --- | --- | --- | --- |
| Road Test Data | Ford Endeavour | Mahindra Alturas G4 | Toyota Fortuner | Isuzu MU-X |
| Mileage (City) | 8.89kmpl | 10.1kmpl | 9.39kmpl | 9.25kmpl |
| Mileage (Highway) | 11.9kmpl | 12.34kmpl | 13.19kmpl | 12.17kmpl |
| 0-100kmph | 11.70s | 10.80s | 12.48s | 12.34s |
| 20-80kmph | 6.81s | 6.92s | 7.93s | 7.54s |
| 100-0kmph | 41.53m | 42.54m | 45.23m | 44.90m |
Mahindra Alturas G4

The big Mahindra dishes out a big surprise when it comes to driving. Not only is the Alturas quick on its feet, it's also the most fuel efficient inside the city. The SsangYong-developed 2.2-litre engine is easily the most refined of the lot, and shifts from the Mercedes-Benz-sourced 7-speed automatic are seamless too. We like how quickly the gearbox responds to minor throttle modulations. Slam the pedal down, and it doesn't hesitate dropping gears instantly either.

But, you'd enjoy driving the Alturas in a calm, relaxed manner. At city speeds, it manages to silently shrug off broken roads without letting the cabin get unsettled. However, as the speeds climb you'd sense some side to side rocking over expansion joints. This 'lurchy' behaviour is apparent when you're tackling twisty roads as well. You're also met with quite a bit of expected body roll. However, two aspects shine through - the precise steering and the dependable braking prowess.
Toyota Fortuner

Start the Fortuner up, and it makes quite a racket. Inside the cabin too, you hear quite a lot of the coarse engine clatter. Expectedly, it just becomes louder and louder as the revs climb. It could definitely do with better noise insulation. On the move, the Fortuner never feels out of breath. It's at home past 120kmph on the highway, and trotting about at 20kmph inside the city. We like that the 2.8-litre motor is responsive even when the turbo isn't on song. And while the 6-speed gearbox isn't the quickest here, it doesn't really give you a reason to whine either.

What you would possibly whine about, though, is the suspension setup. Go through potholes and over imperfect roads, and the Fortuner makes sure you feel it, and hear it! It crashes through bumps that have a sharp edge, and sends some feedback through the steering as well. However, on the highway this same setup ensures the experience doesn't get too floaty. Also, should you choose to drive spiritedly through corners, the Fortuner never feels overwhelming. It's easy to get the big SUV to go exactly where you want it to.
Isuzu MU-X
Much like the Fortuner, the Isuzu's engine too makes sure you hear and feel it. You'd hear the gravelly note of the engine pretty much all the time. Inside the city, you'd appreciate the smooth shifts from the 5-speed automatic gearbox. It does take the sting out of driving this big SUV through congested city lanes. Even on the highway, the MU-X feels happy to be cruising at a steady pace.

The MU-X' suspension manages to cushion bumps and broken tarmac silently. However, as you cross over into triple-digit speeds, the ride starts feeling bouncy. The steering setup then dampens the deal further. It feels unnecessarily heavy at crawling speeds and unusually light at highway speeds. Also, the MU-X' tendency to understeer heavily means you will have to temper your expectations when you come across winding roads.
Ford Endeavour
You'd be surprised at how easy and relaxing this behemoth is to drive. The quick steering takes next to no effort, and some might even complain that it's a bit too light at low speeds. Then, there's the suspension that shrugs off everything you throw at it. Yes, there's a bit of vertical movement when you hit the potholes at speed, but it's also the quickest to regain its composure.

The burly 3.2-litre engine feels at ease inside the city and on the highway. But, there's a learning curve. We would've definitely liked slightly quicker shifts from the gearbox, especially in the first few gears. But, other than that, there's barely a fly in this ointment. And since the Endeavour packs in noise cancellation, the cabin remains the most silent, while all of this happens in the background.
Which one, and why?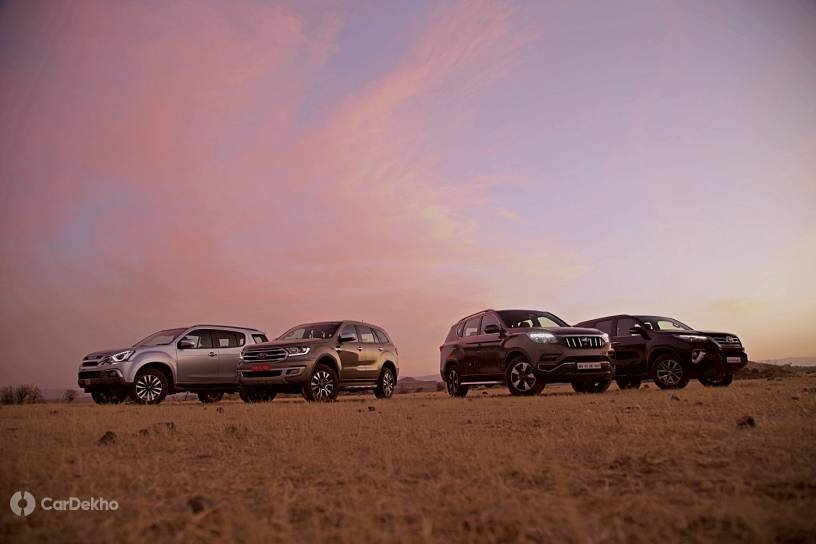 Like we said at the start, each of these SUVs has a unique persona. And, each feels built for a different purpose.

At number four, is Isuzu's MU-X. It could've done with more features for the asking price, and the cabin is a far cry from feeling premium. Put that aside, and it feels well built, and tough enough to survive the apocalypse. Isuzu's also known for making reliable vehicles, and you should expect nothing else from this SUV too. The carmaker is showing faith in this product too, by offering a 5 year/150,000km warranty. If your primary requirement calls for an SUV that seats seven most comfortably, and is abuse friendly, the MU-X feels apt for that.
Pros
Built TOUGH: Feels very abuse friendly.
Easy to drive: Almost car-like in nature.
Smooth gearbox: Very convenient inside the city.
Capable off-road: Eats nature for breakfast.
Cons
Lack Of Features: Some misses are plain inexcusable.
Doesn't Feel Premium: Hard black plastic on a 30 lakh rupee SUV? C'mon!

Coming in at number three, is the Toyota Fortuner. This SUV has defied logic when it comes to sales, and we're sure it will continue to do so. Its appeal lies in its futuristic styling, the lure of the Toyota badge, and the peace of mind thanks to its reliability and after sales support. However, that doesn't take away from the fact that the Fortuner's feature list is quite barren (in spite of being the most expensive), and the ride feels unnecessarily harsh for everyday use too.
Pros
Peace Of Mind: Almost guaranteed to not throw tantrums.
Resale Value: Commands a borderline unreasonable resale value in the used market.
Styling: Screams 'look at me', like nothing else.
Cons
Feature Misses: Could've been better equipped.
Expensive: Considering what the competition offers at a lesser price.


The runner's up spot goes to the Mahindra Alturas. And this big SUV is our 'value for money' pick as well. What the Alturas offers at its price point is truly appreciable. It's the most luxurious SUV of the lot, and also features the most polished engine-gearbox combination. It has a few silly feature misses, doesn't seat seven comfortably and doesn't feel as robust as the others. But, as a city slicker, large SUVs hardly get any better.
Pros
Premium: Feels the most luxurious on the inside.
City Slicker: Easiest to drive inside the city. Fuel efficient as well.
Best 5-Seater: Wide cabin makes it a nice SUV to be chauffeur-driven in.
Value For Money: Well equipped package, at a reasonable price.
Cons
Low-set Third Row: Makes it best suited to kids.
Feels Fragile: Not meant to take serious off-road abuse.

...and that brings us to the winner of this comparison test, the Ford Endeavour. In our books, it's the best all-rounder. If you're looking at comfort, tech, space or capability - the big Ford seems to have all bases covered. And, if you're sure you wouldn't be venturing off-road, you can pick the more affordable 2.2 Titanium+ (4x2) variant too.
Pros
Feature Rich: Practically nothing missing here.
Utility Meets Luxury: Interiors offer a blend of robustness and premium appeal.
Power: Monstrous 3.2-litre engine chews highway miles like there's no tomorrow.
All-rounder: Does everything you'd want from a full-size SUV.
Cons
Tricky third Row Access: Second row needs to tumble forward.
Fuel Efficiency: Expectedly, it was the least efficient in our tests.
Ford's Endeavour, then, continues to be the jack of all trades in the segment. It continues to be the one to beat.
Also Read: 2019 Ford Endeavour vs Toyota Fortuner: Variants Comparison