Mahindra Alturas G4: First Drive Review
Published On Nov 21, 2018 By Alan Richard for Mahindra Alturas G4
The Alturas G4 sits atop Mahindra's lineup and promises a proper luxury SUV experience along with the practicality of seven seats. But does it have the oomph to wow customers away from established rivals such as the Toyota Fortuner and the Ford Endeavor?
Pros
Size: Large and imposing looks make it stand out.

Loaded: Ventilated seats, Nappa leather upholstery, sunroof, dual-zone AC - you name it.

Safety: Body is built out of 81.7% high-strength steel, 9 airbags are a segment first.

Low-speed ride quality: Simply glides over and flattens out bumps. Deliciously smooth!

Classy interiors: Looks posh, feels properly upmarket.
Cons
Low-set third row best left for kids. Uncomfortable for adults even on short journeys.

Feels bouncy at higher speeds, more so in the second and third rows.

Touchscreen graphics and response could've been better.

Audio system is average at best

Mercedes-Benz-sourced 7-speed automatic feels lazy, especially under hard acceleration.
Standout Features
Nappa leather upholstery is among the best we've seen in this segment.

Small details like auto-tilt mirrors, and easy access driver's seat uplift the experience.

Ventilated front seats. An absolute boon in summers!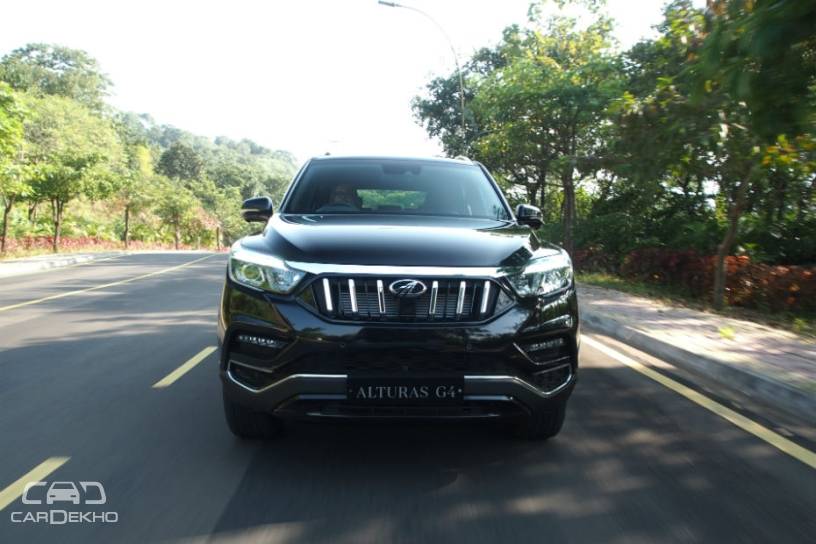 Exterior
Imposing. That's the first word that comes to mind when looking at the new range-topper from Mahindra. The large family grille and Mahindra logo give this SUV a bold face and sets it apart from the 2018 Ssangyong Rexton available in other markets. Prominent accent lines give the side profile some definition, though this is more visible in the lighter colour options and not quite so apparent in this black colour. Panel gaps too, are consistent, tight and even. Rounding things off are the doors, that close with a nice reassuring 'thunk'. On the design front, the only bit that possibly sticks out like a sore thumb is the unconventional (read: oversized) badging on the rear tailgate. A subtler design would have looked classier, we feel. All said and done, the Alturas G4 does have great road presence.


There's some bling in the form of HID projector headlamps, daytime running lamps as well as LED fog lamps. The tail lamp cluster gets the LED treatment too. All of these bits are identical to the global-spec SsangYong Rexton. The biggest difference, though, is the fact that the Indian variant rides on 18-inch alloys as compared to the 20-inchers available in other markets. Mahindra says this offers the best ride quality for Indian conditions. Another plus is that the Alturas packs in a full-sized spare with a matching alloy wheel as well. It also rides a great deal higher off the ground on account of increased ground clearance and suspension tune that it's undergone specially for India, but more on this later.

Interior

To begin with, you really have to lift your foot up high, and climb inside the cabin of the Alturas. We wholeheartedly recommend you invest in a pair of side steps, because it will be well worth it. Once in, you're treated to a cabin that oozes quality, and packs in a serious amount of kit. The dual-tone upholstery with quilted tan Nappa leather is delightfully classy. Everything is laid out rather well, and every little control falls to hand very easily. Speaking of which, buttons and controls have a reassuring, positive click to them and seem built to last. It does make a solid first impression.

As far as room is concerned, you should have no issue in the front row. For the largest of people, there's more than adequate room. The driver's seat is electrically adjustable, and comes with three memory settings too, which helps you fine tune that driving position easily. An oversight here is that the passenger has to make do with manual adjust for their seat.

Hop into the second row, and there's enough room for you to get comfortable. There's enough kneeroom for a six-footer to sit behind their own driving position, and there should be complaints on the width front either. Headroom is just about adequate too, but the sunroof mechanism does eat into some room. This will pinch you only if you're taller than 6.5ft. The backrest also reclines, but it does not slide back to help you carve out some extra room when the third row is not in use. They also sport a 60:40 split but the 60 per cent is on the left (passenger side) and not on the right as is the convention in right-hand drive countries. You can choose to tumble forward the whole row to access to the third row. But, it requires you to pull two levers and lift the seat forward, and that cannot be done with just one hand.

And that brings us to the third row. It's practically bolted to the floor so the seat height is set too low for adults. We can't imagine full sized people being comfortable for even short journeys with their knees bent at a sharp angle and barely any wiggle room to get comfortable. The good news is that the seats fold down flat (and also get a 50:50 split) freeing up a fairly large boot for loading luggage.

Technology
Ventilated seats - that's all anyone who plans to drive the Mahindra Alturas G4 in the summer needs to know. And the good news doesn't stop just there. There are a whole lot more features to look forward to.

Beginning with the 7-inch TFT screen that's placed between the two analogue dials in the instrument cluster. It serves up information like tyre pressure and audio, over and above the usuals such as a clock and a digital speedo. There's an in-depth menu too that lets you play around with the settings of the car, such as the delay for the automatic headlamps, the tilt of the rearview mirrors and so on.

The other screen inside the cabin didn't leave us equally impressed, though. For starters, the touchscreen isn't the larger 9.2-inch unit the global-spec version gets. This 8.0-inch unit gets the basics of connectivity - including Android Auto and Apple CarPlay - but, it just doesn't feel polished. It's a tad slow to respond to inputs, and we feel that the graphics could've been a bit sharper and more fluid as well. The other letdown is the 6-speaker audio system that sounds just about 'okay'. This means the grille on top of the dash, and the subwoofer enclosure in the boot are just dummies. Notably, in other markets the Rexton gets a 10-speaker system by Infinity audio.

As you'd expect, the Alturas G4 gets all the quintessential luxury car features. This includes dual-zone climate control with blowers in the second and third row, rain-sensing wipers, front and rear parking sensors, and a tyre pressure monitoring system. Then there are the feel-good features that include ventilated front seats, 360° surround view camera and other little touches that improve the experience. Features like the 'easy access mode' which, for easy ingress, moves the front seats backwards when you open the door, the tilt-down function that makes the rearview mirrors point downwards when in reverse and the smart automatic electric tailgate are all features that sweeten the package.
Performance

Powering the Mahindra Alturas G4 is a 2.2-litre, 181PS/420Nm turbocharged diesel engine. There's no petrol engine on offer here. All that power and torque is sent to the wheels through a 7-speed automatic gearbox sourced from Mercedes-Benz. It also gets the shift-on-the-fly four-wheel drive system with low range, so you can be assured it will claw its way out of sticky situations. So, yes, on paper, this combination does seem more than capable of hauling any load that you plan to pile onto this large SUV.
There's no running away from the drone of the diesel engine. You can hear the engine pretty much all the time, but it doesn't reach unpleasant levels at city speeds. On the other hand, vibrations and harshness levels are well under control.

Start driving and you feel the wave of torque kicking in smoothly and evenly, as early as around 1800rpm. If you maintain a light foot on the throttle, the engine gives you just enough power to tackle city commutes easily. There's no sudden spike in power anywhere, and this is something you'd appreciate while driving in congested urban environments. In this scenario, the 7-speed automatic remains fairly inconspicuous in its operation.
That said, it's not quite happy being hassled. Kickdown is quite slow and when you step on the throttle, it takes a good second for the gearbox to drop to a lower ratio and send power to the wheels. We also missed a set of paddle-shifters when we wanted to push it a bit. But, not everyone will pick on the lazy gearbox easily. In everyday operations and even mild off-roading, this combination feels more than adequate. Do keep an eye out for a detailed road test, as we spend more time with the SUV.
Ride and Handling

The ride quality at slower speeds and even over broken roads is rather plush. It's quite quiet too, with very little suspension and road noise entering the cabin. But, it's when speeds increase that you start to reach the edge of various envelops fairly quickly. At highway speeds, the ride quality gets a little bouncy and you can feel the cabin get bounced around with large bumps. What's more is that it takes some time to settle as well.
A soft suspension setup also means that there's some amount of body roll that creeps into the equation. Around corners, heavy acceleration brings out the understeer-y character of this SUV to the fore. Also, if you're really pushing it in two-wheel drive mode, you will also feel the rear end squirm a bit. This can get quite unnerving, especially considering the size of the vehicle. That said, it behaves a lot better around the bends with 4WD engaged.
If you can keep the enthusiastic driver in you in check, accelerate only out of, and not through corners, then the drive can be quite pleasant in the Alturas G4.

Safety
The Alturas G4 comes with nine airbags as standard, ESP, ABS with EBD, high-strength steel ultra rigid quad frame, rear glass defogger and ISOFIX mounts for child seats.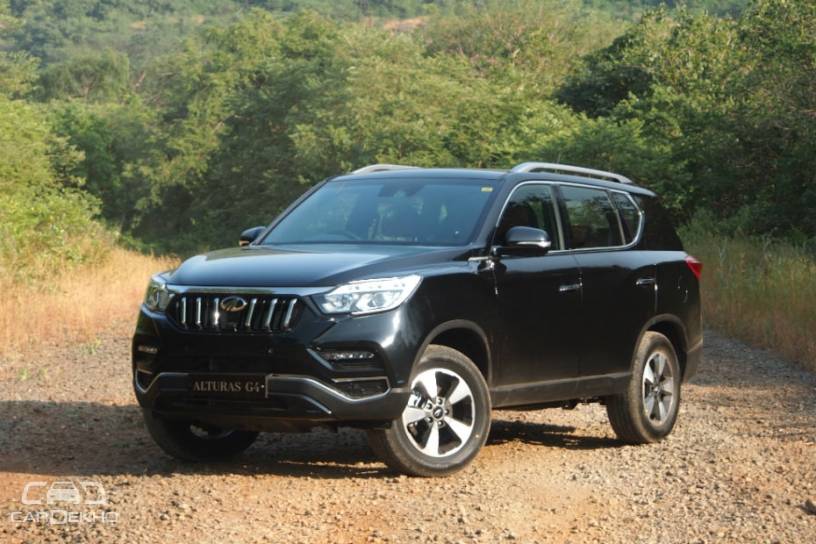 Variants
The Mahindra Alturas G4 will be available in just two variants - a 2WD model (that also skimps on a few features) with a beige and black interior and a fully loaded 4WD model, the same spec we had on test.

Verdict
The Mahindra Alturas G4 is a good looking, feature packed SUV that's appealing for a number of reasons. Whether it's the chunky key fob, the nice 'thunk' that the doors close with or wow features like ventilated seats and the smart automatic tailgate, there's a lot going for the Alturas G4. It's not the enthusiast's car by a long shot, but it still does a lot of things right.

Going back to our initial question and the question that Mahindra themselves asked us at the media drive - do we think it's possible to break Toyota's stranglehold in the segment and even steal some customers away from the Ford Endeavour? Well, at an expected price tag of Rs 30 lakh, we can't say whether the badge on the bonnet will excite you, however we know that the Alturas G4 could surprise you. And just like we experienced with the Marazzo, Mahindra is capable of pleasant surprises.