Kia Carens 8000km Long-term Review: Camping In The Carens
Published On Jul 22, 2022 By Nabeel for Kia Carens
We took Nightingale out camping, and it was a surprise!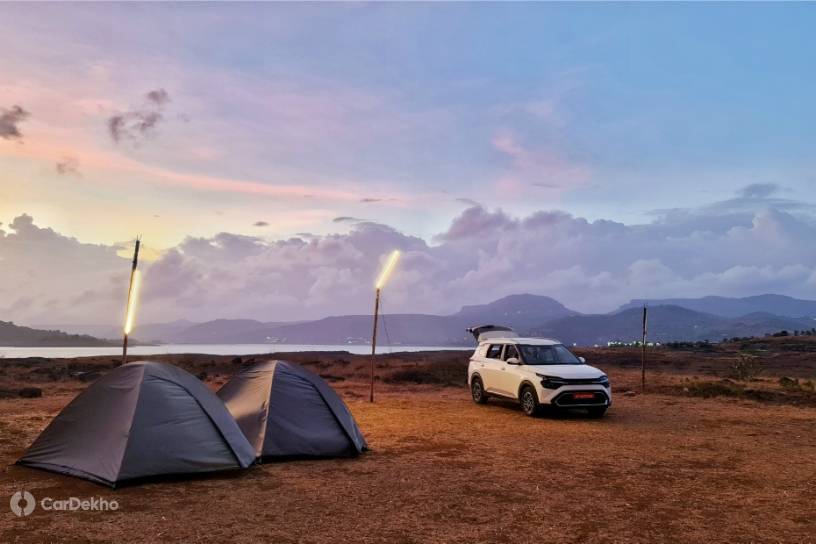 The Kia Carens, in the past, has proven to be a pakka family car. Its space and practicality not only shined when it came to accommodating passengers, but for hauling luggage as well. Be it city commuting or highway touring, the Carens kept on delivering with only a few niggles. However, this time, the challenge it faced is a fantasy for most families and that is going camping. Can this front-wheel drive (FWD) MPV take us to a scenic location and be as capable and comfortable as an SUV?

This part can be tricky. As mentioned, the Carens is a FWD MPV which limits its capability to go off the road, especially during the monsoon, and you don't want to get stuck. However, with its high ground clearance, it is as capable as most FWD SUVs out there, which still keeps it very practical on solid surfaces. With this in mind, we narrowed down our options and finalised Pavna Lake near Pune. With lots of camping sights nearby and multiple ways to access the lake, this looked promising.

On the way there, about a 60km journey which took an hour and fifteen, we were greeted by a few mild showers which had me worried about the lakeside surface. Once we got there though, things looked more challenging. There was a steep descent from the road to the lake and it was a loose surface which would surely be too much to climb back in a FWD in rains. Cautiously, we made our way down.

Once there, we found a nice and clean spot and parked Nightingale facing the lake and the mountains. While my friends started to erect tents, I started to get the Carens ready. With the second and third rows down, the Carens has a flat floor, which is long enough for me to comfortably sleep in. To make things more comfortable, I rolled out a cotton mattress and it was perfect. Windows down, window shades up, sunroof and the boot open, it was like the Carens was built for this adventure.

Furthermore, you have multiple cup holders, phone holders and charging sockets in the third row to make it feel like a sleeping pod, and not just an MPV. The boot light, however, does not go off by itself, and you need to manually trick the gate into thinking it is locked. Once settled in, it was perfect. Open up a thermos of hot tea in the cool breeze and the cosy cabin became irresistible. It is a brilliant space to play board games, eat, drink and just relax.

A few houses into settling in with Nightingale, it started to rain. Worried I won't be able to get the car out as the entrance ramp was already starting to slush up, I decided to wrap up and get the Carens back out. Wrapping up was as easy as setting up. Simply fold the mattress, and unfold the seats, and you are ready to go. Going up the ramp was a little tricky but my learnings in off-road camps helped me get through. However, any later and we could have been in trouble.
The Carens shines again. We can't hold the FWD nature against it as it is meant to be an urban tourer. But, the fact that the Nightingale could get to the location, and keep us comfortable and safe from reptiles means a lot.

Sadly, my time with Nightingale has come to an end. It is now being adopted by another department in the company - production. It will now ferry crew and equipment for shoots, and I have full confidence it will also excel there. Looking forward to stealing the keys to it and taking it out for more such adventures.
Date Received: Feb 25, 2022
Kilometres when received: 2000km
Kilometres done till date: 10,000km
Mileage: 14kmpl (120km round trip)