Hyundai Venue iMT: First Drive Review
Published On Aug 31, 2020 By Dhruv Attri for Hyundai Venue 2019-2022
The Hyundai Venue's new clutchless gearbox is called an 'intelligent' manual transmission. But is it really intelligent?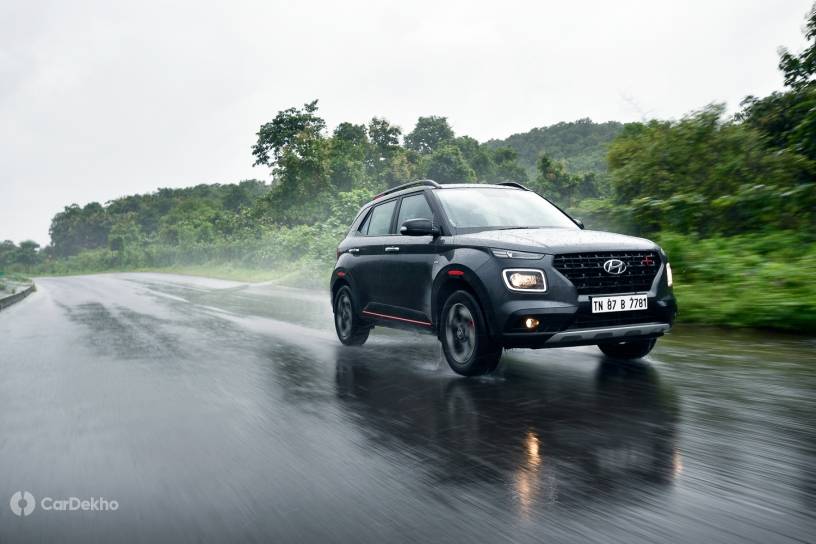 Choosing a transmission option these days seems like you're lining up in a buffet queue. The options are just ever-increasing, with the choice of a good ol' manual, AMT (automated manual transmission), CVT (continuous variable transmission), DCT (dual-clutch transmission), torque converter, and now Hyundai has added iMT which stands for intelligent manual transmission. It promises the control, confidence and costs of a manual while taking out the pain of operating the clutch pedal. Sounds too good to be true, right? Well, Hyundai lent us the Venue's top-spec Sport trim kitted with the iMT to answer that burning question.

Car Tested: Hyundai Venue SX (O) Sport iMT
Engine: 1.0-litre turbo petrol

Transmission: 6-speed unit

Price: Rs 11.26 lakh (ex-showroom Delhi)

Looks
If you like how the Hyundai Venue looks, you're going to love the Venue Sport. Think of it as the dual-tone option but with an extra splash of sportiness all over. Besides the paint job, it gets a glossy black front grille with a red cross highlight, red accents for the bumper and the grey roof rails along with red brake calipers. The Sport badge on the right C-pillar looks a bit aftermarket-ish and could've been done without. There is an iMT emblem, but obviously, placed on the front right fender.

Interior

Step inside, and like on the grille, streaks of red can be seen on the steering, seat upholstery stitching, and AC control knobs. The SX+ and SX(O) variants also get a chunkier flat-bottomed steering which is a straight lift from the Creta. All else remains the same, so you're greeted with a sumptuous cabin that boasts of key features like an 8-inch touchscreen infotainment unit with Apple CarPlay and Android Auto, sunroof, push button start/stop, air purifier, wireless phone charger and cruise control.

Safety goods are the same with the highlights being six airbags, ABS with EBD, rear parking camera, electronic stability control and ISOFIX mounts.The onus of delivering the 'Sport' experience for the driver rests on the two metal pedals in the driver's footwell. This brings us to the piece de resistance, the intelligent manual transmission, over which we'll dwell in the next segment.

How is it to drive?
Getting behind the wheel of the Hyundai Venue iMT might feel a bit weird at first since you see an H-pattern gear stick but no accompanying clutch pedal. So, how do you get going? To crank up the engine, slot the gear lever in neutral, plant your foot on the brake, and press the starter button (turn the key in SX variant). Now, for a move on, shift the stick in first gear, lift your foot off the brake, and the creep function will propel you forward much like an automatic. Prod the throttle and you're on your way.

Not very dramatic, right? The credit for that goes to an electronic intention sensor that tracks the movement of the gear stick, which, in turn, signals the hydraulic actuators to engage/disengage the clutch accordingly.

So, you're still shifting gears yourself but without pressuring that left leg. Simple, right!? But there are a couple of things to keep in mind. While you're shifting the cogs, it's advisable to keep your foot off the gas for smooth gear changes that require less effort to 'push' the lever. Yes, it's possible to go through higher gears with the throttle partly pressed, say fifth or sixth, but the stick movement will feel a bit clunky and induce a slight head nod.

Better than an AMT?
Stuck in a bottleneck you'll find that the iMT feels nothing like an AMT and in a good way. First and foremost, there's no perceivable head nod or lag in gear shifts. Yes, the gear changes feel as smooth as well engineered and more expensive automatics. And, it is even smoother than driving a manual. Several colleagues in office, especially ones who're used to operating a manual car, felt that driving the iMT felt a lot more natural once they warmed up to the idea. It won't disappoint those who have spent most of their wheel time behind an automatic, much less an AMT. The only grouse the aforementioned group might find is the extra step of operating a manual stick. But it more than makes up for it with the fun and urgency that it gives over the transmission.

Does it feel natural to drive?
The straight answer to that is a YES but only after you've spent some time with it. You need to re-train your left leg from pressing down and looking for the clutch pedal. When you get used to the missing clutch, you forget to slot the gear stick. At first, when you accelerate, you end up waiting for gear changes to happen on their own. When they don't, you remember that you need to do it. Also, when coming to a halt, you end up being in higher gears and forget shifting to neutral. But all these are teething peculiarities that take an hour or so to get used to.

In fact, even newbie or senior drivers will find it fits like a glove in a day or two at most. That said, owners with an existing automatic or manual car in their garage might find this to be an awkward half-way solution at first.

Can I stall an iMT from standstill?
If you reach a dead stop in fourth gear and forget to stick it in neutral, will the vehicle stall? Nope. Firstly, the system will display an audio alert accompanied by a message on the MID prompting you to downshift. For maximum convenience, starting off is possible in the first or second gear while on a flat surface. When you are trudging up an incline, the system is intelligent enough to change its strategy, and will warn you even when trying to start in second.

Can I stall an iMT while driving?
No, but you will be told how to drive! If you go too slow in higher gears, for instance, if you drop below 15kmph in third gear, the audio and visual alert will go off. If you don't pay heed and try prodding the throttle pedal, the clutch disengages and revs stop climbing until you downshift to a lower gear. Once you've downshifted, things return to normal to get you back on track.

Any precautions to take on the inclines?
Driving up an incline is an easier affair in the iMT than a manual variant. It's equipped with a hill-hold assist that gives you enough leeway to stop and then make your way back up without rolling backwards. The need for pulling up the handbrake is done away with. This gearbox' logic alters with the level of incline. So, to ensure a smooth ride uphill in a traffic queue, make sure you're in the first or second gear unless the dreaded beep resurfaces forcing you to scamper for a downshift.

How's the performance?
The iMT can only be had with the 1.0-litre, 3-cylinder turbocharged petrol engine of the Venue for now. This engine is offered with a conventional three-pedal 6-speed manual and a 7-speed dual-clutch transmission. Surprisingly, in the standing acceleration runs, the iMT was faster than the automatic and the manual, that too by a healthy margin! It takes the cake not only in the 0-100kmph sprint but also in the roll-on acceleration. Take a look at the table below:
| | | | |
| --- | --- | --- | --- |
| Parameter | Venue iMT (BS6) | Venue MT (BS4) | Venue DCT (BS4) |
| 0-100kmph | 10.64 seconds | 10.99 seconds | 11.24 seconds |
| 30-80kmph (3rd Gear) | 7.53 seconds | 9.02 seconds | NA |
| 40-100kmph (4th Gear) | 12.25 seconds | 14.59 seconds | NA |
| Kickdown 20-80kmph | NA | NA | 6.72 seconds |
What's worth noting is that the Venue options lagging behind were BS4 models, while the iMT is a BS6 unit. So it's bound to keep you interested for longer if you're in the mood for some fun.

How fuel efficient will it be?
Like most manuals, the iMT is also bound to be more frugal than its automatic counterpart. Our tests revealed a surplus of at least 2-3kmpl for the manual over the DCT in varying conditions. There's no official number from Hyundai yet but expect similar claimed figures for the Venue iMT as well.
| | | | |
| --- | --- | --- | --- |
| Fuel Efficiency | Venue Turbo 1.0 iMT (BS6) Expected | Venue Turbo 1.0 MT (BS4) | Venue Turbo 1.0 DCT (BS4) |
| City | 10-13kmpl | 12.43kmpl | 10.25kmpl |
| Highway | 17-19kmpl | 18.84kmpl | 16.02kmpl |

Long-term reliability
THe iMT's habit of disengaging the clutch, akin to pressing down on the clutch pedal, when it senses chances of harm or poor performance, will help protect the clutch. Like we see when starting in a higher gear or accelerating from low speeds in a higher gear, aside from the warnings, the system will disengage the clutch to protect the mechanicals. Think of this as a failsafe that prevents excessive 'slipping' of the clutch or lugging in higher gears. As a result, the wear and tear might even be a bit lesser than the manual units.

Verdict
The automotive industry thrives on innovations and there's nothing better if advancements to improve ease of driving can be made available at an affordable price. That's exactly what the Hyundai Venue iMT does. We have put it through multitudes of tests within city traffic, highways jaunts as well as inclines, and it didn't disappoint. It might sound a bit complicated at first but it takes nothing more than a day or two to become second nature. The driving experience with the iMT is also a step up in comparison to an AMT being smoother and more engaging. The upcoming Kia Sonet will also pack an iMT and we're likely to see more of it in the future.

An AMT unit can easily command a premium of around Rs 40,000 to Rs 50,000 over a manual variant, whereas the iMT asks for Rs 21,000 to Rs 23,000, scoring big on the value front. Moreover, the dual-clutch transmission's vanity will set you back by nearly Rs 1.20 lakh. Hyundai has played smart by not offering the iMT and DCT in the same variants.
The internals of the iMT are the same as a manual transmission, albeit with the addition of an electronic sensor and elimination of the clutch pedal. So, expect similar maintenance cost and life of mechanicals as a manual. Whether you're looking for smoothness and convenience for the everyday commute or a fun driving experience, the Venue iMT certainly needs to be on your radar.

Recommended: Hyundai Venue Petrol And Diesel Review