Mercedes-Benz AMG GLE 53
Mercedes-Benz AMG GLE 53 is a 5 seater Luxury available in a price range of Rs. 1.64 Cr*. It is available in 1 variants, a 2999 cc, BS6 and a single Automatic transmission. Other key specifications of the AMG GLE 53 include a kerb weight of and boot space of Liters. The AMG GLE 53 is available in 8 colours. Over 7 User reviews basis Mileage, Performance, Price and overall experience of users for Mercedes-Benz AMG GLE 53.
Change car
2 reviewsReview & Win iPhone12
Rs.
1.64 Cr
*
*Ex-showroom Price in New Delhi
Don't miss out on the best offers for this month
Key Specs of Mercedes-Benz AMG GLE 53
| | |
| --- | --- |
| Engine (upto) | 2999 cc |
| BHP | 435.0 |
| Transmission | Automatic |
| Drive Type | AWD |
| Fuel | Petrol |
| Seats | 5 |
Mercedes-Benz AMG GLE 53 Latest Update
Mercedes-AMG GLE 53 Price: The AMG GLE 53 is priced at Rs 1.53 crore (ex-showroom).
Mercedes-AMG GLE 53 Seating Capacity: It is a 5-seater.
Mercedes-AMG GLE 53 Engine and Transmission: Mercedes-Benz has provided the AMG GLE 53 with a 3-litre inline-six turbo engine (430PS/520Nm). This engine is mated to a 9-speed automatic transmission powering all the four wheels. It can go from 0-100kmph in 5.3 seconds and has a top speed of 250kmph.
Mercedes-AMG GLE 53 Features: The AMG GLE 53 features a panoramic sunroof, four-zone climate control, and heated and ventilated seats. It also gets two 12.3-inch displays (one for infotainment and the other for instrumentation), connected car tech, a head-up display, and 64-colour ambient lighting.
Mercedes-AMG GLE 53 Safety: Securing passenger safety are electronic stability programme, brake assist, and blind-spot assist.
Mercedes-AMG GLE 53 Rivals: It doesn't have any direct rival in India.
Read More
Mercedes-Benz AMG GLE 53 Price
The price of Mercedes-Benz AMG GLE 53 starts at Rs. 1.64 Cr and goes upto Rs. 1.64 Cr. Mercedes-Benz AMG GLE 53 is offered in 1 variants - the base model of AMG GLE 53 is Coupe and the top variant Mercedes-Benz AMG GLE 53 Coupe which comes at a price tag of Rs. 1.64 Cr.
Mercedes-Benz AMG GLE 53 Review
AMG has got its 53 series to India with the GLE Coupe. While it's no 63, it's still big, brawny and loaded with tech. Some of which are even borrowed from Formula 1. Sounds like an ideal AMG for India then?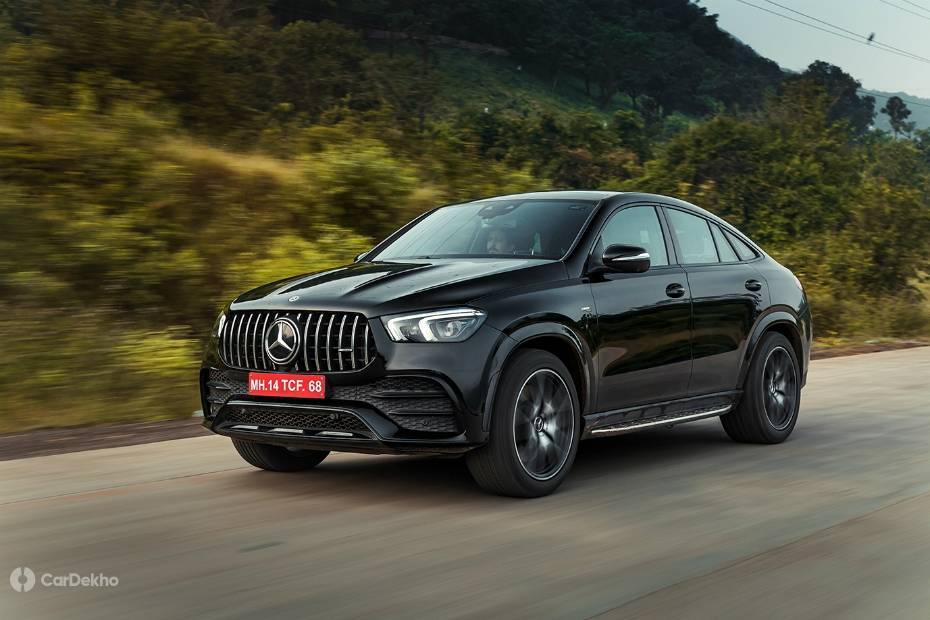 AMG enthusiasts across the country have one thing in common: the love for fast, loud cars that are also practical in everyday use. And what could be more practical than an AMG with the G badge. The latest one in that space is the one with the longest name: the Mercedes-AMG GLE 53 4Matic+ Coupe. This is the first time an AMG has the '53' lettering slapped on the boot in India. Logically, this dictates that this particular version is not as terrifying as a 63, but more thrilling to drive than the 43. Also, because this is based on the updated GLE, it looks stunning, and gets the latest Mercedes tech inside the cabin. Can all of this combined make the GLE 53 THE AMG for you?
Exterior
It's massive! That's the first impression you get when you first see it. No matter if you spot the face, tail or profile, it's just massive from every angle. The front of the car is dominated by the panamericana grille now symbolic with AMGs and if you can't make out how big it is from the pictures, the star on the grille is bigger than most adults' palms.

The all-black Night Package means there's absolutely no chrome other than the grille, and this makes this all-back SUV look menacing. Adding to the highlights are the LED headlamps and DRLs which look rather simple, and dare I say small in this otherwise overpowering front look. But these Multibeam LED lights are high tech. They dance when you switch them on and can intelligently alter the beam just enough to not blind the oncoming traffic.

Move to the side and the sheer mass of the GLE is evident. In this generation, the roofline flows in sweetly to the boot and the racked rear boot lid is just the satisfying touch you need. The large 21-inch wheels are also wrapped in large section tyres. The rear might be just a 40 profile, but the rear is a 315 section, 10mm wider than a Huracan EVO!

My favorite angle of this mammoth has to be the rear three quarter. The smaller detailed tail lamps, clean design and quad exhaust tips, when viewed in sync with the sloping roofline, are gorgeous. I don't think anyone could just have one look and be satisfied. Overall, the GLE 53 has more presence on the road than cops in March. And like the latter, you will be intimidated when you notice it.
Interior
Step in…err, climb into the GLE and the sense of occasion is top notch. The quality all around the cabin, apart from some plasticky switches, feels worthy of the price tag. And while the overall layout is similar to the standard GLE with the latest dual-screen MBUX infotainment system underlined by an array of AC vents, it's the special AMG bits which add to the excitement of being inside.


First off, the steering. The chunky metallic unit wrapped in premium alcantara just feels so special to hold. And then, there are special AMG toggles mounted onto it. On the left, you have a round drive mode selector with a color display. Rotating this dial to Sport+ just hits the right nerve before flooring the gas pedal. And to the left are customizable buttons, again with displays which can alter various drive bits like the suspension, AMG electronics, exhaust sound, ride height and more. The same can also be adjusted from individual physical toggles on the centre console.
Look up from the steering wheel and there is a customizable color heads-up display. Below it is the large instrument cluster display with better resolution than most LED panels you might have at home. Out of the many customizable displays it can have, the one with the tacho in the middle, speed on the left and revs display on the right has to be my favorite. Top this off with a red Sport + mode display on the infotainment system showing G-force and torque vectoring, and the setup is complete to go ludacris. But before that, some boring bits.
Features and practicality


We will not go into the features offered in the GLE as it isn't that kind of a Mercedes. Not that the AMG GLE doesn't have them, but that's not why you'd buy the car. To name a few, you get 4 zone climate control, a massive panoramic sunroof, cold and heated seats, a Burmester sound system loud and sharp enough to host outdoor parties, connect car tech with voice commands and some sci-fi things with the front seats called Seat Kinetics which I don't quite understand. If you do, comment below.
You also have two cup holders, large door pockets for bottles and a lot of storage in the centre console and armrest. There are also phone and cup holders at the back as well. All USB charger ports in the car are Type-C, so be sure to buy a cable before you go to take delivery. Don't say we didn't warn you.

Space at the back is comfortable for three. Ample for two. Enough headroom for a 6 footer. Boot space is massive at 655 litres. Seats fold down to offer more and the loading lip too can be lowered. Ok now, back to being ludacris...
Performance
Fire it up and it awakes with a growl. However, that suddenly vanishes as the butterfly valves in the exhaust close in all modes other than the Sport+. Get moving in Comfort and the GLE doesn't feel like there is anything special about it. It has a linear and clean power delivery that even the most inexperienced of drivers can handle and enjoy. Go hard on the gas and there is a gentle acceleration that's enough for quick overtakes. But again, nothing AMG-like. The GLE feels like any other luxury SUV on the road with a slightly basier exhaust.
Poke the 430PS inline-six unit by flooring the throttle and it takes offence. The 9-speed gearbox drops a couple and the turbo, which is being pre-fed revs by an electric motor adding 22PS and 250Nm, spools to make a sound that is ever so noticeable. While your senses are busy taking all this in, your back has slammed the back of the seat and the AMG GLE is doing speeds which are frowned upon. And you now start to wonder what it will do in the red mode.

Rotate the drive mode selector to Sport+ and things become red. The infotainment display background in the settings becomes red, the displays on the steering all become red and the heart becomes redder as it starts pumping faster in sync with the louder exhaust. The throttle becomes more sensitive to inputs and this mammoth now lurches forward with even a gentle tap. The transmission holds revs close to 2000 rpm and the turbo is ever ready to scream its guts out.

Come to a stop. Floor the brakes. Floor the throttle and then let go of the left. The exhaust keeps you in sync with the climbin' revs and the gear shifts are noticeable as the quad pipes at the back pop. You stay focused on the road ahead and this humble 53 clocks 100kmph in 5.5 seconds. As there is no special "launch control", the AMG GLE gets there like it's out for an evening stroll. Mind you, this black piece of mass weighs close to 2.3 tonnes. What's also special here is the fact that this power and acceleration feels exciting, but not scary. It's confidence inducing, not-wet-your-pants intimidating. You will shout woohoo while launching it, and not holy s***. And that's the point of this being a 53.
Ride and handling
And it's not just the way this German elephant picks up speed that is impressive. The way it can attack corners is a testament to the electronics on offer. Clever all-wheel drive system ensures the right power reaches the right wheel at the right time for you to feel right while throwing this SUV into a corner. A combination of the mechanical grip, the massive contact patch from the tyres and this engineering means the GLE feels glued around bendy roads. In fact the vectoring feels like it pulls this SUV into corners as you try to go faster.

The steering is a bit too artificially heavy in the Sport+ mode but the feedback from the wheels is impressive. The AMG GLE surely doesn't feel as surefooted as a low-slung sedan as there is still noticeable body roll, but the air suspension does a brilliant job of keeping it flat through corners and especially in quick directional changes.

And when you are not being silly in the AMG, the AMG is being a bit silly on the road. The ride quality of this SUV is of a typical SUV. In comfort and other modes, the ride height increases upto 55mm and stays there till 70kmph. This offers better cushioning and ground clearance. This also means that there is a constant side to side movement in the cabin, a bit like ladder-frame SUVs. It is just enough to keep you cushioned over the bad stuff, and not to become jarring on longer drives. However, don't expect this SUV to do SUV bits with a stride. The 21-inch wheels and the stubborn ride are built to tackle corners, not rocks.
Verdict
We as fast-car enthusiasts expect a lot out of these poor four-wheeled souls. An AMG needs to be fast, loud, brawly, sure-footed and pampering-ly luxurious all at once. In our Indian context, it even has to deal with challenging roads and crazy traffic. And an AMG that can do all of this will surely command a tall price as well. At Rs 1.2 crore (ex-showroom), the Mercedes AMG GLE 53 4Matic+ Coupe does all that with ease. Plus, it looks good, has incredible presence on the road and will seat 5 to impress the entire family. And all of this without worrying about it being vulnerable to our driving conditions.

Apart from the fact that the ride quality isn't quite friendly, it's hard to find a subject where the AMG GLE fails to impress. And because of that, this AMG GLE 53 is all the car you will ever need. And even at Rs 1.2 crore, it will feel like money well spent.
Pros & Cons of Mercedes-Benz AMG GLE 53
CarDekho Experts:
Apart from the fact that the ride quality isn't quite friendly, it's hard to find a subject where the AMG GLE fails to impress.
Things We Like
Ample performance for Indian roads
Surprisingly good handler
Looks massive and has a strong road presence
Interiors feel premium
Things We Don't Like
Switches in the cabin feel plasticky
Not an off-road SUV
Ride quality is a bit jarring
Stand Out Features
Steering wheel with drive mode selector

AMG Dynamics

Large panasonic sunroof
Specification of Mercedes-Benz AMG GLE 53
| | |
| --- | --- |
| Fuel Type | Petrol |
| Engine Displacement (cc) | 2999 |
| No. of cylinder | 6 |
| Max Power (bhp@rpm) | 435bhp@5500-6100rpm |
| Max Torque (nm@rpm) | 520nm@1800-5800rpm |
| Seating Capacity | 5 |
| TransmissionType | Automatic |
| Fuel Tank Capacity | 85.0 |
| Body Type | Coupe |
Mercedes-Benz AMG GLE 53 User Reviews
All (2)
Power (1)
Performance (2)
This is a giant performer, using it for last one year. Glamour boy, eye-catching, most powerful and majestic. The best in the class.

Very bright future and also a great performance. It is also a family car. My friend's father in America has it. I was waiting for it to launch in India.

View All AMG GLE 53 Reviews
Mercedes-Benz AMG GLE 53 Videos
Mercedes-Benz AMG GLE 53 2022 has 1 video of its detailed review, pros & cons, comparison & variant explained,test drive experience, features, specs, interior & exterior details and more. Watch our Latest Hindi video of Mercedes-Benz AMG GLE 53 to know price, safety features & more.
2020 Mercedes-AMG GLE 53 Coupe | Nought To Naughty In 5 Seconds! | Zigwheels.com

Nov 10, 2020
Mercedes-Benz AMG GLE 53 Colours
Mercedes-Benz AMG GLE 53 car is available in 8 different colors. View all car images with different colour options on Cardekho.
Mercedes-Benz AMG GLE 53 Images
Mercedes-Benz AMG GLE 53 has 37 images, view picture gallery of AMG GLE 53 which includes exterier, interior & 360 view of Coupe car.

Are you Confused?
Ask anything & get answer in 48 hours
Mercedes-Benz AMG GLE 53 Questions & Answers
What is the exact on-road price of Mercedes-Benz AMG GLE 53?
What will the EMI or down payment for Mercedes-Benz AMG GLE 53?
Mercedes-Benz AMG GLE 53 EMI
starts at ₹ 3.58 Lakh per month for a tenure of 60 months @ 9.8% for a loan amount of Rs 1.69 Cr & down payment will be ₹ 18.81 Lakh.
Is Mercedes-Benz AMG GLE 53 a 4x4?
Does the Mercedes-Benz AMG GLE 53 have a sunroof?
Yes, all variants of Mercedes-Benz AMG GLE 53 are having a sunroof.
What is the mileage of Mercedes-Benz AMG GLE 53?
The ARAI mileage of Mercedes-Benz AMG GLE 53 is -.
What are the colour options of Mercedes-Benz AMG GLE 53?
Hyantich Red,Selenite Grey Metallic,Polar White,Brilliant Blue Metallic,Mojave Silver,Obsidian Black,Emerald Green,Cavansite Blue are the colour options of AMG GLE 53.
How much mileage?
As of now, there is no official update from the brand's end. So, we would re...
Read More
By Cardekho experts on 4 May 2021
How much is ground clearance?
As of now, there is no official update available from the brand's end. We wo...
Read More
By Cardekho experts on 8 Jan 2021
Does gle coupe come with mercedes' new e-active body control (hip hop feature)?
Yes, the Mercedes-Benz AMG GLE 53 Coupe comes with the E-Active Body Control sus...
Read More
By Cardekho experts on 20 Oct 2020

AMG GLE 53 Price in Cities
Choose your city
Trending Mercedes-Benz Cars
*Ex-showroom price in New Delhi
×
We need your city to customize your experience