Top 5 Most Expensive SUVs In India
Published On May 08, 2017 07:55 PM By Raunak
192694 Views

Write a comment
SUVs have been all the rage in the country ever since the Indian market came on the radar of foreign automakers. Right from entry-level sub-4m SUVs to the priciest and most massive tarmac-shattering high riders, people in India are willing to shell out big bucks over similarly priced vehicles.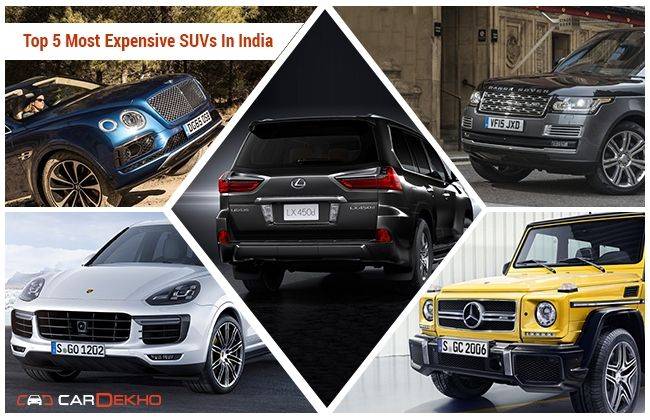 The luxury automakers operating in India make sure that their entire SUV line-up is up on sale in the country. They might miss offering the odd convertibles, coupes and others, but never the SUVs, which are generally the cash cows here! Let us see the top five insanely advanced, most expensive SUVs on sale in India.
1. Bentley Bentayga

British luxury marque Bentley's first ever attempt at an SUV, the Bentayga, gets its name from the Roque Bentayga, a 4642-foot mountain peak on Spain's Grand Canary Island. It began its life as a concept, the Bentley EXP 9 F, at the 2012 Geneva Motor Show and was revealed at the 2015 Frankfurt Motor Show as a production-spec SUV. Global sales began in early 2016 and it was launched in India in April 2016 with a staggering price of Rs 3.85 crore (ex-showroom, New Delhi).

The Bentayga shares its platform, Volkswagen Group's MLB EVO, with the second-gen Audi Q7 and upcoming Lamborghini Urus among others. Bentley describes the Bentayga as "the fastest, most luxurious and most exclusive SUV in the world". It packs a thumping, all-new 6.0-litre, twin-turbocharged W12 petrol engine. The new motor puts out 608PS of max power and a whopping 900Nm of torque and is mated to an eight-speed ZF automatic gearbox with an all-time all-wheel-drive setup. The 0-100kmph sprint comes in at 4.1 seconds, while it will keep on accelerating till 301kmph.

2. Range Rover LWB SVAutobiography Diesel

The LWB SVAutobiography sits at the apex of Range Rover's clan. Wondering why the Autobiography gets an additional 'SV' label in this range-topping Range Rover? It is because the RR SVAutobiography is the child of Jaguar Land Rover's SVO (Special Vehicle Operations) division. Tata-owned JLR's Special Vehicle Operations came into existence in June 2014 and it opened a roughly Rs 173-crore technical centre in the UK last year for bespoke vehicle production.

It costs well upward of Rs 3.80 crore in the country, making it expensive than the Bentayga. But there is a catch: Recent reports suggest that prices of Land Rover SUVs and other vehicles from British automakers have gone down significantly due to Brexit. While the automaker has already announced the reduced prices of the Evoque and Discovery Sport, prices of the remaining range are yet to be revealed.

The Range Rover SVAutobiography made its world premiere at the 2015 New York Motor Show as a successor of the Range Rover Autobiography Black. And it became the first luxury vehicle to be created by JLR's SVO – the first model was the performance-oriented Range Rover Sport SVR. It packs a 4.4-litre V8 producing 338PS of max power and 740Nm of peak torque. It hits a top speed of 218kmph.

3. Porsche Cayenne Turbo S

Often acknowledged as the 911 of SUVs, the Cayenne is famous for its sportscar-like handling. Claiming the third position in India's top five most expensive SUVs, the range-topping Cayenne Turbo S is priced at Rs 2.54 crore in the country (ex-showroom, New Delhi). According to the Stuttgart-based automaker, the Turbo S is the 'ultimate powerhouse' in the Cayenne family.
Powering the go-fast Porsche SUV is a 4.8-litre twin-turbocharged V8 petrol engine. Maximum power is rated at 570PS at 6,000rpm, while the engine delivers a peak torque of 800Nm between 2,500-4,000rpm. Nought to 100kmph comes up in 4.1 seconds and it tops out at 284kmph. The power is sent to all the four wheels via an 8-speed automatic transmission with paddle shifters.

4. Lexus LX 450d

The latest entrant in the super-luxury SUV segment is from Toyota's recently introduced luxury wing in India, Lexus. Lexus' flagship SUV, the LX 450d, bags the fourth spot with its asking price of Rs 2.32 crore (ex-showroom, New Delhi). The Lexus LX 450d traces its roots to the famed Toyota Land Cruiser 200 and shares its V8 oil burner and platform as well.

Powering the LX 450d is a 4.5-litre twin-turbocharged V8 diesel engine, which puts out 272PS of max power at 3,600rpm and 650 Nm between 1,600-2,800rpm. The power is sent to all the four wheels via a 6-speed automatic transmission. With a maximum kerb weight of 2,740kg, the mighty LX 450d sprints from 0-100kmph in 8.6 seconds and features a top whack of 210kmph.

5. Mercedes-AMG G 63 'Crazy Colour' Edition

Though available globally in various versions, the G-Class comes in just one variant in India: the Mercedes-AMG G 63. Priced slightly upward of Rs 2 crore, the G 63 claims the fifth spot in this list. Its most expensive variant, the Mercedes-AMG G 63 'Crazy Colour' Edition, was launched in August 2015 at Rs 2.17 crore (ex-showroom, New Delhi). The Crazy Colour edition comes in five flamboyant colours: Tomato red, Alien green, Galactic beam metallic, Solar beam, Sunset beam.
It is powered by a 5.5-litre AMG eight-cylinder twin-turbocharged engine and comes with a mind-numbing AMG sports exhaust system. The engine produces 544PS of max power and 760Nm of peak torque and propels the retro-styled G-class from nought to 100kmph in a mere 5.4 seconds, with the top speed electronically limited to 210kmph.
Recommended Read: 5 SUVs That Can Shame Supercars
Was this article helpful ?
0 out of 0 found this helpful