Sponsored
realme GT NEO 3 15W Thor: Love and Thunder Limited Edition - An Ode To Speed And Superheroes
Modified On Jul 12, 2022 05:32 PM By Sponsored
We take a closer look at the special edition of the realme GT NEO 3 that's celebrating Marvel Studios' latest movie, Thor: Love and Thunder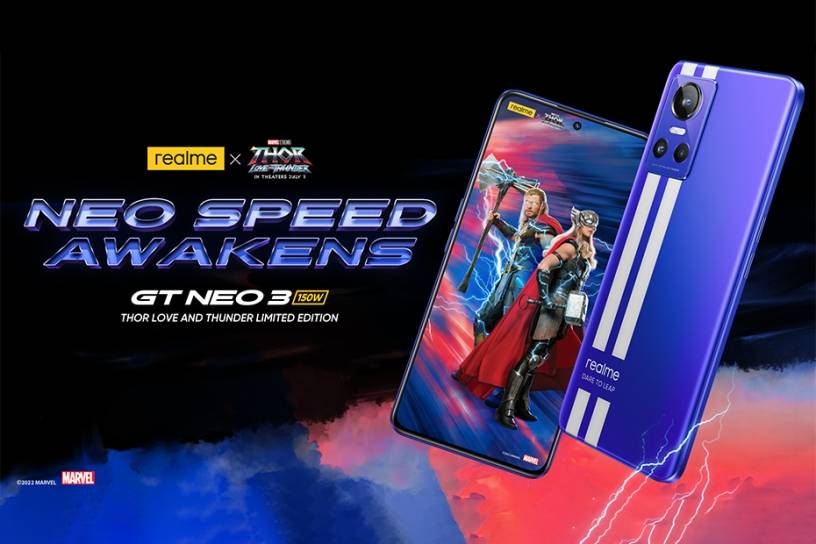 Now you may be wondering what a smartphone is doing on an automobile review website. Well, firstly, it's the realme GT NEO 3 – a phone that's got the name and looks of a sports car. It's got the performance of a sportscar too, as Rohan and Kartikeya found out during their trip to Dubai during the latest season of GT Journeys on PowerDrift. Secondly, today we're talking about a collaboration between realme and Marvel Studios. This too is something we've seen before in the automotive world. Remember when Renault had dressed up the Kwid in Ironman and Captain America liveries? And even more recently, TVS made Marvel editions of their sporty NTorq scooter. Now, one of the sportiest phones in the world, the realme GT NEO 3, is celebrating the latest Marvel movie – Thor: Love and Thunder.
Designed like a race car, built like Mjolnir
The design of the realme GT NEO 3 pays homage to one of the most iconic racing cars in history - the Ford GT 40, which won the 24 Hours of Le Mans race four years in a row from 1966 to 1969 (Remember Ford vs Ferrari?). The GT NEO 3 really evokes the GT40's race livery thanks to its Nitro Blue paint scheme with white racing stripes, or even in its Sprint White body with black racing stripes.

The realme GT NEO 3 150W Thor: Love and Thunder Limited Edition thankfully retains the GT NEO 3's racing-inspired design and is available in the Nitro Blue version. The realme GT NEO 3 150W Thor: Love and Thunder Limited Edition continues to be made of the same premium materials such as a single piece of beautifully contoured matte AG glass for the back. What it does get that's different from the standard edition is a set of custom Thor: Love and Thunder inspired wallpapers and some other Thor goodies in the box, which we shall discuss later.
View this post on Instagram
God of Lightning (speed)
Just like the racing cars it's inspired from, the realme GT NEO 3 packs some serious horsepower under its hood. Powering this phone is a beast of a chipset - the Mediatek Dimensity 8100 5G, made up of a 8-core CPU and a 6-core Mali-G610 GPU. That combined with speedy UFS 3.1 storage and 6400Mhz LPDDR5 RAM means that the realme GT NEO 3 can smash its way through any modern game, whether you're tearing up the tarmac in the latest version of Asphalt or literally smashing enemies with Thor's hammer Mjolnir in Marvel Future Revolution. And the GT NEO 3's dedicated display processor can ensure that its 6.7-inch AMOLED screen maintains a buttery smooth 120hz at all times.
But the realme GT NEO 3's speed isn't just limited to gaming performance, it's also packing 150W Ultradart - the world's fastest charging system. This system is capable of charging the GT NEO 3 from zero to 50 percent in an unbelievable 5 minutes. That's fast enough to put Tesla's Supercharger to shame. And to put this speed into perspective, in the final episode of GT Journeys Dubai, Rohan and Kartikeya tried to see how many laps of the Dubai Autodrome they could finish in a BMW M2 and M3 respectively before the realme GT NEO 3 charged up to 50 percent. It suffices to say that they were not able to manage more than three to four laps. Heck, even if you were to take Sebastian Vettel's Formula One lap record at the Buddh International Circuit of 1:27.249, he would be able to complete less than three and a half laps before the realme GT3 can get up to a 50 percent charge level.

The realme GT NEO 3 150W Thor: Love and Thunder Limited Edition carries over the same internal specs as the standard GT NEO 3, such as the Dimensity 8100 5G SOC, the 6.7-inch 120hz FullHD+ AMOLED screen, 12GB of RAM, 256GB of storage and 150W Ultradart charging. So you can count on the realme GT NEO 3 Thor: Love and Thunder edition being just as lightning quick as the standard version.
For the true Thor fans
The realme GT NEO 3 150W Thor: Love and Thunder Limited Edition comes in a premium gift box inspired by the movie and with an image of Mjolnir emblazoned on the cover. The box also contains Thor: Love and Thunder cards, stickers, a medal (again, with Thor's hammer, Mjollnir) and even a special Thor themed SIM ejector tool.

The realme GT NEO 3 150W Thor: Love and Thunder Limited Edition will be available for purchase from realme's website and other online stores such as FlipKart from July 13th, 2022 and will cost Rs 42,999. However, if you preorder one from realme's website, then you get a Rs 3,000 discount, bringing the cost down to Rs 39,999.
Was this article helpful ?
0 out of 0 found this helpful