5 Key Traffic Rules And Regulations Issued By The Delhi Government In 2021
Published On Dec 20, 2021 06:52 PM By Rohit
The new developments are part of the government's continued attempt to increase road safety and mitigate Delhi's ever increasing air pollution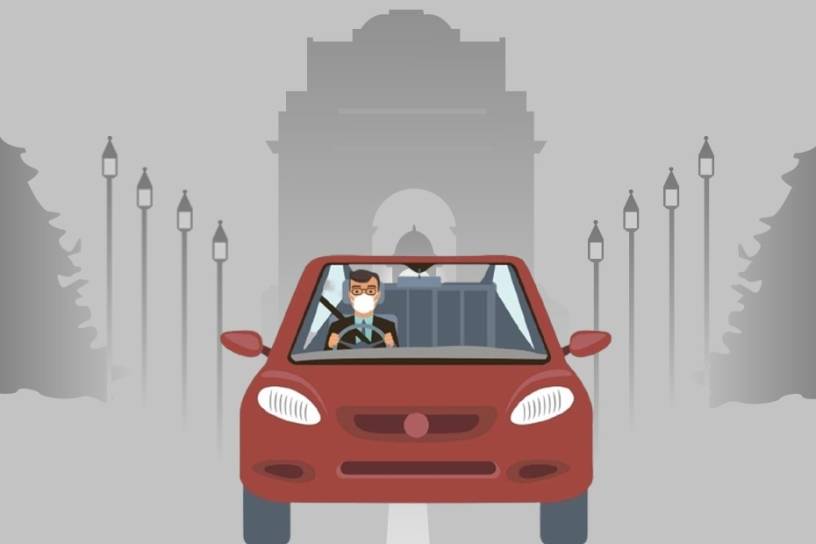 The national capital faces a multitude of challenges when it comes to road transport that require new and frequent updates to the regulations in place. From road safety to traffic congestion to even the digitalisation of RTO services, the Delhi government has been trying to lead the way with new and transformative solutions.
In 2021, the national capital witnessed a number of rules and regulations, some experimental in nature, being rolled out by the Delhi government. These new policies and programmes are intended to help road users and car owners, ease traffic, increase road safety, and even curb vehicular air pollution. Let's look at some of the key mandates and changes issued by the Delhi government this past year:
Raising The Average Speed Limit On Major Roads

Driving on Delhi's big wide roads needn't be a slow affair anymore. The Delhi Traffic Police (DTP) has increased the speed limit for all categories of vehicles including two- and four-wheelers to reduce congestion, improve road safety and to, perhaps, make driving more enjoyable. Cars are now allowed to cruise at speeds of 60kmph on major roads such as the Ring Road and Outer Road. On highways, you can go even faster at 70kmph.
The new speed limits, depending on the road/area, are as follows:
Most National Highways and E-Ways: 70kmph (60kmph for two-wheelers)

Ring Road and Outer Ring Road: 60kmph

Main arterial roads: 50kmph

Neighbourhood roads: 30kmph

Flyover exit and entry loops: 40kmph
As per the DTP, if a vehicle's speed is within 5 percent of the maximum speed specified, it won't count as overspeeding.
Reducing Vehicular Pollution

More Severe Penalties For Flouting PUC Mandates: Not carrying a valid PUC (pollution under control) certificate as proof of road worthiness could result in a fine of Rs 10,000 or imprisonment of six months, or both. The notice also stated that the licence of the driver will be cancelled for three months in case they fail to show this certificate.

Banning Petrol/Diesel Commercial Vehicles For A Week- In another attempt to improve the poor air quality index (AQI) of Delhi at its peak, the government had banned petrol and diesel commercial vehicles from entering the capital for a week (November 27 to December 3). While not a permanent solution, it allows them to gauge their part in the pollution issue and figure out ways to tackle it efficiently.

Mandatory Scrappage Of Vehicles 15 Years Or Older- Taking a firm stance against older vehicles, the Delhi government has mandated the scrappage of vehicles 15 years or older. As per the new rule, any such vehicle found plying on the roads or even parked in public spaces will be impounded immediately and the owner will be fined. Older cars tend to have higher emissions and are thus more polluting than modern petrol or diesel cars.

Allowing Old Diesel Vehicle Conversions To Electric- In November 2021, Delhi's transport department stated that all diesel vehicles older than 10 years will be allowed to run on the roads if their engines are replaced with electric powertrains. To implement this, the government is collaborating with EV kit manufacturers to aid such conversions. It offers an opportunity to those who do not wish to part with their older diesel vehicles.
Installation of EV Chargers In Seven Days

In a welcome move for EV owners, the Delhi government and transport department launched a single-window facility to ease the process of installing private EV charging points at commercial, institutional, and/or residential areas. To speed up the electrification further, the government has stated that these chargers will be installed and be functional within seven working days. It even allows customers to schedule the installation as per their convenience.
Furthermore, the first 30,000 applicants for these EV chargers are eligible for a subsidy of Rs 6,000, which brings the price down to Rs 2,500. The price of electricity at such stations has been set at Rs 4.5 per unit.
Digitalisation Of RTO Services

As one of the major updates of 2021, following the crisis presented by the pandemic in 2020, the Delhi government implemented digitalisation of a total of 33 transport services including learner's licence test, vehicle registration, and permits.
Approximately, 200 self-registered dealers have been granted permission to create on-the-spot temporary registration certificates (RC) for new car buyers. There are further plans to allow such dealers to even hand over permanent registration certificates to eliminate the need to visit an RTO entirely.
Tactical Urbanism To Improve Road Safety
The roads are meant for everyone, which requires a balance of convenience and safety for all users. Prioritising the safety of pedestrians, cyclists, and other non-motorised transport users, the transport minister has introduced 'Tactical Urbanism' (TU) trials as part of the government's aim to establish 'zero fatality corridors' on accident-prone stretches in Delhi.
These trials include amendments to redistribute road space by modifying the road geometrics, and adding infrastructure for pedestrian and cyclist safety among other measures. At present, the changes are temporary, quick and relatively low-cost interventions, which test out urban design, transportation planning and infrastructural changes for improving road safety for all road users. As a result, they can try new ideas and if there are any significant drawbacks, those can be resolved swiftly.
The trials have begun from November 2021, at Rajghat, and will be underway for two months.
The above mentioned policies and programmes are just some of the highlights from the multitude of steps being taken by the Delhi government to improve mobility in all aspects. Any significant change takes time to make a lasting impact and the government's incremental approach takes cognizance of the challenges they are presented with.
Was this article helpful ?
0 out of 0 found this helpful