Exceptional Brilliance - Lamborghini Huracan LP 610 4
Published On Sep 16, 2014 11:22 AM By Prithvi
Italians are known to be brilliant craftsmen and there is no doubt that Automobili Lamborghini is synonymous to this claim. Till date they have produced some of the most sophisticated performance oriented sport cars famous of which today we know as the Aventador. Thus bridging the gap between the Aventador and the outgoing Gallardo is the Indian launch of Lamborghini Huracan on the 22nd of September 2014.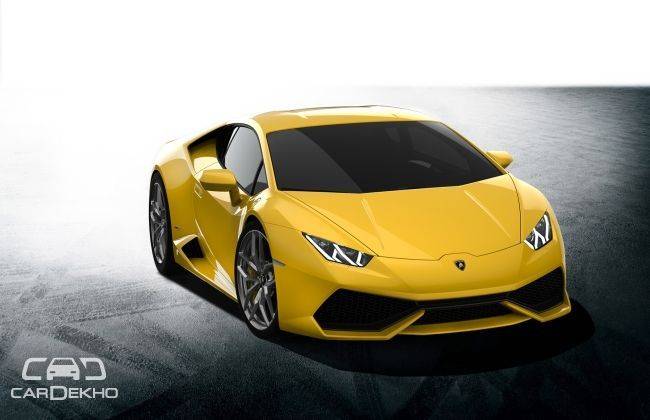 In our previous feature titled "Lamborghini Huracan LP 610 – 4: Replaces Gallardo", we had spoken about how it is one of the most powerful sports cars to have replaced Lamborghini's till date highly successful model, the 'Gallardo' to become technologically advanced and highly potent in the way it would perform on road.

Showcased during this year's Geneva Motorshow, the turnaround for this raging bull has been fast and thick by Lamborghini. In fact with straight reference to "Instinct of the Future", the Huracan features sharp aerodynamic lines that speak a lot about its exterior design. Therefore the front end is a culmination of full LED headlamps that provide it a striking look with a sloping hood bearing sharp lines indicative to the design element. Sizeable air dams incorporated within the front bumper further accentuate its appeal not just in the way it looks but also from a functionality point of view that relates to its aerodynamics. Sideways, the first thing you will notice is its bulged front wheel arch followed by a chiselled side view mirror which is typical Lamborghini style and so is the carved out skirting and a less prominent rear wheel arch. If this wasn't enough, there are 20 inch alloys that further add substance to its side profile. Coming to the rear, similar to the front headlamps the rear tail lights too feature LED's which are attractive to the naked eye. The glass housing is yet another element that not only looks radical but also provides a glimpse of the power plant which has taken countless hours to produce. This feature seems to have been inspired from its elder sibling the Aventador. A Pair of twin exhaust pipes along with a rear diffuser helps complete the look.

If you think that the exterior is attractive then wait till you see what awaits you in the form of its cabin. True craftsmanship is visible in the manner in which the interiors of the Huracan have been designed. A fully hand stitched dashboard with steering wheel and seats exhibits top quality materials being used to provide sporty interiors in line with the overall appeal of this machine. The 12.3 inch TFT display is a medium for all important information concerning the vehicle. Its centre console offers an array of buttons ranging from air-conditioning to the all important push start thereby being a centre point for most activities. Due to their exclusivity, Lamborghini further provides trim options wherein a customer can himself choose the fabric that they want along with the type of stitching and other material first hand so that when the vehicle is delivered it is actually to their liking.

Made from a mix aluminium and carbon fibre, the Huracan features a hybrid chassis. In a nutshell, what it contributes towards it is superb handling characteristics well supported via the dry weight of 1422 kilograms that makes the Huracan more than agile to take on any competition that comes its way. Thus this mid-engine sports car features the famous 5.2 litre naturally aspirated V10 engine which has been incorporated from the outgoing Gallardo thereby churning 600 horses with 560 Nm of peak torque. High on performance, this particular Lamborghini is more powerful and fuel efficient courtesy the direct and indirect fuel injection system on board. Further its technologically advanced "Lamborghini Doppia Frizione" code name for 7 Speed Dual Clutch Transmission featuring an all wheel drive system with a new hydraulic multi-plate clutch helps keep all four wheels in control at all times despite its ruthless power that is available on just a tap of the foot. Lamborghini's dynamic steering caters to a number of functions by a mere switch of a button allowing the user to choose from a road to a racetrack driving experience depending upon a specific requirement.

With a power to weight ratio of mere 2.33 kilograms per bhp, the Huracan boosts of sheer performance as it can accelerate from a 0 -100 kmph in just 3.2 seconds and has a top speed of 325 kmph. On the whole, Lamborghini Huracan LP 610 – 4 is all worth its due not just because it is a raging bull but due to the fact that incorporates the best in technology in design and performance. Looks, feel and experience can only explain its "Exceptional Brilliance" which is the Huracan in this place.
Was this article helpful ?
0 out of 0 found this helpful