A Classic drive to Ahmedabad
Modified On Nov 16, 2012 06:19 PM By Sundeep
3214 Views

Write a comment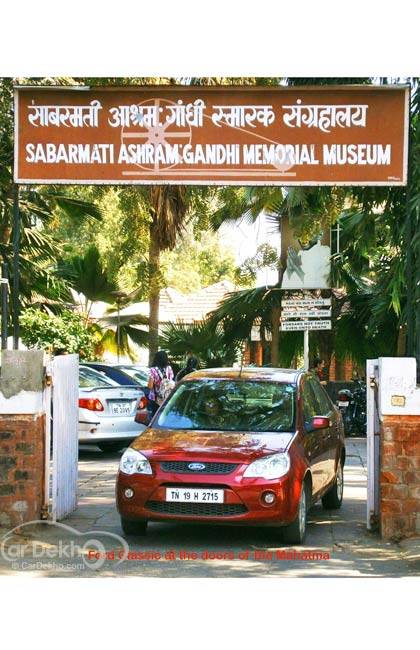 Previous generation Ford Fiesta, resurrected by Ford India as Ford Classic has been under Cardekho's purview as a long termer – see .
This car, in the 1.6-litre petrol engine avatar has always been a driver's car as its fortitude lies in excellent handling. Now, after introduction of new Fiesta, this earlier version has been reincarnated as Ford Classic as an entry level sedan. When diesel-engine powered Ford Classic in Titanium trim was on offer for a long drive to Ahmedabad and back, it did not evoke much excitement owing to the fact that the power on offer was a mere 67bhp@4000rpm and 16ONm@2000rpm torque… But then, unless you flog it you never know how energetic Ford's horses are and how well they have been harnessed in this Classic.
Saturday, 10th November 2012 happened to be the beginning of second weekend and Deepawali falling on Tuesday, 13th November 2012 meant a long weekend for Mumbaikars. The result was traffic congestion on north bound lane of NH 8. With all sorts of vehicles, including a fairly high number of passenger cars being driven at all speeds very effectively blocking the path of high speed vehicles, Ford's excellent handling came to the rescue while surgically cutting a clear path by weaving around the clutter of slower moving traffic.
Starting at around eight in the morning, firm pressure on the throttle resulted in reaching the Mahalaxmi temple (past Charoti naka) in two hours flat (a distance of 135kms) which included navigating out of Navi-Mumbai and Thane. Mahalaxmi temple happens to be an ancient temple of Devi which has been recently renovated. It is located just off the highway (NH 8). Local people sell good quality home-made mawa and pedas which devotees buy as offering to the Devi. Water lilies and lotuses procured from local water-bodies are normally available aplenty.

After a brisk two hour drive covering 200kms, it was time for lunch which we had before Ankaleshwar. After lunch, it was to be a straight forward drive past Ankaleshwar but there was a huge traffic jam on the northbound lane of NH8 due to congestion on the Golden bridge. The reason is that the Sardar bridge on south-bound lane on NH 8 is under structural rehabilitation for quite some time and only light vehicles and two-wheelers are allowed on it. So there was an unforgettable sight of a Mercedes Benz tri-axle bus being turned around to avoid the jam and take some alternate route.

We also turned back, and then after driving back for a few kilometers, entered the south bound lane and drove through the Sardar bridge to get past the jam on the adjacent Golden bridge. This particular location on NH 8 has been a site of traffic congestion for the last couple of years. Another location, which also witnesses regular traffic snarls and breaks the smooth flow of long distance traffic happens to be the starting point of NE-1 (Vadodara-Ahmedabad Expressway) as there is no grade separation for traffic entering Vadodara city / going west on Vadaodara-Savli road, traffic proceeding on NH 8 and traffic intending to use the expressway.

Once past Ankaleshwar, except for traffic snarl at the beginning of the Vadodara-Ahmedabad Expressway, it was a smooth and fast drive to Ahmedabad. Total distance – 575kms (including a detour of about 5kms) – Navi-Mumbai to Motera (Ahmedabad) – driving time about seven and half hours. Average speed over 75kmph - Fuel efficiency – 14.72- fast and aggressive drive.

First thing next day was a visit to the Auto World Vintage Car Museum at Dastan, Kathwada, Sardar Patel Ring Road, Ahmedabad where Ford Classic got acquainted with some of its venerable ancestors. This Museum is very conveniently located on the Sardar Patel Ring Road which encircles the city of Ahmedabad and provides a fast path for traffic intending to bypass the city as well to local traffic which needs to bypass the congested inner roads. This museum is worth a visit. There are more than hundred cars from various lineages on display. Right from mass produced Fords (Model T) to rare Rolls Royce.





Visit to Ahmedabad would have remained incomplete without paying obeisance to the father of the nation – Mahatma Gandhi – at the Sabarmati Ashram. Sabarmati Ashram was established in the year 1917 after Gandhi ji decided to shift from Kocharab Bungalow where he had been living since 1915. He stayed at Sabarmati Ashram till 1930. It is now a national monument established by the Government of India due to the fact that Mahatma Gandhi spent about twelve years at this place and the historic Dandi march in defiance of the British Salt Act was started by Mahatma Gandhi on March 12, 1930 from this very place. In 1963, Gandhi Smarak Sangrahalaya (museum) was inaugurated by Jawaharlal Nehru.


Drive back to Mumbai on Monday, November 12, 2012 was uneventful except for a nice brunch at Subway Station located at one of the Sugar & Spice food court on NH 8. There are several Sugar & Spice outlets straddling NH 8 (Mum-Ahmedabad sector) and these are well appointed facilities for the itinerant motorist. With the improvement in road network and increasing popularity of car travel, such facilities are bound to mushroom along well trafficked highways and that would certainly be a welcome development.

High point of the drive was as usual the excellent road between Ahmedabad and Vadodara – NE-1 Expressway. This is a tarmac surface which is in very good shape and the ninety odd kilometers fly by in no time and entail no driving stress.

Driven sedately on the return leg (cruising speed range of 90kmph-110kmph), Ford Classic sipped fuel at a much slower rate and covered 564kms in eight and half hours of driving time. Average speed about 66kmph – Fuel efficiency 17.84kmpl – more than 20% better fuel efficiency compared to Mum-Ahmedabad drive two days back.

To sum up, it was a very satisfying weekend drive covering about one thousand two hundred kilometers. In Ford Classic, engine and the rest of the drivetrain work in such a beautiful harmony that one seldom feels the need for extra power although a big part of the handling limits of the car remains unexplored, which essentially does not take out anything from the car but underlines the Ford Classic's much vaunted handling prowess. Brakes inspire confidence and ABS intervention is nicely modulated. Special mention of air-conditioning – never experienced such an effective system in this class. Fantastic airflow and perfectly designed vents.
Photography By – Sundeep Krishna
Was this article helpful ?
0 out of 0 found this helpful