5 Electric Cars That Should Come To India
Modified On Oct 05, 2017 11:56 AM By Raunak
294057 Views

Write a comment
With just a decade left for zero-emissions electrified motoring to take hold in India, we take a look at current popular global EVs that can make a mark in the country!
Stating the obvious, the future of automobiles is certainly going to be electric-only. It is evident that electric mobility has been widely accepted over fuel-cells. And while a few countries will go all-electric by 2025, India will join the bandwagon in 2030.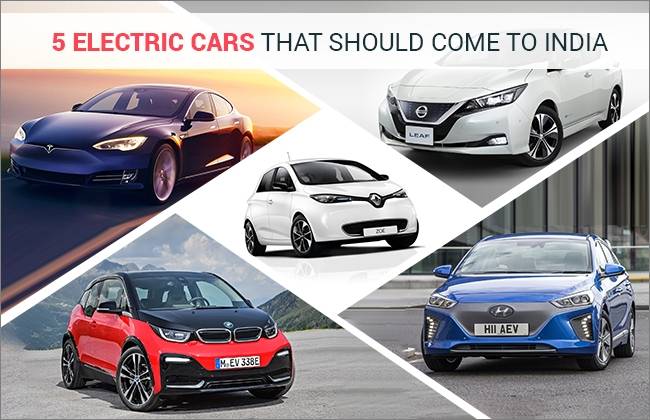 Electric cars saw the light of the day in early 1900, but their battery unit's weight, capacity, and overall range have always been the biggest roadblocks ever since. Further, they used to look unconventional and there were a lot of compromises in terms of limited range and lack of features, which kept buyers away from them. It is just of late that electric cars have gained exponential popularity and acceptance around the world since range anxiety is becoming less of a bother. Here are five global popular cars that we feel should come to India soon.
Tap to know more about electric cars available in India.
Nissan Leaf and Note e-Power

Having sold more than 283,000 units globally since 2010, the Nissan Leaf is the world's best-selling pure electric car in history. Nissan recently introduced the second-gen model, which comes with substantially improved range, sharper styling and a host new tech on board. Nissan also confirmed that the Leaf will be extensively tested in India in coming months. Want is high!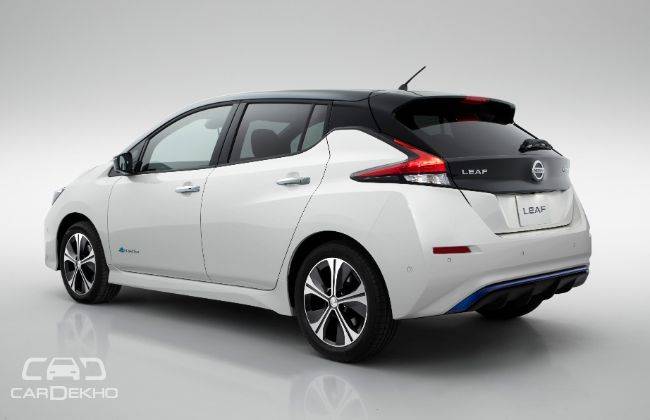 Power: 150PS
Torque: 320Nm
Range: 400km (Japanese Cycle)

The Note e-Power is not entirely an electric car as it has a small 1.2-litre 3-cylinder engine to charge the battery when necessary (like a range extender). It doesn't have an external charging point like conventional electric cars. Though there is a small petrol engine, the drive is purely electric as the engine has no contact with the wheels.

It doesn't even give you that range anxiety and brief halts during road trips as the engine charges the batteries as and when required. This could be the ideal solution for the Indian market looking at the current scenario as we absolutely have no electric infrastructure (India lacks charging points).

Power: 109PS
Torque: 254Nm
Fuel Efficiency (of the engine): up to 37.2kmpl (Japanese cycle)
Tesla Model S/X

Though the Nissan is the best-selling EV around the world, it was the Tesla Model S that added the long-missing desirability quotient in electric cars, with its absolutely uncompromising packaging and suave styling. Tesla literally changed how people look and what they expect out of electric cars nowadays. It has got the range, power and features that a buyer would expect from a car of this stature. In fact, it is the fastest accelerating car in the world in its Ludicrous mode and P100D dual-motor AWD variant. It sprints from 0-60mph (97kmph) in just 2.28 seconds!

The Model S is overloaded with tech such as over-the-air updates that bring new features almost every time, along with its popular autonomous drive capability.

The Model X, on the hand, is the Model S in SUV shoes. Though the equipment list is nearly identical, the Model X comes with crossover styling. While Tesla's new entry-level offering, the Model 3, is coming to India in 2019, we wish the Model S and the Model X make it to India as well.

Range: While the Model S can go up to well over 300 miles (over 500km), the Model X can go up to 295 miles (+450) on a single charge.

BMW i3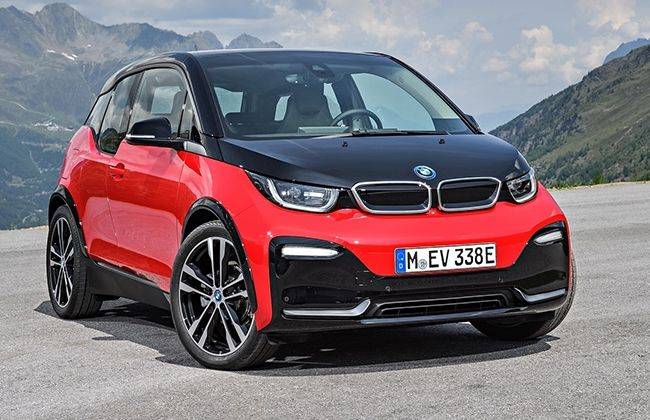 The BMW i3 was the first electric car in the world to use carbon-fibre underpinnings in sub-$50,000 price bracket (under Rs 30 lakh). Introduced in 2014, the i3 looked futuristic from almost every angle, particularly on the inside! However, its exterior styling was not to everybody's taste. With the updated 2017 model, BMW has tried to make it look sportier with the new i3s model. But there's no doubt that the i3 was and is one of the most capable EVs around the world. Besides an all-electric model, the BMW i3 also has a range-extender model with a small petrol engine (2-cylinder petrol motor) like the Nissan Note e-Power.

Power: up to 170PS
Torque: up to 250Nm
Range: 200km (124 miles, in everyday use)
Unlike its elder sibling, the BMW i8, the i3 has not set its foot in India, but we wish BMW brings the updated i3 to India soon!

Hyundai Ioniq

The Hyundai Ionic is the only car in the world that is available in petrol-only, hybrid and all-electric avatars. The Ioniq Hybrid was India-bound and was expected to be introduced in 2018, but Hyundai has shelved its hybrid plans as the Government has surprisingly increased taxes for hybrid vehicles under the current GST taxation. However, since the Government is promoting EVs, there's a hope that Hyundai might introduce the Ioniq Electric in the country.

Power: 120PS
Torque: 295Nm
Range: 209km (130 miles, in everyday use)

Renault ZOE

Available since 2012, the Renault ZOE is a little electric hatchback with chic French styling. In the first half of 2017, the Renault ZOE was the best-selling EV in Europe, beating the Nissan Leaf, Teslas and others.

In 2016, the Renault ZOE got its mid-cycle refresh and a massive bump in its battery capacity, which went up from 22kWh to 41kWh! Its range almost doubled from 210km to nearly 400km! (in European cycle).

In the real world, its range could hover around 300km, which is also pretty darn good, isn't? While Nissan seems to be planning EVs for India, we wish its French partner would also think upon it since the ZOE appears to be a good package.

Lastly, we would also like to see our homegrown automakers such as Mahindra (Mahindra Electric) and Tata to also come with uncompromising electric cars to change the perception of Indian customers. Presently, we only have the e2O Plus from Mahindra Electric, which comes with a range of up to 140km. Though the range is decent for city use, its price (Rs 11.27 lakh, range-topping model) doesn't justify its packaging, consideringly similarly priced cars.
Check out: Electric Cars In India: Present, Problems And Future
Was this article helpful ?
0 out of 0 found this helpful