4 Amazing Audi Cars of Captain America: Civil War Stars
Modified On Apr 28, 2016 10:57 AM By CarDekho
If you've ever wondered what cars superheroes drive, we've got you the answer, at least when it comes to the Marvel universe. The filmmaker, in association with luxury car giant Audi, recently released a video from its upcoming movie, Captain America: Civil War, which gives us a glimpse of what to expect from the movie, both in terms of superhero–villain clashes and sexy cars.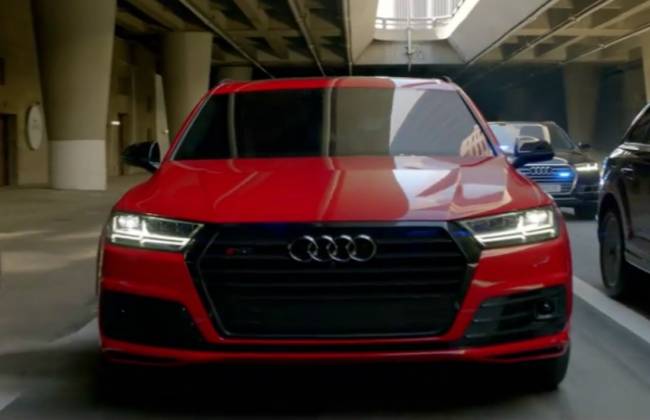 Captain America (Chris Evans) is behind the wheel of an Audi, in an action-packed chase. Images of other characters from the movie, with their sparkling Audi machines, have also surfaced ahead of the India release of the movie next week. Let's take a look!
Captain America and the Audi SQ7

The video shows Cap hunting down Black Panther (Chadwick Boseman), who is chasing Winter Soldier (Sebastian Stan) – all of this, while catching a ride with the much-spoken-about Audi SQ7. A family of four also gets stuck in the middle of all this action, while driving another Audi SQ7. Here, the luxury crossover SUV is seen in a red avatar. How we wish we were part of this family!
Iron Man and his Audi R8 V10 plus Coupe

Tony Stark, played by Robert Downey Jr. in Marvel's movies, is hardly the one to ever hold back his emotions. He has professed his love for Audi cars ever since the first few instalments of the Iron Man movie series came out. This time around, he'll be seen driving an Audi R8 V10 plus Coupe. The car is an upgrade from the normal Audi R8 that Iron Man has driven in the past. In case you missed it, this one also matches the yellow hues on his latest Iron Suit.
Black Panther and the Audi prologue

After debuting at the 2014 LA Auto Show, the Audi Prologue is set for another debut; this time in Hollywood. In the third edition of the Captain America movie series, the luxury coupe will belong to Black Panther/T'Challa, played by Chadwick Boseman. The car used in the movie is a black-coloured beauty.
Agent 13 and the Audi A4

After appearing in Captain America: The Winter Soldier, Sharon Carter alias Agent 13 will return in the next edition of the series. And this time, she will be doing it in style, with the popular Audi A4 sedan. In one of the scenes from the movie, she is seen showing Cap something inside the trunk of her A4.
Was this article helpful ?
1 out of 1 found this helpful