Skoda Rapid
Skoda Rapid is a 5 seater Sedan available in a price range of Rs. 7.79 - 13.29 Lakh*. It is available in 11 variants, a 999 cc, BS6 and 2 transmission options: Automatic & Manual. Other key specifications of the Rapid include a kerb weight of 1139-1169, ground clearance of and boot space of 460 Liters. The Rapid is available in 6 colours. Over 367 User reviews basis Mileage, Performance, Price and overall experience of users for Skoda Rapid.
Change car
283 reviewsRate This Car
Rs.
7.79 - 13.29 Lakh
*
*Ex-showroom Price in New Delhi
Don't miss out on the best offers for this month
Key Specs of Skoda Rapid
Transmission
Manual6 variants

×

New Skoda Rapid 1.0 TSI RiderNew Skoda Rapid 1.0 TSI AmbitionNew Skoda Rapid 1.0 TSI OnyxNew Skoda Rapid 1.0 TSI StyleNew Skoda Rapid 1.0 TSI Monte CarloNew Skoda Rapid 1.0 TSI Rider Plus

Automatic5 variants

×

New Skoda Rapid 1.0 TSI Rider Plus ATNew Skoda Rapid 1.0 TSI Ambition ATNew Skoda Rapid 1.0 TSI Onyx ATNew Skoda Rapid 1.0 TSI Style ATNew Skoda Rapid 1.0 TSI Monte Carlo AT
Mileage16.24 - 18.97 kmpl
Top Features
Power Windows Front
Anti Lock Braking System
Air Conditioner
Power Steering
+6 more
Rapid Latest Update
Skoda Rapid Price: Skoda retails the Rapid from Rs 7.79 lakh to Rs 13.29 lakh (ex-showroom, pan-India).
Skoda Rapid Variants: The compact sedan is sold in six trims: Rider, Rider Plus, Ambition, Onyx, Style, and Monte Carlo.
Skoda Rapid Engine and Transmission: The compact sedan is powered by a single 1-litre turbo-petrol engine (110PS/175Nm), mated to either a 6-speed MT or a torque converter automatic unit.
Skoda Rapid Features: Skoda has equipped the Rapid with automatic climate control, cruise control, height-adjustable driver seat, and a 6.5-inch touchscreen infotainment system with Apple CarPlay, Android Auto, and MirrorLink. The top-spec variants get a new 8-inch touchscreen unit.
Skoda Rapid Safety: Its safety features include up to four airbags, ABS, and rear parking sensors.
Skoda Rapid Rivals: The Rapid takes on the Maruti Suzuki Ciaz, Honda City, Hyundai Verna, Toyota Yaris, and Volkswagen Vento.
Read More

Skoda Rapid Price
The price of Skoda Rapid starts at Rs. 7.79 Lakh and goes upto Rs. 13.29 Lakh. Skoda Rapid is offered in 11 variants - the base model of Rapid is 1.0 TSI Rider and the top variant Skoda Rapid 1.0 TSI Monte Carlo AT which comes at a price tag of Rs. 13.29 Lakh.
Skoda Rapid price list (Variants)
New 1.0 TSI Rider999 cc, Manual, Petrol, 18.97 kmpl
Rs.7.79 Lakh*
New 1.0 TSI Rider Plus999 cc, Manual, Petrol, 18.97 kmpl
Rs.8.19 Lakh*
New 1.0 TSI Rider Plus AT999 cc, Automatic, Petrol, 16.24 kmpl
Rs.9.69 Lakh*
New 1.0 TSI Ambition999 cc, Manual, Petrol, 18.97 kmpl

Top Selling

Rs.9.99 Lakh*
New 1.0 TSI Onyx999 cc, Manual, Petrol, 18.97 kmpl
Rs.10.19 Lakh*
New 1.0 TSI Ambition AT999 cc, Automatic, Petrol, 16.24 kmpl
Rs.11.49 Lakh*
New 1.0 TSI Onyx AT999 cc, Automatic, Petrol, 16.24 kmpl
Rs.11.69 Lakh*
New 1.0 TSI Style999 cc, Manual, Petrol, 18.97 kmpl
Rs.11.69 Lakh*
New 1.0 TSI Monte Carlo999 cc, Manual, Petrol, 18.97 kmpl
Rs.11.99 Lakh*
New 1.0 TSI Style AT999 cc, Automatic, Petrol, 16.24 kmpl
Rs.12.99 Lakh*
New 1.0 TSI Monte Carlo AT999 cc, Automatic, Petrol, 16.24 kmpl
Rs.13.29 Lakh*
View All Variants
Skoda Rapid Comparison with similar cars

Ex-showroom price in New Delhi
Skoda Rapid Review
We were a bit disheartened to learn that Skoda was downsizing the Rapid to a 1.0-litre petrol engine in the BS6 era. Then we drove it…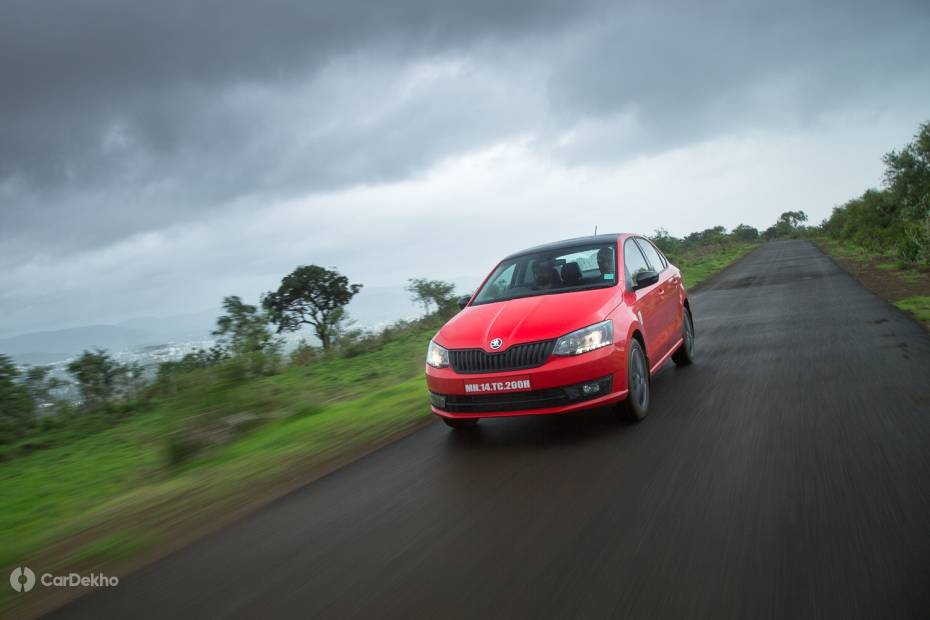 It will be nine years this November since Skoda first began selling the Rapid in India. In that time, a front end redesign, a slight bump in power for the 1.5-litre diesel and the addition of a few creature comforts sums up the attention it got from Skoda. Despite that, it has continued to soldier on. And that is because it offered the kind of driving pleasure most other cars in that segment wouldn't dare to. Now however, the BS6 landscape has taken away two of its most prized jewels: the punchy yet thrifty 1.5-litre diesel and the super-quick 7-speed DSG. Along with the diesel and the DSG, Skoda has also bid adieu to the 1.6-litre petrol and its 6-speed automatic as well. With both its powertrains now in the wind, can the Rapid still put a smile on your face? Let's find out:
I honestly didn't think Skoda could have bettered the sedan when it came to sheer driving pleasure. But they have. And that too by swapping out that nice diesel and the DSG for a small petrol three-cylinder and a manual. It misses out on some creature comforts when you compare it to its rivals but it undercuts most of them in price too. And if you are worried about reliability issues, Skoda is offering a 1 lakh kilometre warranty package with road-side assistance, included in the price of the car.

Your ownership experience will be further sweetened by the fact that buy anything above the base Rider variant, and you can get an annual maintenance package for just Rs 10,000. It covers all the regular stuff till 60,000km.

Our recommendation is that you must definitely check out the Rapid if you list driving pleasure in the top three things you consider before buying a new car. It will offer you great performance, and decent fuel efficiency as well. What you will find lacking is space compared to its rivals. But if you are a family of four, it should still suffice.
Exterior
Changes in the looks, interior and features are ever so slight that they can be summed up under one heading. In fact, there are none to the exterior whatsoever. Even the interior is pretty much the same as before. Only change you will find in the Style and Monte Carlo variants is the new 8-inch touchscreen. And we are not sure if you'll appreciate this one.

Interior
It essentially is an Android tablet with a crisp display and a smooth touch operation. But it does not support Android Auto or Apple CarPlay. However, you still get the option to connect your phone with a bluetooth to play music and answer calls. Look on the bright side though. Being Android-based allows it to connect to an internet hotspot and download all the apps you use on your Android smartphone. Did someone say Netflix? Now Netflix and chill wherever you want, just be parked (For safety it wont play video content when the car is moving and the handbrake isn't pulled). Which brings us to the next topic.

Performance
Your only option now is a 1.0-litre, three-cylinder turbo petrol engine. And the turbocharger helps it dish out a healthy 110PS and 175Nm of peak torque. The only transmission option for now is a 6-speed manual, although a 6-speed torque converter will be offered in the near future.
Slot that key into the ignition and turn it (yes, you still don't get push button start/stop) and the new engine comes to life with a thrum that your ears will instantly recognise as the clattery noise of a three-cylinder engine. Strangely enough, the only vibrations you'll feel are at idle, and that too, tiny amounts from the seats. This is something you can expect from a three-cylinder engine. And that is where you'll find that 'small' three-cylinder story come to an end.
Get going and you'll find that the Rapid TSI is an easygoing partner in the city. It revs quite cleanly and power in the top part is quite evenly spread out. However, drive constantly below 2000rpm and you will find that the Rapid feels sluggish. Nothing that won't get you around town but you won't have any power on tap. Prod the throttle and hold it there and you'll suddenly be greeted by a huge surge of torque that comes in at around 2200rpm. So if you are driving around sedately, you'll have to work a little to make quick overtakes, like dropping a gear. The surge in torque is surprising, but you can easily modulate it using the throttle once you get used to it. The Rapid will also be easy on your pocket. It returned a fuel efficiency of 12.79kmpl in our city test.
It might have its limitations in the city but you'll find that this small petrol motor feels right at home on the highway. The tall gearing allows you to keep pulling past traffic without feeling the need to change gears. What it also means is that you end up seeing high-triple digit speeds in third gear itself if you are really going for it. And if you are not chasing redlines, looking to extract every ounce of performance, you can calmly slot it in sixth gear at 90kmph. This offers a rather calm cruise on the highway. In such a scenario, you'll find this engine to be quite fuel efficient as well. In our tests, the Rapid returned 17.13kmpl on the highway.
And lest we forget, the new 6-speed manual complements the engine well. It slots in smoothly and the short throws work well in tandem with the sporty nature of this engine. The clutch is super light so even Bombay traffic jams won't leave you with worn out cartilages in your knee. You will find its long travel a bit odd though, considering that the biting point comes quite early in its range of motion. Initially, it can be a little confusing finding the right driving position, although a few days of driving and you'll find that sweet spot.
Skoda Rapid 1.0L TSI MT
Performance
Acceleration
Braking
Roll ons
0-100
Quarter mile
100-0
80-0
3rd
4th
kick down
9.77s
16.97s @133.01kmph
44.43m
26.46m
8.68s
13.83s
Efficiency
City (50 kilometers test through mid day traffic)
Highway (100 kilometers test on Expressway and State highway)
15.16kmpl
17.13kmpl
Skoda Rapid Performancd: 1.0-litre TSI AT
Skoda Rapid 1.0L TP AT
Performance
Acceleration
Braking
Roll ons
0-100
Quarter mile
100-0
80-0
3rd
4th
kick down
10.70s
17.48s @128.51kmph
41.52m
26.99m
6.59s
Efficiency
City (50 kilometers test through mid day traffic)
Highway (100 kilometers test on Expressway and State highway)
13.67kmpl
17.30kmpl
Measurements
Front
Rear
Cabin Width
1350mm
Shoulder room
1310mm
Shoulder room
1300mm
Headroom
915mm
Head room
950-880mm
Knee room (min-max)
610-830mm
Leg room
910-1120mm
Seat base width
1290mm
Knee Room
555-790mm
Seat base length
460mm
Seat base Length
520mm
Seat back height
600mm
Seat Base width
520mm
Rear floor hump height
150mm
Seat Back height
610mm
Rear floor hump width
240mm
This is where the new transmission comes in. The Rapid's engine feels the strongest in the mid-range and the transmission has been tuned to complement that nature. Depending on what kind of a driver you are, this will either make you enjoy your drive or get you a bit annoyed.
Quick With the Right Foot
If you are an enthusiast driver who loves going for gaps and is often driving closer to the speed limit than most, the Rapid is going to be a rewarding drive. Because going under the turbo will spoil your experience, the transmission always holds revs high. This means it does not upshift until the next gear too is within turbo range. This gives you a clean and fast acceleration no matter when you put your foot down. The downshifts are quick and can be felt in the cabin if you ask for an aggressive downshift. The shifts, both up and down, are quick and the transmission remains on point to respond to your throttle and speed changes. In fact, this is the one area where it betters even the DSG. This AT doesn't get confused when you ask it to downshift in quick succession.
Switch to Sport mode in the Rapid and it now holds revs as high as 3500rpm even in low throttle situations. This means you can always hear the engine working hard even when you are cruising in traffic. The downshifts become further aggressive and this time, feel jerky as well, something the family might not enjoy. The only time you'd need this Sport mode is when you find an open patch of road and want to enjoy the full potential of this new engine. Do so and the Rapid gets to 100kmph in 10.7 seconds. Pretty quick for a sedan of its weight and class! The Verna's 1.0 turbo-petrol DCT reached 100kmph in 12.03 seconds, whereas the Honda City CVT took 12.74 seconds (wet). It's because of this personality that the Rapid is a delight to drive on the highway where it returned an efficiency of 17.30kmpl.
Lazy With the Right Foot
However, where this powertrain falls behind the older one, and even the competition is in its ability to commute calmly. If you usually drive the family around and want a smooth drive, this powertrain might not satisfy you. To keep you in the powerband, the transmission is holding high revs, and this makes the Rapid a bit too aggressive to just calmly crawl in traffic. This nature helps in overtakes, with a 20-80kmph kickdown time of 6.59 seconds, quicker as compared to both the Verna DCT (7.78 seconds) and the Honda City CVT (7.25 seconds). At the same time, it makes the Rapid feel on the edge. A comfort here is the Rapid's tested city efficiency of 13.67kmpl.
There are some other factors too that make you work harder in daily commutes.The initial crawl acceleration (starting with going off the brake) in cold starts is a bit too fast as well and will often make you get back on the brake in small spaces, making the start feel a bit rushed. However, this is less aggressive when the car does not come to a full stop, and is just picking up on its own in bumper to bumper traffic. Then, there is a bit of a lag when you are picking revs again from idle after slowing down for a speed breaker or a pedal train. This wait can be avoided by going on the throttle a bit early which involves a small learning curve. And when the power comes back, it comes in with an intent to accelerate and not just maintain speeds and cruise. Also, when you get off the gas, the Rapid often just holds revs and won't slow you down behind a slowing car. It's only after you go on the brakes that the engine braking kicks in.
This is where the DSG transmission was better. Inside the city, it let the Rapid have a dual personality. This AT feels more focused on going fast and trades off its city cruising ability in doing so. Hence, if you are an enthusiast driver, the Rapid AT will let you have a lot of fun. But on the flip side, it's not an easy going commuter.
Safety
The Rapid continues to be offered with the same safety kit as before. You have ABS and two airbags as standard on all variants. Strangely enough, four airbags are only offered on the Style variant, which sits below the Monte Carlo edition. Even the pretensioners and load limiters for the front seatbelts are reserved only for the Style variant. And the only other differences between these two variants are aesthetics. So if safety is your number one priority, pick the Style variant.

The traction control system has been given a miss as there is currently no automatic variant on offer. However, we expect Skoda to offer it when the automatic variants of the Rapid go on sale.
Pros & Cons of Skoda Rapid

CarDekho Experts:
You must definitely check out the Rapid if you list driving pleasure in the top three things you consider before buying a new car.
Things We Like
Classy mature styling.
Fit and finish of the interiors.
Good performance and handling makes it a driver's car
Comfortable ride despite good handling
Rear seat space
Things We Don't Like
No diesel option.
Short feature list.
Automatic is a bit too eager for city speeds
Stand Out Features
Mature Looks

Punchy 1.0-litre turbocharged engine

Tablet-like infotainment system
Skoda Rapid User Reviews
All (283)
Looks (81)
Comfort (95)
Mileage (88)
Engine (70)
Interior (50)
Space (36)
Price (38)
More ...
LATEST
HELPFUL
VERIFIED
CRITICAL
Performance is unmatched!! Excellent driving Experience. Superb build quality, quickest 0-100 in cars under 17 lakhs

Guys and all car enthusiasts this is a performance car and by performance car. I mean getting out the best experience with each drive. Like u can take this to a rally dri...Read More

German engineering. No matter what people say about service cost or part cost. This is German engineering. drive quality, engine feel, styling, safety. You...Read More

A safe car with all features and good mileage especially on the highway. After 7 years I am able to get around 21kmpl of mileage.

Skoda cars are full of power, the best cars to drive in city and highway, but mileage and features are a concern. Yes, they have a timeless, look to match every once tast...Read More

Skoda Rapid Videos
Skoda Rapid 2021 has 25 video of its detailed review, pros & cons, comparison & variant explained,test drive experience, features, specs, interior & exterior details and more. Watch our Latest Hindi video of Skoda Rapid to know price, safety features & more.
2020 Skoda Rapid Walkaround I Base Rider Variant I ZigWheels.com

Jun 01, 2020

2020 🚗 Skoda Rapid 1.0 TSI Review | Is The Smaller ⛽ Petrol Still Rapid? | ZigWheels.com

Jul 06, 2020

Skoda Rapid vs Volkswagen Vento | Drag Race | Episode 4 | PowerDrift

Apr 08, 2021
Skoda Rapid Colours
Brilliant Silver

Lapiz Blue

Carbon Steel

Toffee Brown

Flash Red

Candy White


Users who viewed this car also viewed

Ex-showroom price in New Delhi
Ex-showroom price in New Delhi
Top picks in 8 - 13 Lakh cars

Ex-showroom price in New Delhi

Are you Confused?
Ask anything & get answer in 48 hours
Questions & Answers
What is the exact on-road price of Skoda Rapid?
The on-road
price of Rapid in Delhi
starts at Rs. 8,70,544. The on-road price is inclusive of RTO charges and insurance.
What are the latest September offers available on Skoda Rapid?
For the month of September 2021, 1 offer is available on the Skoda Rapid in Delhi.
Which car is better Rapid or City?
Rapid price
starts at Rs 7.79 Lakh ex-showroom and
City price
starts Rs 11.16 Lakh ex-showroom.
Compare
these two models on the basis of their price, features & specs.
What will the EMI or down payment for Skoda Rapid?
Skoda Rapid EMI
starts at ₹ 16,732 per month for a tenure of 60 months @ 9.8% for a loan amount of Rs 7.91 Lakh & down payment will be ₹ 88,000.
Does the Skoda Rapid have a sunroof?
Skoda Rapid does not have a sunroof.
Write your Comment on Skoda Rapid
66 comments
1
s
saurav singh
May 28, 2020 6:45:50 PM
Skoda Rapid avg is 18.97km/lt as per ARAI, please correct on your portal so the customer will not disguide
Read More...
Reply
Write a Reply
1
D
dr. ashish awasthi
Jan 4, 2020 8:25:42 PM
I am having Skoda Fabia car in Kerala, No doubt car is very good but service is horrible.
Read More...
Reply
Write a Reply
1
B
bhavesh
Feb 16, 2019 8:09:43 PM
I want to buy sedan which is the most safest. I have options rapid, city, Verna and Vento. And also advise rank wise most safest car in this segment
Read More...
Reply
Write a Reply


Skoda Rapid Price in India
Choose your city
×
We need your city to customize your experience