Indigo Manza Quadrajet Aura Abs
Look and Style : The look and style of the car is real good , it gives you complete comfort of a sedan Comfort : I ve been on continuous long rides on the skoda octavia diesel , it is a suprising fact that this car is almost just half its cost but it feel really more comfortable than the skoda itself :-o , the leg room is really awesome at front and rear Pickup : The car gives a shake while starting but after a few km ride , the car is very silent for a diesel engine . the turbo's effect starts when u clock above 2500 rpm , one on turbo it gives a real constant pull till it touches 5000 rpm , by then ur car's speen would have crossed way above 110 km :-) Mileage : When driven carefully without too much of pulls , in city roads my car gives me around 14-15 , and in the highways the mileage is mind blowing , if you steer your car at around 70 - 80 km/hr continuous on the 5th gear , the on board computer panel shows you a dislay of Instantaneous mileage 25km/lit (theoriticaaly) but practically it gives around 21 km /lit which is very good efficience for a car of that size . However , if you wanna feel the power your car can deliver and if you speed it to say 120 or 110 km/hr average , the mileage drops to about 18 to 19km/lit . On full throttle , the highest speed i ve touched is 155 km/hr , i was pretty afraid to push it more because the High Speed waring on the dashboard had already started beeping , dint wanna risk it further ,though the car had some more throttle left in it Best Features : The seats are very comfortable and the lumbar adjustments and seat height adjustments give you the feeling of a top class sedan . The car comes with inbuilt 6 speakers from blaupunkt , it has intergrated on board aux port , usb port and the best i love is inbuilt bluetooth , your phone automatically gets connected to the car as soon as you turn the engine on , when u are riding the car , if you get a call , u need not pick up ur phone just press the answer button on the steering and just speak to the car :-) , there are number buttons on the dash board too :-) IF U FEEL LIKE CALLING SOMEONE JUST DIAL THE NUMBER ON THE DASH BOARD INSTEAD OF THE PHONE Needs to improve : The only thing where tata really really really needs to look into are its electronic switches and panel switches . they are of pretty poor quality :-( Overall Experience : THE CAR IS 100% VALUE FOR MONEY IT HAS ALL FEATURES OF A SEDAN OF MUCH HIGHER VARIANTS AND THE LEGROOM AND SUSPENSION SYSTEMS ARE SUPER COOL . IT IS A 100% PRICE WORTHY BUY . IF U HAVE ANY MORE QUESTIONS FEEL FREE TO CALL ME ON SKANDHA - 9884661295 :-)
Write your Comment on Tata Manza
1
p
panchal vishnu
Apr 17, 2012 9:57:26 AM
dEAR SIR, PLZ SAID DESAL VEH ENIGNE OIL CONSUMPTION 1000KM PER WHAT
Reply
1
R
rider
Mar 23, 2012 7:43:55 PM
Hi All, I have bought manza(Diesel) in FEB-2012 and getting mileage around 12-13 in city and 14-15 in Highway. After 1st service, went to mahabaleshwar, mumbai-pune and alibag from pune but all the time I have noticed that avg. still remain (14 kmpl) and in city 12. So far my total car running is 3000, please advise me the techniques to improve the mileage or do I need to contact related service center. I would like to share my experience about Manza, A/C is not working :-o and music player having the issue at the time of the delivery whereas showroom manager(Pandit Auto Pune) given the promised that we will fix it anytime and contentiously chasing them till date. Long story in short is Manza is an good product whereas after sale service is horrible. Tata needs to be improve the After sales service and customer handling management.
Reply
1
a
ashish
Jul 4, 2011 1:23:03 AM
PLEASE GUIDE ME, I HAD BOOKED MY TOYOTA ETIOS 6 MONTHS BACK N NOW AWAITING DELIVERY BUT I M GETTING BAD REVIEWS ABOUT ETIOS N FEEL MORE IMPRESSED WITH MANZA ELAN. WHICH CAR SHOULD I GO FOR?
Reply
2
s
skandhaprasaad
Jul 5, 2011 2:28:00 AM
I am not sure about the etios so i would nt comment about it but as far as the manza Elan is concerned , IT HAS REAL MASCULAR ELIGANT LOOKS WHICH THE ETIOS TOTALLY TOTALLY LACKS , Personally i love the violet colour Elan it gives a real good outlook
Reply
3
a
ashish
Jul 5, 2011 11:00:16 PM
Looks is the only thing that i dont like abt Manza, rest everything is GOOOOd. Look it from back n it feels like a very local indian car, no style, no elegance.
Reply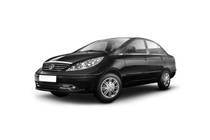 This car model has expired