High Performance car but not for driving in Heavy traffic
I have Petrol version which is great in acceleration and control. However, it is not suitable for heavy traffic driving in city like Mumbai where you have to essentially drive on brake ! Applying break, moving a few meters ahead, then again break, is how you drive here, and this car is not designed for such driving. It makes so called "Operational Noise" when breaking at very low speed and then taking foot off brake. Also it gives a little jerk or back-push when breaking at low-speeds. Handling of uneven roads riddled with Pot-holes in Mumbai, this car again does a very poor job. In its home country Germany, they would never have imagined such road conditions so none of these aspects have gone into German engineering that it is famous for.
As said, it is a great car for high-speed, good roads, disciplined people around, and not when you are surrounded by Rikshas, Best buses, motorcyclists and crawling at 5km/hr speed over speed-breakers and pot-holes.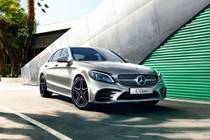 Trending Mercedes-Benz Cars
1 Offer
On Mercedes-Benz C-Class :- EMI of Rs. 37,...
4 days left