Pocket Rocket
I was a happy guy running around in India's family tall boy Wagon R for 4 plus years. One saturday in the mid of March 2015, I received a call from maruti dealership Alappuzha. The lady said she has got offers on the existing car, if I wish to upgrade. I said ok in that call and in 15 minutes I was there in the showroom. Dezire was my natural choice and on checking with showroom I found that VDI of Swift comes with ABS! Ditched Wagon R for Swift.
Rates were negotiated and they gave me a Sunday offer for petrol to diesel conversion(Maruti do set target for executives on Sunday it seems)and I booked a Swift VDi right out of box(as standard at that time). At first I was not that comfortable because of the difference in regress and ingress with that of wagon R.. But Swift slowly grow in me. The comfort stance, less air-drag and the rush of adrenaline when the turbo kicks in, all were new at that time. I haven't done much mods in the car. except for The OE - ICE(Original Equipment In Car Entertainment) was changed to Sony touch screen (XAV 68BT), with stock speakers. Attached a reverse camera to that, added a mobile charging unit to the socket, have done vinyl flooring, art leather seat covers and steering covers and a parking sensor.
For 7.5 Lakhs all inclusive, this was one hell of a deal.
Here are some of the positive and negative things I have noticed in my vehicle. May be that is specific to my vehicle or you may have encountered that in another make & model. 1. Swift loves to rev, the rev band have a sudden sprout in the 2K RPM range(I can't stop my grin whenever this happens ) 2. FE (Fuel Efficiency) of over 24(Diesel) on highways and nearly 20 in city conditions, shows a range of over 890 - 900 Kms in DTE(Distance to Empty). Was around 19 - 20 KMPL(Petrol) in Wagon R. I do drive in the max speed limits of the road. (70 KMpH in case of NH and around 90 in 4 lanes, and am a rapid accelerator) 3. Quality Interiors - way ahead than the previous gen swift/Wagon R. 4. Better shoulder room than wagon R, when in Wagon R My co passenger and I were sitting closer than in swift. 5. Best Brakes, with total control. To be frank the ABS assisted brakes in this Swift is a couple generation ahead of what we have seen in the previous swifts. I was saved more than 8 - 10 times just because of the ABS. It does have its own flaws as well. A couple of times trailing vehicle have rammed in to the rear when they couldnt cope with swifts breaking power. Once I was compelled to change the bumper when the tail-gating bike behind couldn't stop behind us. It was a case of emergency braking 6. Fatigue-less drive - Swift offers a drive almost free from fatigue. I have added a beaded seat cushioning to the driver side and this aids in attaining a near perfect position to drive, which in my opinion is filled with Joy. We do have an Ertiga Anniversary edition and even in that fatigue crept in after a couple of hundreds of Kilometres. 7. Right amount of feedback - The feedback we receive from steering and throttle is almost seamless and perfect and is in the expected range. No over or under steering in this case. I noticed that body roll is minimum in case of swift(We were living with that in case of wagon R) and I noticed that driving through ghats do emit a sound that we do hear occasionally in movie(Screeching sound from tyres in the car chases). 8. Electronic folding, motorised ORVMS are an absolute pleasure to use. People looks with Awe when you fold them without reaching outside, especially when you are in small roads where two cars are a tight squeeze. 9. One of the main issue that I am facing now is when the vehicle is parked for a week. I do park with hand brake on and upon it's release the brakes are not completely released and we do hear a small sound of break interfering with drums in the front wheels. (goes away in a couple of seconds.) 10. Another issue is with the fogging, that too outside the front windshield. Happens when it stops raining on a hot humid day. 11. A little cramped back seat, I don't care about that much, for both my kids enjoy sitting (and standing) there. 12. Fuel pump issue - I have changed the diesel pump of the vehicle, one day it refused to switch on and on long cranking(advice from ASS(after sale Service), the vehicle responded & i was able to take the vehicle to the nearest service centre. 13. No Bluetooth in the VDi ICE. This was serious and I changed ICE to SONY (HUD). The old one was sold off with an LXi. 14. Boot lip - heavy and big suitcases are not easy to load in the boot. Space though not that great is more than what Wagon R was offering. way less than many other players in the class. Space is not enough for a week long trip with whole family. 15. Fungus in leather - I always try to keep the car clean, No pets, no food inside my car, I vacuum the car every fortnight, still i noticed mould / fungus in the leather below the gear lever. i even try dash board wax and leather cleaners, still the same issue comes back.
Over all, one of the best drivers car around, budget friendly and assured service of Maruti with cheap rates on fares make this car a pocket friendly rocket!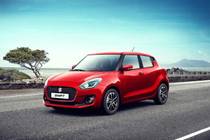 2 Offers
On Maruti Swift :- Consumer offer up to Rs...
15 days left