MG ZS EV: First Drive Review
Published On Dec 24, 2019 By Tushar for MG ZS EV 2020-2022
MG is making a gutsy move and choosing the ZS EV SUV as its second car for India. In fact, it is assembling the electric SUV in India and are hoping to sell at least a thousand units in 2020. How is MG being this ambitious?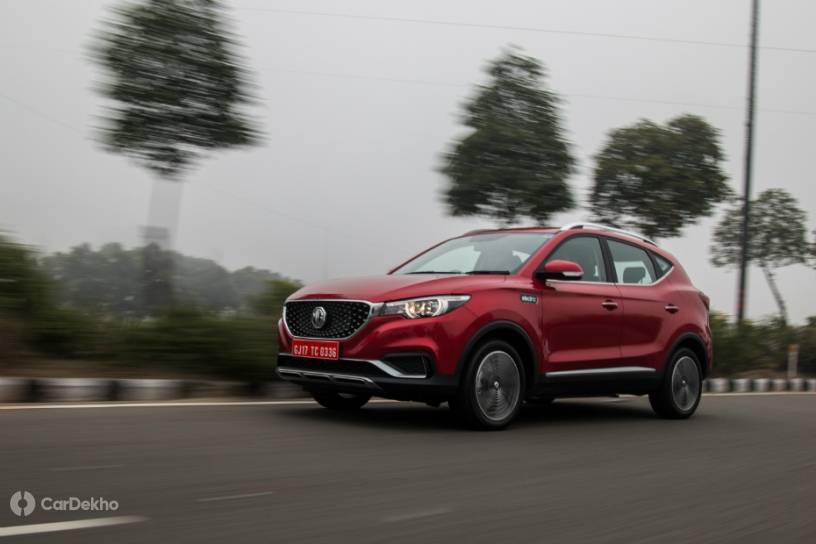 Update: MG Motor India has launched the ZS EV. The Excite variant is priced at Rs 20.88 lakh and the Exclusive is priced at Rs 23.58 lakh (ex-showroom). Read our launch story for more details.
It's entirely possible that Santa Clause won't be able to drop into your home this year. The smoke from our home/industry/vehicular chimneys would've made it difficult for him to spot what's on the ground below. We've evidently stressed out our environment to detrimental levels. To address this, MG is launching its stress-buster for mother nature - the ZS EV. Can it take the shock out of electric car ownership?
Looks

If you were expecting the ZS EV to announce that it's an electric vehicle, it doesn't do so in design. It's a big contrast to the MG Hector in that it's not a very big car (road presence is similar to the Hyundai Creta) nor is its styling polarising. The only real gripe we have in the looks department are the tacky stickers on the front fenders that say "Electric"; they just look like fridge magnets.

Coming back to the size, it's larger than the Kona on most counts, save for its wheelbase. However, while the Kona's styling can be a bit loud for some, the ZS EV's is cleaner and more European. Apart from the Aqua Blue colour you may have seen in MG's promotions, you can also have it in red or white.
| | | |
| --- | --- | --- |
| Dimensions | Kona EV | ZS EV |
| Length | 4180mm | 4314mm |
| Width | 1800mm | 1809mm |
| Height | 1570mm | 1644mm |
| Wheelbase | 2600mm | 2585mm |

It also veers away from too much flashiness. Yes, you do get LED DRLs and windmill-inspired 17-inch alloy wheels, but they're integrated tastefully and complement the ZS EV's calm design. Like the Kona EV, you get projector headlamps too, but the MG makes do with halogens while the Kona gets LEDs.
If you want an SUV that screams "Look at me, I'm electric!", the ZS EV isn't for you. It's as normal and attractive to look at as any petrol/diesel SUV. But given how this isn't going to be as common as some other Rs 20 lakh SUVs, be prepared for questions from curious onlookers. In many ways, it's like the VW Tiguan i.e. it's an expensive SUV but stays under the radar by not being plus-sized or overstyled. And that's not the only thing that feels Volkswagen about it.
Interior

Back when we first drove the MG Hector, one thing we didn't like about the cabin was the quality of materials used. It didn't feel particularly rich. However, the ZS EV looks and feels premium on the inside. The all-black cabin contrasted by silver highlights is simple but tasteful. There's also a heavy dose of soft touch elements throughout the cabin, including the dashboard.

Why we draw the parallel with Volkswagen is because the trim plastics, steering wheel, tilt adjuster and steering-mounted buttons all feel similar to what we've seen in VW cars, and that's a compliment! The dashboard even features turbine-style AC vents like we've seen in the Audi A3. Additionally, the dial gear selector and drive toggles ahead of it look very Mercedes-Benz-like. They're very premium to operate as well.
The biggest difference versus the Kona, though, is the taller entry and more commanding driving position. In the ZS EV, you feel like you're at the helm of an SUV with a good view of the bonnet. It's also more SUV like to get in or out of since you don't drop into the seats like you do in the Kona.
It also seems to do better than the Kona when it comes to rear seat space. Sure, it's best used as a four seater and not a five seater, but two six footers can easily fit one behind the other with knee room to spare for the rear passenger. That said, any taller than 6ft and you will want more headroom (front or rear row). Also, a little more underthigh support would've made the rear seat experience better.
Family users will be happy to note that you get a good amount of boot space. 445 litres in the ZS EV vs 334 litres in the Kona electric. Two large suitcases or a few trolley bags can fit in with ease. In fact, MG could've liberated even more space by placing the boot floor lower since there's a healthy gap above the space saver spare tyre that's going unused. Nevertheless, like the Kona EV, you also get a 60:40 split folding rear seat for extra cargo space.
Features & Technology

The ZS EV makes Santa's nice and naughty list. Nice - you do get a 6-way power adjustable driver seat, a smart-key with push button start, a 6-speaker music system, a panoramic sunroof and even a PM 2.5 air filter so you can breathe easier.

And yes, the 8-inch touchscreen infotainment system (with Android Auto & Apple CarPlay) is smaller than the Hector's (10.4-inch) but the new software it runs is noticeably smoother and is virtually lag free (rear camera feed had some delay). Like the Hector, you also get the iSmart internet linked connected car features and an added benefit of WiFi support. So if the integrated eSIM in the car drops network, you can use an external device (e.g. your phone's hotspot) to support web-linked services like the navigation, Gaana music streaming, Accuweather updates, etc.

Everything seems nice but then you find it misses auto AC! There are no rear AC vents either, and the steering wheel only adjusts for tilt, not reach. It also misses out on an auto dimming IRVM, heated or ventilated seats and a rear armrest, all of which can be had in the Kona electric. These may not be hard deal breakers but are strange misses when you're paying over Rs 20 lakh.
| | |
| --- | --- |
| Unique To MG ZS EV | Unique To Hyundai Kona Electric |
| PM 2.5 air filter | Auto AC |
| iSmart connected car internet linked features | Telescopic Steering Adjustment |
| Panoramic sunroof | Rear Armrest |
| Auto Wipers | Auto-Dimming IRVM |
| | Heated & Ventilated Seats |
Safety

While the MG ZS EV is available in two variants, Excite & Exclusive, the safety package is largely the same. Six airbags, ABS with EBD, ISOFIX, hill-assist, hill-descent control, rear parking sensors and a rear camera come as standard. Also standard is electronic stability control, a tyre pressure monitor and a rear fog lamp. No front fog lamps, oddly.
Last but not least, the MG ZS EV has scored the full 5-star rating in Euro NCAP's crash tests. However, the tested car did have radar-guided features like auto-emergency braking and lane-assist which the India-spec car does not get.
Charging

Here's a quick breakdown of the MG ZS EVs charging options vs the Kona Electric's.
| | | |
| --- | --- | --- |
| | Kona EV | ZS EV |
| Charge Option 1 | DC fast charger - 57 minutes for 80% | DC fast charger - 50 minutes for 80% |
| Charge Option 2 | Home AC charger - 6hr 10mins for 100 per cent | Home AC charger - 6-8 hours for 100 per cent |
| Charge Option 3 | Portable charger - Approximately 19 hours for 100 per cent | Portable charger - Approximately 19 hours for 100 per cent |

Some points to note:
MG will setup DC fast chargers at many of its dealerships pan-India. These charge points will be setup in affiliation with Fortum and can be used by any electric vehicle (not exclusive to MG cars). To use it, you need to setup an account on the Fortum app and all payments will be managed through the app directly. As per MG's analyses, an 80 per cent charge won't cost you more than Rs 250-300!

One home AC charger (7.4kW) will be setup at your home/workplace by MG, the cost of which is included in the car's price. This charger will come with a key card to activate the charger so no one else can use it. Hyundai does the same with a 7.2kW charger and in either case, this charge point cannot be moved. It is hardwired into your home/building's wiring.

The charging gun locks to the car i.e. once you plug the charger in, you must lock the car for the charger to work. Once locked, the gun cannot be removed unless the car is unlocked, so no need to hover around your car for security.

DC fast charging is recommended only once every 4-5 AC charge cycles. Frequent DC fast charger usage does reduce the battery's life in the long run.

The portable charger can be plugged into any 15A plug point.
Performance

As per ARAI's claims, the MG ZS EV will manage about 340km on a full charge. Let's say we discount that to 250-300km in the real world. That's still plenty for a week's worth of office commuting for most of us. Even if it isn't, all you'd need to do is charge it up at home at night. Say you don't have the whole night to charge up and only have 2-3 hours, you can still add about 100 kilometres worth of range in that time. Every fuel up doesn't have to be a full tank, so every charge doesn't need to get to 100 per cent.

The benefit of EVs is that you can, in practice, add a few km of range without charging up. Brake energy regeneration (Kinetic Energy Regeneration System or KERS in MG speak) helps you add range while slowing down or going downhill. The system in the ZS EV has three levels, with the third being the strongest. While level three is recommended for downhill driving, we tested it out on the highway and still found it usable. The resistance offered is actually mild enough to be manageable when compared to the Kona EV, where level three is a lot more aggressive. Also, while the Kona EV has steering paddles to control the regen levels, the ZS EV has a toggle switch.
You also get drive modes with the MG ZS EV (Eco, Normal & Sport) and while the modes mainly affect how responsive the accelerator is, even Eco mode is quite versatile. Even while going from 60-80kmph on the highway, Eco mode offers plenty of punch and doesn't feel lazy.
| | | |
| --- | --- | --- |
| | Kona EV | ZS EV |
| Battery | 39.2kWh | 44.5kWh |
| Range (ARAI) | 452km | 340km |
| Power | 136PS | 143PS |
| Torque | 395Nm | 353Nm |
| 0-100kmph | 9.7s | 8.5s |

In the city, the ZS EV is a breeze to use. Light throttle inputs are all you need to keep up with traffic around you but one little poke of the throttle is enough to close any gaps. Irrespective of the speed, overtakes in the ZS EV don't need planning. That's the beauty of electric cars, since all 353Nm of torque is accessible immediately.

Slip into Sport mode and it can be a bit too excited for city use. In fact, in Sport mode, slamming the throttle pedal hard can induce torque steer even at 70kmph! The best part of this immediate torque delivery is that it feels quick even with four adults on board. On the performance front then, the ZS EV is both easy to use and exciting when you want it to be.
Of course, it's also silent to use which can be quite calming while cruising. That said, with no engine note to focus on, it becomes easier to pick up on the road noise that enters the cabin. Still, you could easily cover that up with a little music playing.
Ride & Handling

The ride and handling package of the ZS EV is similar to the Skoda Kodiaq in many ways. While it won't crash through rough patches on small potholes, you will feel them and hear them in the cabin. You can't drive fast through damaged sections like you can in say, a Ford Endeavour as it doesn't feel as punishment friendly. Expansion joints on the highway can be felt in the cabin too and there is some body roll.

However, you don't need to treat it delicately, just sensibly. Take bad roads at a reasonable speed and expect the body roll you'd get with a tall SUV. At 161mm (unladen) of ground clearance, it's no off-roader and is about 9mm short of the Hyundai Kona. It should manage most urban usage without much fuss though. We even took on a few large speed breakers with a full passenger + luggage load and cleared them with ease.

While we could test the ZS EV's speed, the drive route was largely on straight roads, so we'd save our handling observations for a later date. All you need to know for now is that it's very light and nimble to use at city speeds and the steering weighs up adequately at high speeds.
Verdict
The MG ZS EV isn't just an eco-friendly car it's also quite family friendly. In addition to being easy to drive in a variety of conditions, it also offers some excitement with its punchy performance.

Yes, there are some strange feature misses but as an overall package, it does plenty to make owning an electric car not seem like a gamble. You even get a standard 5-year/unlimited kilometre warranty, with the battery getting an 8-year /1,50,000km warranty of its own. MG is also throwing in five labour-free services, which is a cherry on top considering how much cheaper maintaining an EV is to begin with.
If MG launches the ZS EV at Rs 22 lakh-Rs 25 lakh ex-showroom, we'd say it's worth the price. It certainly offers a lot to be more than just your secondary car.