Jeep Compass Trailhawk Review: Whos It For?
Published On Jun 06, 2019 By Arun for Jeep Compass 2017-2021
Jeep's bestseller gets a new top-end variant that brings serious off-roading credentials to the table. Is that reason enough to bring it home?
We're piloting the Compass TrailHawk through some seriously tricky terrain, at the outskirts of Lonavala. It's utterly, utterly capable at making mincemeat out of surfaces most so-called SUVs would shy away from. And we can't say we didn't expect the SUV to do this. It carries the 'Trail Rated' badge after all.
Trail Rated? What's That?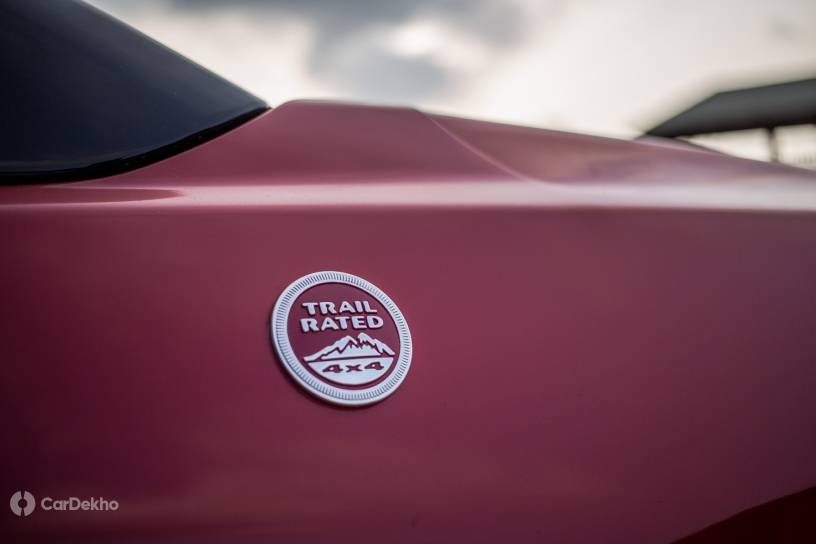 This isn't a badge that Jeep gives away willy nilly to every SUV. There's a team that evaluates a product on five key points: ground clearance, traction, articulation, manoeuvrability, and finally water fording. To earn this badge the Compass has undergone a lot of changes, most of which might not be apparent at first glance.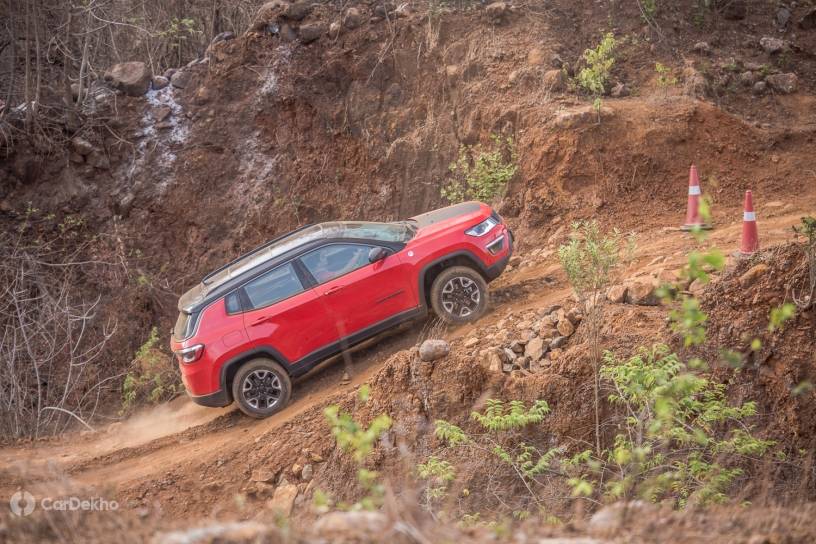 Let's start with the obvious bit. The TrailHawk gets a ground clearance that's jacked up to 205mm, from the previous 178mm. Thanks to the redesigned bumper, the 26.5° approach angle is significantly better than the standard Compass' 17.5°. At the rear too, the sharp slant in the bumper gives it a healthy 31.6° of departure angle. Couple that with a break over angle of 21.2° and you've got an SUV that should help you duel with mother nature.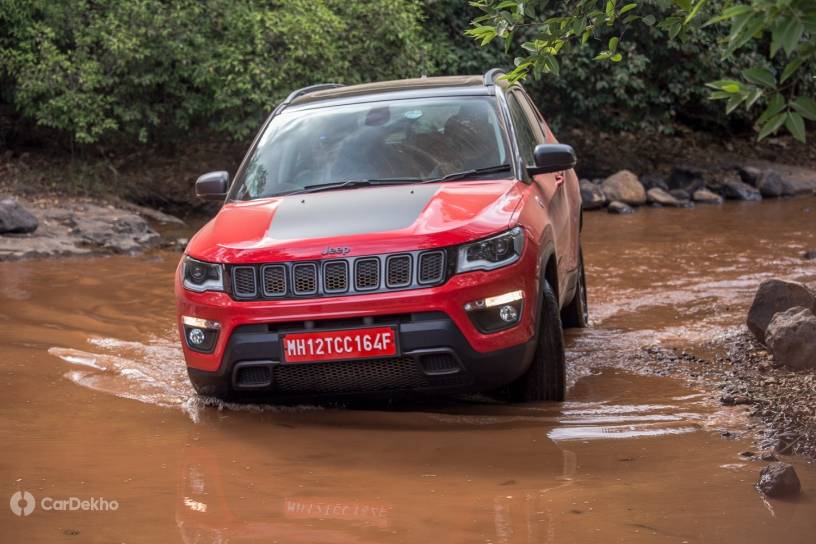 The not so obvious bits include a repositioned snorkel. It has been moved up by a full 120mm to give the Compass TrailHawk enhanced water wading ability, rated at 480mm. And to ensure that the air intake isn't clogged by water, Jeep has also blanked out the slots in the iconic seven-slot grille. Jeep also tells us they've deliberately used narrow 6.5J rims on the TrailHawk. Mounting 225/60R17 tyres on these alloys causes the tyres to bulge out a bit over the alloys, protecting them from scuffs and dings. The tyres themselves are Falken Wildpeaks, rated for mud and snow use.

Even what seems like a cosmetic exercise has a purpose behind it. Case in point: the red tow hook. Yes, the India-spec TrailHawk doesn't get the dual hooks at the front because of pedestrian safety norms. But the one at the rear is very much present. It's a part of the stressed member and can haul up to 1.5 times the weight of the Compass. So, even if your friends in bigger, heavier SUVs get stuck, you can pull them out.
More Tech: Because Why Not.

The standard Compass 4x4 already packed in quite a lot of off-road-ready kit. But with the TrailHawk it's dialled up a notch. No, it still doesn't have locking differentials or a limited slip differential. However, it now features a 4WD Lock mode, as well as 4WD Low. Engaging 4WD Low locks the gearbox in first gear, letting you tap into the 350Nm of torque at speeds as low as 5kmph. As we found out, 4WD Low is your 'get out of jail free' card when you're stuck in a really tricky situation.

Finally, the Compass also gets hill descent control. This lets you focus on steering the car downhill, not bothering with anything else. On a decline, HDC will lock the car to 1kmph, letting you execute a controlled downward slide. Additionally, the Compass' SelecTerrain system now has an additional 'Rock' mode, which sounds self-explanatory. It limits wheel slip and sends power to the rear wheels to 'push' you over the rocks. The terrain we were frolicking around was full of loose surfaces with tiny pebbles and gravel, with some backpack-sized rocks thrown in for good measure. The TrailHawk sailed through without a hiccup, we're happy to report.
On The Road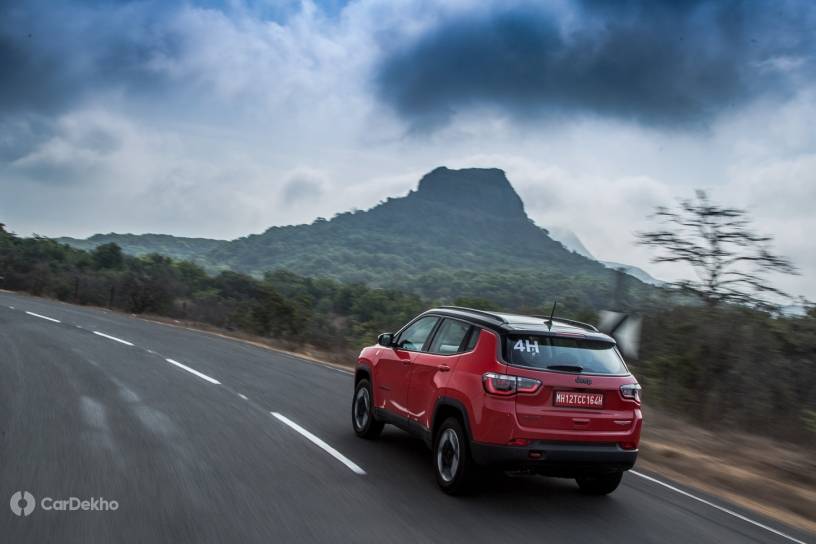 When you aren't busy mucking about, you'll pick on the TrailHawk's sensible side. For starters, it's got a power take-off unit (PTU) that disconnects the rear axle when you don't need it. This is to ensure that the Compass TrailHawk is more efficient on the road. And to aid that efficiency figure, there's auto start-stop technology on offer too.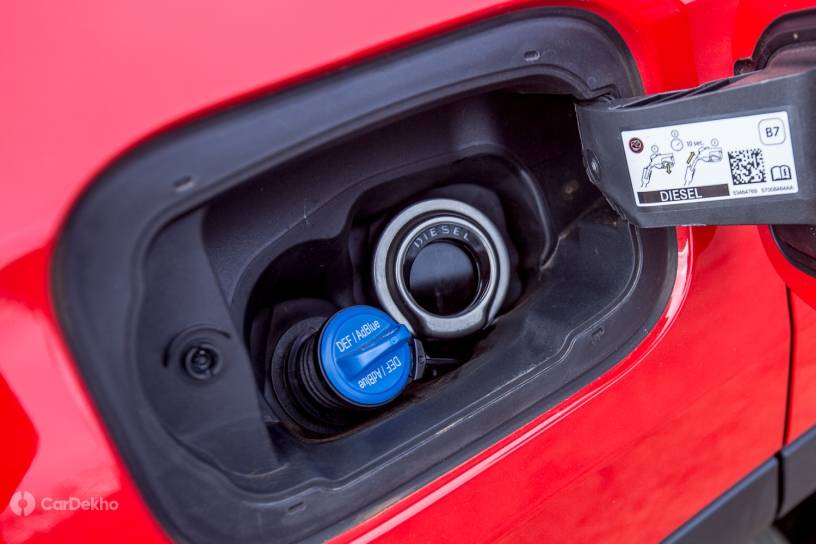 But that's not the only addition to the Jeep's 2.0-litre engine. This Multijet motor is now BS6-compliant! The TrailHawk gets a 13-litre AdBlue tank that cleans up emissions. For the uninitiated, AdBlue is a urea solution (also referred to as 'Diesel Exhaust Fluid') that's injected into the exhaust gases. Here, the urea reacts with nitrogen oxide at high temperature, converting it to harmless nitrogen and water vapour in the process. Jeep points out that the diesel exhaust fluid will need replacing within 7000-9000km of use. This means a trip to the service centre at least one more time over the car's regular service interval of 15,000km.

The updated motor continues to make 170PS of power and 350Nm of torque. And it doesn't drive any different compared to the BS4 either. However, the engine does feel noticeably smoother at idle and on the move. Even the vibes on the floorboard and the pedal aren't as intrusive as they used to be.
Auto Update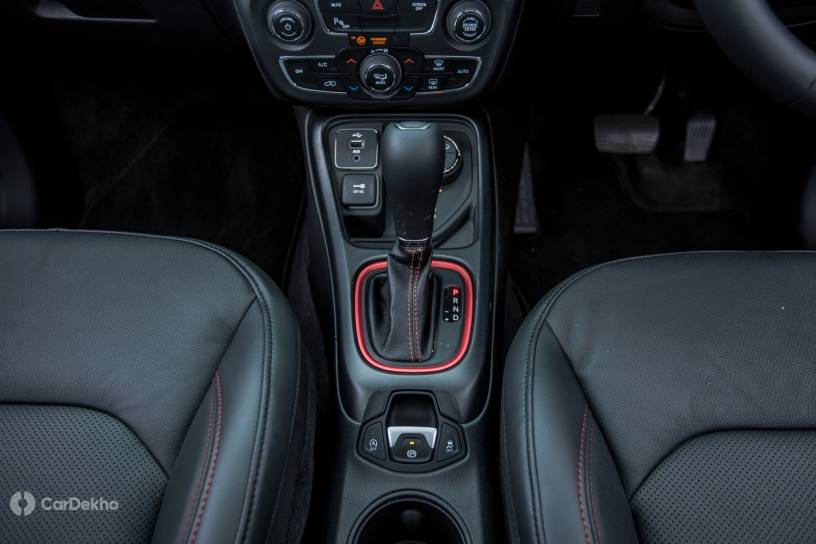 Oh yes, there's a new 9-speed automatic gearbox to be had with the diesel engine. Jeep says this gearbox will be a TrailHawk exclusive for a while before it eventually makes its way to other models in the Compass lineup.

If you drive around with a light foot, the ZF-sourced gearbox should give you no reason to worry. It shifts up quite early, and smoothly too. However, it feels a bit confused under part throttle and takes a while before deciding on a gear. It's also a bit hesitant to downshift when you floor the accelerator pedal, requiring you to plan your overtakes within the city and on the highway in advance. On declines, it holds onto lower gears, even if it means nearly redlining the engine. We feel this could've been dealt with better by either switching to coasting or choosing a slightly higher gear.
The new gearbox adds a dose of convenience to the Compass' package. It's something we'd pick over having to battle the rock hard clutch on the manual.
Everything Else

The TrailHawk variant is based on the Limited Plus variant of the Compass. Visually, it's quite easy to distinguish thanks to the decal on the hood, smaller 17-inch alloy wheels and different bumpers. Inside the cabin too, not much has changed. Even this 'ready-to-get-dirty' off-road version has an air of premiumness and luxury. A thoughtful change is the swap to an all-black cabin — the grey leather upholstery in the standard Compass can be a pain to keep clean! With the black theme, you also get sporty red accents around the speaker grilles, gear lever and instrument cluster. There's red stitching on the seats and door pads, and TrailHawk branding on the seats too.

In terms of features, everything that you'd want in an SUV that costs as much this is on offer. This includes dual-zone climate control, an 8.4-inch touchscreen infotainment system, leather upholstery and a massive panoramic sunroof. There are two notable additions: a 7-inch LCD driver's display, and cruise control. The display has richer graphics and colours compared to the other variants and displays a host of information including music, messages, diesel exhaust fluid levels and even battery voltage. And thanks to the cruise control buttons, you no longer have loads of dummy switches in a 25-lakh-rupee car!
But here's a bummer: Jeep has deleted a few features from the Limited Plus to keep costs in check. Automatic headlamps, rain-sensing wipers, powered driver's seat with memory - these have been axed. Notably, international versions also come with Beats Audio speaker setup. That has been ditched for the India-spec TrailHawk as well.
Who's It For?

Jeep's Compass TrailHawk is expected to be priced at Rs 25 lakh (ex-showroom). At that price, it's offering two things that the standard Compass didn't: an automatic gearbox and better off-road ability.

We wouldn't recommend buying the TrailHawk solely for its automatic gearbox. The off-road chops are integral to its character, and if you don't intend on using it off-road (the way it should be!), then you can steer clear. Jeep tells us it's a 'logical thing to do' — introducing the automatic gearbox in lower variants, including 4x2 ones. If you just wanted a diesel-auto Compass, you'll have to wait longer.
However, if you crave a go-anywhere machine — something you wouldn't have to think twice before jumping into and heading off to Ladakh, Spiti or even Sandakphu -- the Trailhawk makes total sense. To us, the Compass TrailHawk is among the best road trip cars you can buy - luxurious, comfortable, and now with the beefed-up offroad hardware, ready to take a serious beating!
Also Read: Next-Gen Jeep Wrangler Spied Undergoing ARAI Tests Ahead Of Launch