Jeep Compass S 800km Long Term Review: Fleet Introduction
Published On Jul 21, 2022 By Arun for Jeep Compass
Jeep's brawny baby enters CarDekho's long term fleet.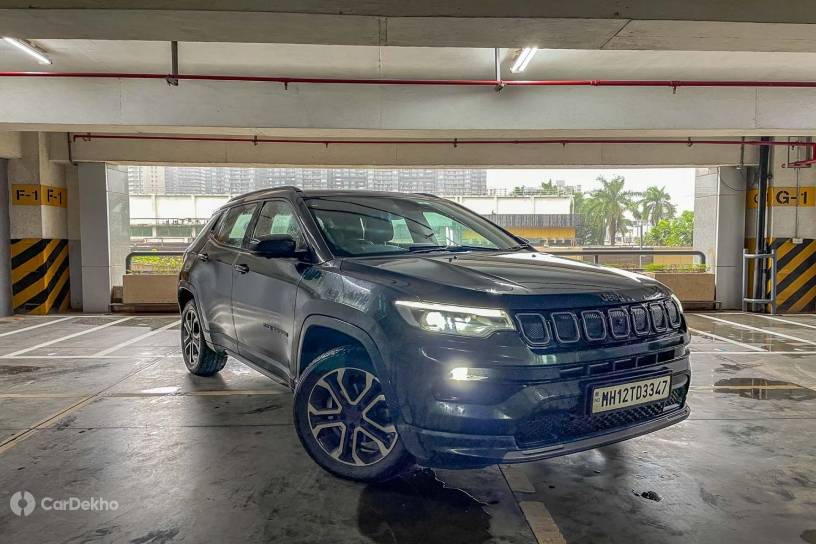 It's been nearly six years since I last held keys to my 'long termer'. This streak was broken by the Jeep Compass — an SUV that's been on my personal consideration list for way too long. Our test car is the top-spec Model S, finished in an outdoorsy deep green with a gray roof. This particular vehicle also seems to have seen quite a few journalist butts, given the odometer read a healthy 21000km when I got the keys.

My initial feeling was that of dread. Thankfully, that was quickly replaced with cautious optimism. Both, surprisingly, have to do with the Compass's size. I'm a bit too used to squeezing through traffic and parking in the tightest spaces with my Volkswagen Polo. Obviously the Compass takes up more real estate, but it's reassuring how quickly you get used to the dimensions of the Jeep. The steering isn't unnecessarily heavy either, meaning I don't really mind that extra maneuver to park the Compass. Also, it's just the right size — enough to play bully if need be, and compact enough to pick gaps through crowded streets.
Once I got used to the Compass, I wanted to drive it everywhere. It might just be the novelty of having a torquey diesel at my disposal, but the Jeep has been the vehicle of choice for everything: grocery runs, late night city drives and weekend mile munching. It has racked up 800km in a little over a week's worth of driving — I rest my case!

Now, most of those miles came from a weekend trip to Upper Vaitarna. In a bid to live the #JeepLife, I ticked all boxes I could think of. Camo shorts, rubber sandals, an oversized tee and a whole lot of snacks in the boot. It also helped that a few close friends joined in with their own 4x4s. While the Compass barely needed to call on its 4x4 prowess for this trip, it helped unlock the feeling of being able to explore destinations like these on a whim. That the Compass feels damn near invincible (and properly comfortable) on the highway is a big plus.

Not all's been rosy with the Compass, though. The side cameras have stopped functioning, meaning the 360 degree camera can't stitch a surround view. Also, the odometer has been blinking, pointing at minor snafu somewhere. Nothing a quick scan and error wipe can't fix, I think.
The Compass now gets pressed into duty for my weekly runs to Pune, but only after it helps me move houses. Stay tuned!
Date Acquired: 22nd June, 2022

Km reading when acquired: 21,000km

Km done till date: 21,800km

Mileage: 9kmpl (City) | 11.5kmpl (Highway)

Highlights:

Fantastic highway manners. Stable ride, torquey engine.

9-speaker Alpine music system is crisp and loud.

Ventilated seats are a boon — especially with black leather interiors.