Exquisite Volvo S60
Published On May 08, 2014 By Prithvi for Volvo S60 2015-2020
If the cover of a book can be deceiving than beauty can be more misleading. Volvo's S60 is one such machine which demands all the attention it can get. In actuality is it worth the effort is something that we are here to find out.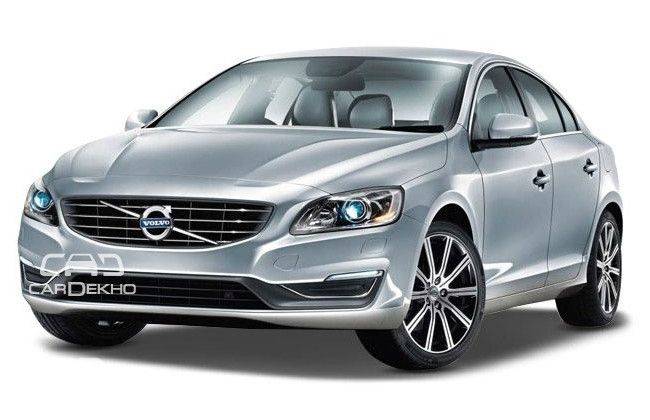 Unlike German trio (Audi, BMW and Mercedes-Benz), Volvo has not been able to carve a niche for itself when it comes to the Indian market in particular. This does not mean that the Swedish automaker has products in its arsenal that are not worthy of contention. In fact the brands latest upgraded Volvo S60 is one such model that adds glamour to an already radical looking design, especially from its front.
Design and Built Quality

True to its Scandinavian design, at the first glance S60 comes across as a better pronounced saloon than before. Its horizontal lines are the eye catching element along with a sculpted bonnet that further accentuates the front fascia with features such as a wider grille, horizontal chrome bars and day time running lights. The addition of LED's definitely provide it a striking presence in the mind, not to forget its road hugging stance which brings out the sporty nature from within. Further a sharper crease rising from the front all the way to the rear is the highlighting factor of its side profile with things like integrated ORVMS within the side view mirrors and matt finished alloy wheels.

While the rear has been unique on the S60, its wedged shaped tail gate instantly creates the element of curiosity as there is a lot going for it with elegant looking tail lamps. Having stated all exterior features, we must tell you that apart from the DRL's and the more produced hood, there isn't anything new in relation to its design. Premium as it is without doubt, the built quality is good as expected of a Volvo.

Interior and Convenience

The new S60 has resemblance with the company's V40 Cross Country when it comes to the interiors. The culmination of futuristic design especially in regards to Adaptive Digital Display Console is a welcome change in comparison to the older version. The instrument cluster therefore features an active TFT (Thin Film Transistor) crystal display that helps in displaying vehicle information to the driver and its users. What is interesting is that this interactive display changes colour the moment one steps on the gas pedal; red signifying sporty mode, blue economical and brown as normal. Rest remains the same with features such as leather seats, 3 spoke leather wrapped steering wheel with mounted controls, leather gear knob, an in built audio system that caters to a single CD/DVD player with MP3 compatibility; Auxiliary Input; a USB port and Bluetooth as standard fitment. As for the information display for the audio and navigation system there is the availability of a 5 inch or a 7 inch screen depending upon the variant one goes in for - 'Kinetic D4' or 'D4 Summun'.
Convenience wise, the front two seats with their perfectly well upholstered leather are a delight to be seated in with good amount of head, shoulder and leg room. The driver in this case gets electrically adjustable seat with memory function while the co-passenger has to deal with a mechanically re-adjustable seat having a 6 way function. In comparison to the front seats, the rear is not that impressive as it lacks decent cushioning. Moreover the sinking-in feeling is a spoil sport in its case as getting out of the vehicle becomes a bit of an issue. In relation to space, this particular compartment is reasonably good. Overall the fit and finish of the cabin is perfect as one would have expected from a saloon of this stature.
Engine and Performance

Mechanically everything remains the same despite a slight change in the exteriors. Having mentioned that, the S60 comes in two variants D4 and D5. This particular one that we had with us was the D4 which has two sub types to choose from either the 'Kinetic' or the 'Summum'. Technically, they are the same besides having some feature upgrades depending upon the sub type selected. Thus under the hood is a 1984cc diesel engine that produces a maximum power output of 163 bhp with 400 Nm of torque which comes across as refined. Once on the move, the 6-speed automatic transmission on board does well to provide decent shift speeds along with seamless power delivery. With a ground clearance of 136mm, the S60 does compromise on clearance however the ride quality is fairly satisfactory both in the front and rear. As for handling, this saloon can be thrown around when it comes to attacking corners or curves but in regards to sheer steering input the wheel seems to be a bit dead.
Another very important aspect wherein Volvo gains to benefit is in its safety standards. Like the Germans, the Swedish manufacturer invests a lot of money into research and development when in it comes to this issue. Therefore the S60 boosts of features such as 2 step airbag for the driver and co-passenger, SIPS airbag and inflammable curtains, Emergency Brake Assist (EBA), Intelligent Driver Information System as key highlights. Supporting systems like a trip computer, cruise control, laser assisted automatic braking - city safety (up to 50 kmph), park assist for the front and rear and a reversing camera are all added benefits.
Overall, the new S60 is a piece of machinery that will work well considering our Indian conditions. However if it needs to be a swift affair in terms of hardcore performance, then there is still a bit more to be desired from this Volvo.

Verdict

Volvo S60 is essentially an exquisite piece of Swedish machinery that has a lot of glamour quotient going for it - meant for those who would love to flaunt their vehicle wide in the open. It's a vehicle that will surely attract eyeballs with interiors having decent amount of comfort for the driver and co-passenger however if it has to be chauffeur driven then one might want to check out the comfort factor depending upon personal preferences. Ride and handling is decent which does not really pose a hindrance to overall experience while safety is at par with rest of the competition stating its value for money.
Pros:
Updated exterior design which adds glamour
Enhanced interiors especially the instrument cluster
Safety aspect which the biggest USP of any Volvo
Cons:
Still a bit to be desired from its engine in regards to performance.
Rear passenger comfort is a bit of an issue.
Dead steering input; lacks the fun element for a user who likes driving.
Volvo S60 2015-2020 is Discontinued and no longer Produced.

Petrol19.6 kmpl

Diesel27.03 kmpl