Audi Q5: First Drive Review
Published On Feb 28, 2018 By CarDekho for Audi Q5 2018-2020
One of Audi's most popular cars in India, the Q5, is now here in a brand new avatar. But how much of an improvement is it?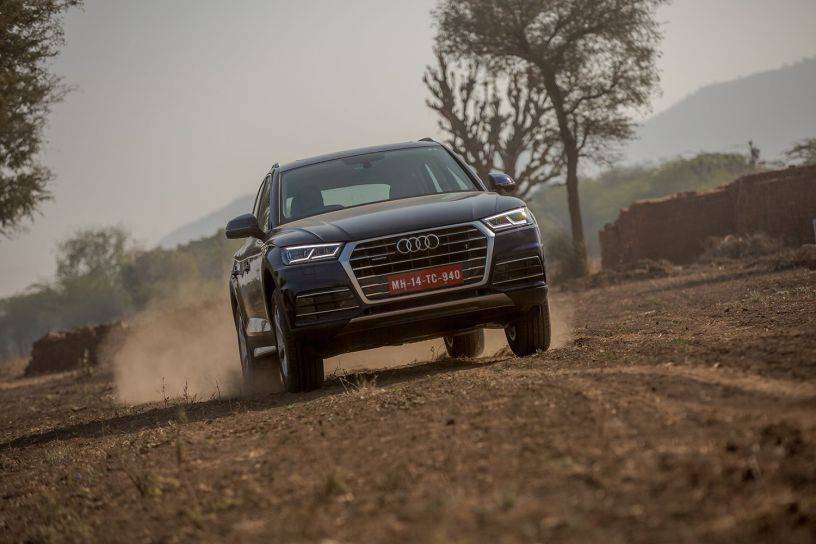 The Q5 has been one of Audi's best-selling cars in the country, and even internationally, it claims that this is the top seller in its segment. But with this brand new, second generation Q5, Audi has made a bold claim that it is the "Perfect Q" - in terms of styling, in terms of ability and in terms of size. So, is it?
Available variants

The Q5 has been launched in India with only one engine option, a 2.0-litre turbo diesel. But there are two variants on offer - the base Premium Plus, and the higher-specced Technology, which offers adaptive suspension, the Audi Virtual Cockpit digital driver display, Multi Media Interface (MMI) Navigation Plus with MMI Touch, electronically adjustable front seats with memory function for the driver side, a wireless phone charging box, amongst others. The Technology variants gets differently designed 18-inch alloy wheels as well.
Exterior

While this new Q5 looks similar in profile to the outgoing car, there are lots of new design touches everywhere - the now iconic hexagonal Audi front grille, distinct LED DRLs, all-LED tail lights, and even dynamic turn indicators at the back. A quick glance will definitely remind you of the new Q7. But this Q5 has its own personality as well - with a flowing shoulder line and flared wheel arches giving it a more curvy look. The silver trims, mimicking bash plates under the front and rear bumpers add a bit of ruggedness to the design. However, the 18-inch 5-spoke alloy wheels look a little boring; larger ones would've added to the premiumness. But the upshot of sticking to 18-inchers is that it gets pretty thick 60 profile tyres, which make a huge difference in the way this car rides. But more on that later.
Interiors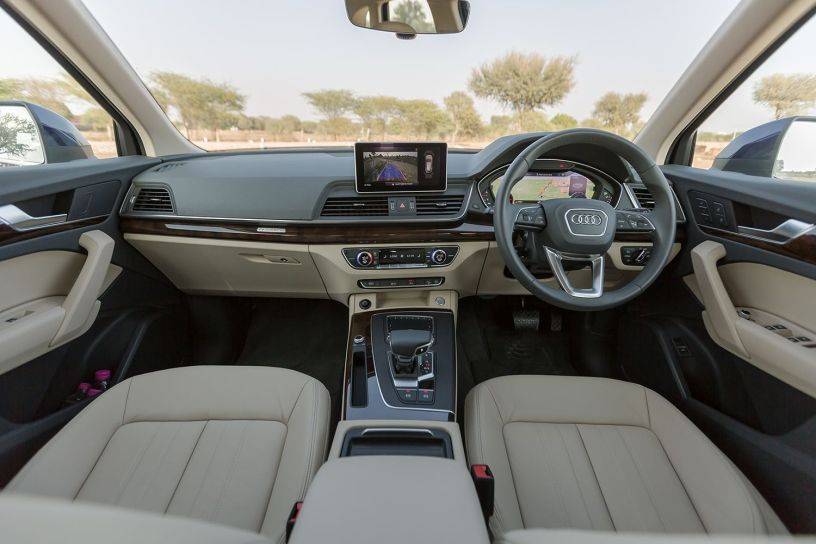 Everything inside the car has been revamped as well. The two-tone interiors look good, as do all the new fittings - there's a new free floating centre screen, with updated controls for Audi's MMI setup. There's also a touchpad controller, but that's only used for handwriting recognition if you want to search your phone book for contacts. Even here, there are some touches similar to what you get on the Q7, such as the yacht-style gear selector. But what it doesn't get is the Q7's massive one-piece A/C grille, as well as the retractable centre screen. Audi's Virtual Cockpit display is on offer though (on the Technology variant), and that replaces the traditional instrument cluster dials with a full LCD screen that can even show the map when using the navigation system. Overall, it's a very classy place to be in, and a huge step up over the previous car.
Comfort and convenience

Both the front seats are really comfortable and feature electric adjustment (the Premium Plus only gets this for the driver's seat). There's a combination of real and artificial leather, and Audi offers an option of either all-black or a beige-black two-tone colour scheme for the cabin. The new three-spoke steering is wrapped in leather too, and features controls for audio as well as telephony. The cabin feels spacious and airy thanks to a large window area and a humongous panoramic sunroof.

But one complaint about the earlier Q5 was that it didn't offer great space at the back. Thanks to a longer wheelbase (now 2820mm), space at the back has been really improved. There's plenty of knee room and headroom here for those well over 6 feet as well. That said, thanks to a tall centre (transmission) tunnel, you can only easily accommodate two people on the back bench. Sitting in the middle is going to be reserved only for when you're in a pinch. Thankfully though, the rear cabin does have its own A/C vents as well as temperature control setting.

The increase in the car's size has given it slightly improved boot space as well, which is now at 550 litres. The 40-20-40 split folding rear seat can be dropped down to open up a whopping 1550 litres of storage space too.
Engine

As of the moment, Audi is offering the Q5 with only one engine option, and that is an inline 4-cylinder 2.0-litre diesel. However, this is one of the Volkswagen group's best diesel engines, and it's really quick to rev. If it isn't for its 4,500rpm redline, it's easy to mistake it for a petrol. And it sound like one too. The power figure isn't super impressive, just 190PS @ 3,800-4,200rpm, but its peak torque figure sure is - 400Nm. But the real beauty of this engine is that this torque figure comes in from as low as 1,750rpm. So what does that mean? Well, basically, any speed, any gear you're in, step on the accelerator and the car responds rapidly. There's almost no turbo lag either, so even when you're crawling at city speeds, the car will just move with very little effort.

Audi says that the Q5 will get from zero to 100kmph in 7.9 seconds, which isn't too shabby. This performance is thanks to the new MLB Evo platform on which the car has been built, which has helped shed about 65kg compared to its predecessor. Of course, with this engine, it's not just about performance figures, it's also about efficiency and with an ARAI claimed figure of 17kmpl, it's really quite impressive as well. Helping this Q5 achieve such good efficiency numbers is a feature that disconnects the engine from the wheels when you're coasting (cruising without giving any throttle input). But the system is quite smart as well. It re-engages the engine if the Q5 starts to pick up speed (say, down a slope).
Gearbox

This Q5 is equipped with a 7-speed twin-clutch DSG gearbox, which offers really seamless gear changes. And the gearbox logic is pretty sound as well. You can leave the car in auto mode and it'll find the right rpm to shift at, pretty much every time. In fact, the only time you need to use the paddles or the shifter to shift manually, is if you're in the mood to drive aggressively.
Vitals
Engine: 1,968cc, inline 4-cylinder, diesel
Power: 190PS @ 3,800 - 4,200rpm
Torque: 400Nm @ 1,750 - 3,000rpm
Transmission: 7-speed dual-clutch automatic
Drivetrain: quattro (all-wheel drive)
Fuel Efficiency: 17kmpl (claimed)
Suspension

This new Q5 gets independent suspension all around, as before, but now it features adaptive dampers as standard, which let you change the tune of your suspension based on your driving mode. While there is a certain amount of customisability for how the suspension feels, it isn't as sophisticated as air suspension. There are five driving modes to choose from - Comfort, Dynamic, Auto, Off-Road, Individual. They adjust not just the suspension settings, but engine response, steering response and even the air-conditioning to suit the required driving style.\

While those 60 profile tyres really help with ride quality, the car is still set up on the stiffer side. In Comfort mode, the ride becomes a lot more supple over rumbly roads - a lot of the vertical movement over continuous short bumps is smoothened out. But sharper bumps over potholes or expansion joints on flyovers can be felt inside the cabin, and you still need to be careful over the really large bumps. In Dynamic mode, the suspension gets much stiffer - great for sporty driving, but a little uncomfortable over broken roads.
Driving Experience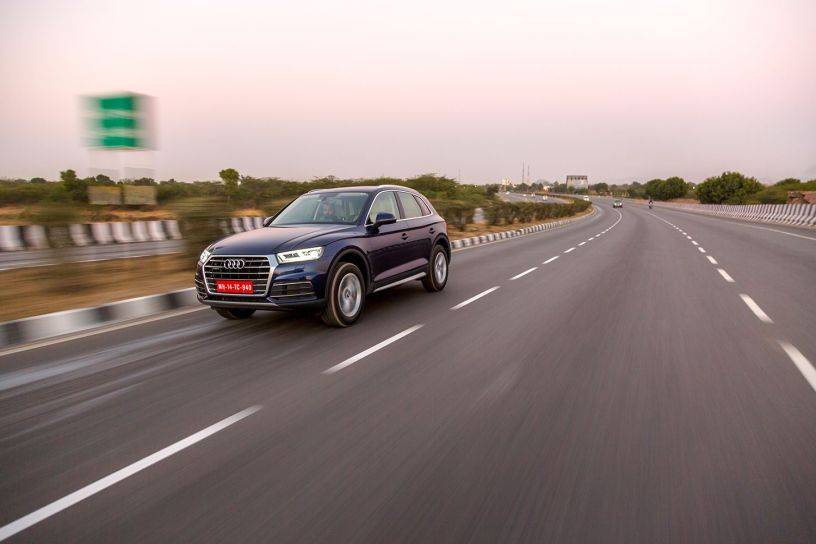 Now the roads we drove on didn't really allow us to test this car's handling prowess. But on the few corners we encountered, it felt really poised and confident. That said, as with all other Audis, feel from the electromechanical steering rack is a bit vague, though the steering weighs up well in Dynamic mode. In our drive though, the new Q5 felt extremely stable at highway speeds, and even high-speed lane changes were handled with confidence.
Now, Audi says that they've really worked on this car's AeroAcoustics. What that means is when you're driving along at highway speeds, you do get a bit of tyre noise in the car, but there's almost zero wind noise. And that makes this one of the quietest cars in this, or pretty much any, segment.

This, being a Q car, also gets an Off-road driving mode. Switch to that, and the centre panel shows you pitch and roll angles, the steering angle, and the car just gets set up for driving off the beaten path. Of course, it's not going to do some hardcore off-roading, but driving on dirt roads or trails should be just fine.
Verdict

Ok, so bear with us on this when we say that Audi hasn't done anything groundbreaking with the new Q5. However, what it has done is take all the aspects that made the previous Q5 so good, and made them all slightly better - there's more space, more tech, more features, a very smooth and efficient diesel engine. All this makes the new Q5 a lot more attractive and likeable than ever before.
This new Q5's two variants, the 'Premium Plus' and 'Technology' are priced at Rs 53.25 lakh and Rs 57.6 lakh (ex-showroom pan-India) respectively. So, while prices have gone up compared to the outgoing model, the new Q5 is offering a lot more car for the money. Plus it looks great, doesn't feel too large to handle on our roads, and is capable enough given Indian conditions. So in that sense, it indeed is the perfect Q!

Words: Priyadarshan Bawikar
Photography: Eshan Shetty
Also Read: 2017 Volvo XC60: First Drive Review || Lexus NX 300h: First Drive Review