2018 Range Rover Sport Diesel HSE: Review
Published On Sep 10, 2018 By Tushar for Land Rover Range Rover Sport 2013-2022
With the 2018 update, the Range Rover Sport gets a host of modernities from its newer sibling, the Velar. Is it just playing copycat or is there something unique to it?
Exterior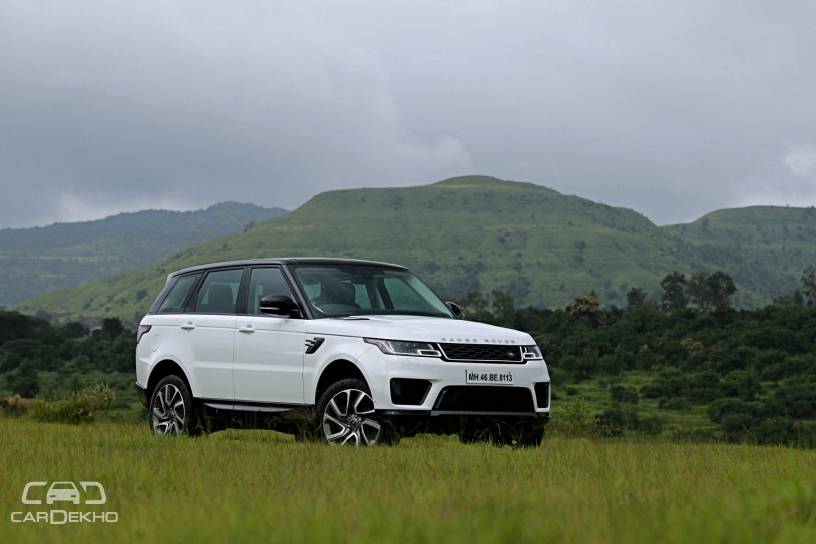 Given how well styled the Range Rover Sport already looked, Land Rover faced a tough task. Revise the styling and risk ruining a good thing or make a select few tweaks to accentuate what pleased the eyes already. Fortunately, Land Rover did the latter. The new Range Rover Sport looks, quite literally, jaw droppingly good. No kidding! Most of the motorists and pedestrians that passed by had to stop and take a second glance, even in this simple but classy shade of white.

Changes outside include a new and better integrated set of DRLs, and the Velar-inspired "Atlas Detailing" front grille that not only looks nicer but also rids it of any connection to the previous generation SUV. Also, that new front bumper doesn't just sport a cleaner design but also integrates sleeker LED fog lights and plus-sized vents that improve brake cooling.

The lighting system gets upgrades as well. While LED headlights (with 24 LEDs) come as standard, this HSE-spec comes equipped with the Matrix LED headlights (with 52 LEDs) Optionally available are the Pixel LED headlights (142 LEDs) and the Pixel Laser LED lights (144 LEDs).

While the front end looks aggressive, it's the side profile that truly makes you appreciate the size quotient. Measuring nearly 5 metres in length, the Range Rover Sport has tremendous road presence. Updates here are minor and include new wheel designs and a restyled fender vents. Also, while 20-inch wheels come as standard, our test car rode on 21-inch "Diamond Turned" alloys. At the rear, the SUV gets a new set of LED tail lights, which, like the front, have dynamic turn indicators, while the exhaust pipes have been integrated into the rear bumper for a cleaner look.

Land Rover hasn't changed the new car's look excessively, which is exactly why the update's made the SUV look sharper.

Interior

The 2018 Range Rover Sport comes equipped with electronic air suspension as standard, and boy, are we glad. This isn't something to do with the ride or handling. Modern as it is, the Range Rover Sport is still a true-blue SUV and as such, you do have to climb in and out of the cabin. Thanks to the air suspension, the car lowers to something called access height, which makes ingress/egress easier. But even so, you do have to stretch your legs a bit, even if you are tall.

Once in, the cabin wows you with a sense of not just the grandeur but, like the outside, size! The dashboard is bulky and wide, which truly massages the ego, since you're very aware of the fact that you're controlling something massive.

Finished with an Expresso/Almond interior with Expresso seats, the SUV's cabin feels luxurious and airy. Combine that with the large glass area and you find that the "smaller" Range Rover still delivers the big SUV experience. More so than even the Velar, no doubt. Stitched leather drapes almost everything you touch and it's combined with smooth metallic finishes.
Most importantly, Range Rover cabins continue to get cleaner with each update. The button clutter is nearly eradicated with the integration of the Touch Pro Duo 10-inch touchscreens. Even the instrument cluster has switched from dials to a single 12.3-inch panel. The Velar-derived features extend to even the steering wheel, which now sports new mounted controls, including the touch-sensitive dial on the left. What stands out the most is that even with these fairly extensive updates, every new feature looks like it belongs where it is. Nothing comes across as an afterthought.

The 16-way power-adjustable front seats offer great all round support even for larger frames. However, there are a few misses here. The controls for the electric seats are placed near the seat base and are a little hard to reach. Also, for an SUV that costs Rs 1.30 crore (ex-showroom), you'd expect cooled and massaged seats to be included as standard but they're optional extras! Additionally, while the rear seats offer good all round support and can also be reclined, the seat back is quite flat, offering little lateral support. And in a big SUV like this, that's something you will notice on the move (more on that later).

With a wheelbase of nearly 3 metres, you'd expect cabin space to be second to none. However, we found that while rear seat space is certainly good, it's not quite what you'd expect for something this big. And the numbers back up what we felt.
| | |
| --- | --- |
| Interior Front | Measurements |
| Legroom (min-max) | 910mm-1100mm |
| Knee Room (min-max) | 585mm-790mm |
| Seat Base Length | 510mm |
| Seat Base Width | 510mm |
| Seat Back Height | 700mm |
| Cabin Width | 1380mm |
| Headroom (min-max) | 880mm-975mm |
| | |
| --- | --- |
| Interior Rear | Measurements |
| Shoulder Room | 1510mm |
| Headroom | 920mm |
| Seat Base Length | 1275mm |
| Seat Base Width | 465mm |
| Seat Back Height | 685mm |
| Knee Room (min-max) | 595mm-920mm |
Knee room for the front passenger, for example, is on par with what you'd get in a C-segment sedan like the Yaris. By design, the dashboard can also jut into your knee if you're over 6 feet tall, so you have to opt for a lower seat height to sit comfortably.

At 595mm-920mm, the Range Rover Sport's rear seat knee room is similar to that of the Volvo XC40, as is its 920mm of rear seat head room. Make no mistake, chauffeur-driven owners won't be lacking for space but don't let the exterior proportions lead you to believe you can stretch out here like you would in a similarly priced business sedan like the BMW 7-Series or Mercedes-Benz S-Class. For that, you will have to dig deeper and get THE Range Rover.

Fortunately, boot space is quite palatial at 780-litres (expandable to 1686-litres) and a 60:40 split folding rear seat comes as standard. The loading lip is flat, you get baggage hooks and a 12V charging socket, along with a foldable parcel tray. What's more, you can lower or raise the rear suspension (by up to 50mm) for easier loading using buttons given next to the boot floor. And yes, Range Rover gives you a full-sized alloy spare wheel, that's tucked underneath the boot floor.
Technology

It's a given that the new Range Rover Sport sports galore of gizmos. The 10-inch Touch Pro Duo centre screens come as standard and can be used to operate a long range of features. These include the seats (heated, cooled and massage seats are optional extras), the configurable ambient lighting (an optional extra, basic ambient lighting is standard), climate control (3-zone standard in the HSE, 4-zone in our test car is an optional extra) and the 19-speaker Meridian surround sound system (23-speaker Meridian Signature sound system is an optional extra).

The screens will also show you the rear camera (or the optional 360-degree camera) feed, vehicle information like the changes in height as you adjust the air suspension, navigation and Terrain Response off-road mode information. Operating the dual screens is understandably distracting on the move, but the screens are close to lag free and the interface is very well crafted. Compared to the outgoing setup, this is a leap of a generation or two. However, a major miss here would be Android Auto and Apple CarPlay.

Other features include a motorized steering adjuster, powered tailgate, and an electric sunroof (fixed sunroof as standard, sliding sunroof is an optional extra). A cool touch for the powered sunshade is that it gets gesture control, though you have to swipe your hands by a sensor that's literally next to the buttons that control the sunshade.
Performance

The Range Rover Sport is available with 2.0 and 3.0 litre petrol engines along with a 4.4-litre V8 diesel. However, the version we tested out is what will most likely be the most sought after option: a 3.0 litre diesel V6 (TDV6 tune). Producing 190PS of power and 600Nm of torque, this motor comes paired as standard with an 8-speed automatic transmission.

Fire up the engine, stand outside the SUV and you can hear the engine's muscly gurgle. But step into the cabin and it's muted. The motor offers excellent refinement and is very smooth to drive. For daily drives, all you need is a light tap on the throttle as the 600Nm of torque is available from as low as 1750rpm. Bear in mind that while this is the Range Rover "Sport", it still isn't a sporty SUV. Response is relaxed and at low to medium speeds, you will also find that the transmission does have a little lag before downshifting. However, even with this base diesel engine, the Range Rover Sport does feel fairly quick and in a few days of driving it, you can confidently zip it through small pockets in traffic. The steering, while a bit slow, is very light and aids in making city driving easy too.

Floor the throttle and the SUV turns into a different animal. Performance isn't hair raising but it can still get your passengers smiling. In our tests, this behemoth went from 0-100kmph in 8.69 seconds, which is impressive for something that weighs over 2 tons. Even more impressive was its city fuel efficiency of 10.61kmpl, achieved with the car set to ECO mode. Even in this mode, the Range Rover Sport doesn't feel dull to drive. However, the auto engine start/stop is noticeable and is a bit of an annoyance in traffic.
Out on the highway, the SUV masks its speed very well and cruises in silence at speeds in excess of 100kmph. Gear changes with light throttle are very smooth too but pinning the accelerator doesn't get you an immediate response. There is a slight delay before kickdown, which is followed by a surge in acceleration, but with a 20-80kmph taking 5.29 seconds, it's no slouch. It's also quite efficient on the highway, delivering 14.54kmpl. That said, downshifts are an aspect that could've been smoother at high speeds. For example, if you have to brake after someone enters the lane you're in, there is some noticeable head nod as the transmission shifts down a cog.
Ride & Handling

Like in many big SUVs, the Range Rover Sport's ride quality improves with load. So if you're driving with the whole family, it manages most bumps and potholes quite well. Even with those big 21-inch wheels, the ride quality is comfortable, though sharper bumps will be felt and heard inside. There's also some side to side movement over speed breakers, which isn't unexpected. The ride is a bit on the stiff side when you're driving solo but as long as you keep the tyre pressures right, the Range Rover Sport won't give you reason to complain.

When it comes to handling, there's nothing really sporty about the Sport. The SUV's on-road dynamics aren't as good as the Velar's and the first indication is the steering. Like in many off-roaders, the steering response is a bit slow so you do find yourself dialing in a fair amount of steering input through corners. You're also aware that this is a big SUV while cornering. Aside from the lack of steering feedback, there is noticeable body roll. Overall, it handles alright for something this tall, long and heavy, but a Porsche Cayenne will offer a sportier drive. Also, while the brakes offer strong stopping power, we wish they'd offer sharper initial bite at highway speeds. In our panic brake test, it did go from 100-0kmph in 45.06 metres but you do have to press the brake more than you'd expect to slow it down at triple digit speeds.
Off-Road

Like any Land Rover, the new Sport does manage a good deal of off roading. The suspension permits a good deal of articulation when raised to the off-road setting. Even with the road biased Pirelli Scorpion tyres, it can get itself out of some really mucky spots with ease. This is where the gentle throttle response and relaxed steering come in handy as the Range Rover Sport does what few luxury SUVs can, even while riding on big 21-inch wheels.

Safety
Safety features include a rear view camera, an optional 360-degree view camera, all round parking sensors, ABS with EBD and airbags. Other features include lane keeping aid, roll stability control, cornering brake control, hill launch assist and the newly added adaptive cruise control. The adaptive cruise control works very well but isn't all that easy to use on Indian roads. With traffic sporadically swerving in an out of lanes, the setup makes the car brake quite hard, even if there's a 2-3 car distance between you and the vehicle ahead. Also, the lane keeping aid gives you a visual cue on the MID + a warning by vibrating the steering - but the setup, while effective, doesn't nanny you as much as Volvo's does.
Verdict

With the 2018 update, the Range Rover Sport has become better in every possible way. The design looks cleaner on the inside and out, the tech package is more up to date and it's still a car that gives you a sense of occasion every time you drive it. Yes, most of the additions have been derived from the Velar but the reasons to buy the Range Rover Sport are still different.
The Velar is a evidently a more road-biased SUV and offers better on road dynamics. However, it cannot manage off-roading the way the Sport does. Also, with its wide cabin and squared profile, the Range Rover Sport offers a more old school SUV experience. For many, the coupe-esque Velar, curvy Porsche Cayennes and Maserati Levantes just won't cut it.
Additionally, while the Velar's design grabs attention because it looks fashionable, the Sport is all about its powerful presence. It also offers a richer in-cabin experience and better on-road behaviour than the Discovery, making it the pick of the lot for the buyer who wants the most balanced Land Rover. The wow cabin from the Velar, the capability of the Discovery and the tradition Range Rover appeal in its styling. It certainly is quite pricey at Rs 1.30 crore (ex-showroom) for the top spec TDV6 HSE but offers great luxury, driveability, snob value and capability for the money.