What Made the News This Week: Weekly Wrap-Up
Published On Sep 08, 2012 02:21 PM By Vikas
The very first week of August was an action packed, we inspected a lot of major happenings taking place in the Indian automotive bazaar, and the biggest of them have been the launch of much awaited sedan Renault Scala, which is basically the Renault's version of Sunny, the other was the launch of 2013 Range Rover, which CarDekho covered live and was the only web-portal from India that was given opportunity to take part in the event happened in London. There were other two big launches, Maruti Suzuki Ritz facelift and upgraded Vento and Polo.
CarDekho also brought you some exclusive scoops like, the spy pictures of Renault's next hatchback, the modus; we also got you the launch information of some of the upcoming vehicles including Mahinra Quanto, Honda Brio automatic, Mahindra Reva NXR and a few more. We also did an exclusive story, "Top Gainers and Losers" in August on the basis of sales numbers recorded by all the major auto-makers based out in India.
So we bring to you the weekly synopsis of all the major adventure happened within the week.
Renault Scala Launched Finally at Rs 6.99 Lakh
After creating a lot of hype already, Renault Finally launched its much awaited sedan, the Scala on 7th September which is based on its strategic partner Nissan's entry level sedan, the Sunny. However Renault has been still successful making it different, in fact Scala has come out as a product than its sibling. The car has come out in a total 4 variants, two petrol and two diesel.
Read More
Renault Scala and Competition

We closely examined the all new Renault Scala and tried to find out where it actually stands against its closest competitors including Volkswagen Vento, Skoda Rapid, Nissan Sunny, Hyundai Verna and Toyota Etios.
Read More
New Range Rover Launched - Cardekho Exclusive

Land Rover, the premium SUV maker has finally introduced the fourth generation Range Rover in London, which is the world's first aluminium body SUV. Land Rover has also opened its booking there in London, however the deliveries will start in an year time. The similar car is expected to hit the Indian shores as well.
Read More
Renault Modus, the Next Hatchack from Renault Spotted in Delhi- Scoop

CarDekho brought you the spy pictures of Renault Modus, which will be the second hatchback from the stables of French auto-maker, Renault. The car is expected to drive in by end of the year and will be positioned below the Pulse
Read More
Mahindra Quanto to Launch on 20th September: Official

The compact SUV, Mahindra Quanto, which was earlier known as the Mini Xylo is making its debut on 20th September, Mahindra Officials have reported it. The car is expected to be priced around Rs 6 lakh and will be a seven-seater.
Read More
2013 Suzuki WagnoR With a 28.8kmpl Mileage Debuts in Japan, India on Cards

Suzuki, the Japanese car giant has just launched the 2013 Suzuki WagonR in its Domestic market, Japan. What has come out as a shock to many of us is the fact that the car promises to deliver an exceptional mileage of 28.8kmpl. Moreover, the car has got mechanically as well as some serious changes inside and out, becoming a better looking car now.
Read More
Reva NXR Might Cost Equivalent to Most Premium Hatchbacks

Mahindra Reva, India's one and only electric car manufacturer, which is planning to roll out its first four-seater electric car, the Reva NXR soon has hinted that the car might be priced about 20% higher than many petrol hatchbacks currently available in India. So in that case, Reva NXR's price will be equal to many luxury hatchbacks like diesel versions of Maruti Swift, Hyundai i20 and others.
Read More
Honda Brio Automatic to Launch before Diwali: Exclusive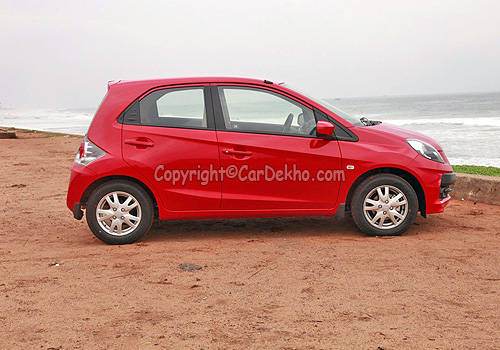 Honda Brio which has been the most loved hatchbacks of India will soon come in its automatic transmission. Our trusted sources have informed us that the AT version of Honda Brio will come even before Diwali.
Read More
Maruti Ritz Diesel Facelift Launched at Rs. 5.31 Lakh

The long awaited Maruti Suzuki Ritz facelift has been finally launched the Maruti Suzuki India at an attractive price of Rs 5.31 lakh. The company has also brought the all new top of the line variant ZDi, which is priced at Rs 6.23 lakh.
Read More
Volkswagen Polo and Vento Now Goes Fully Loaded; Check Out New Prices

Volkswagen India has brought the fully loaded versions of the popular VW siblings, Polo and Vento, and what has come as a reason to celebrate for many VW lovers is the fact that the prices of top-end variants of both the vehicles have come down. The all new Polo and Vento will cost Rs 6.94 lakh and Rs 9.89 lakh respectively. (prices are ex-showroom, New Delhi)
Read More
Honda Accord Might be Discontinued

After discontinuing Honda Civic from the Indian market, there are rumours coming in that Honda is planning to phase out another of its popular car, the Accord from India. And this has come as no shock since Accord, which was a gem for Honda once upon a time now is struggling very hard to survive due to unavailability of diesel variants.
Read More
Tata Nano CNG Spy Pictures

Tata Nano CNG has been in the news ever since Tata hinted to bring the CNG version of the car in India. The CNG version of the car was recently spotted doing test mules on the roads of Mumbai, which has made us believe that the launch is not actually very far.
Read More
Top Gainers and Losers; August Car Sales Analysis- CarDekho Exclusive

Following our trend of doing the monthly analysis on the basis of total cars sold by major auto giants in India, we bring to you the top gainers and losers of August.
Read More
Read More on : Renault Scala detailed review