Porsche 911 - Ageless wonder
Modified On Aug 21, 2015 12:21 PM By Manish
It has always been the attitude at Porsche, to not do what is expected but to do what they feel is right. The lineage of Porsche can be traced back to April 1934, when in Nazi occupied Germany, Hitler ordered Dr. Ferdinand Porsche to build a Volkswagen, which is German for "people's car". Following that in May 1934, in a meeting at Berlin's Kaiserhof Hotel, Chancellor Hitler asked Porsche to build a car, which can transport two adults and three children at 100 km/h, while not using more than 7 litres of fuel per 100km. The engine also had to be powerful enough to sustain rapid cruising on Autobahnen. Hitler asked Porsche to develop an air-cooled engine, as he was very particular about the maintenance of the car and wanted the parts to be easily replaceable. This gave birth to the first Volkswagen Beetle, which later with the involvement of Ferdinand "Ferry" Porsche, gave birth to the Porsche 356.
Porsche 911 Classic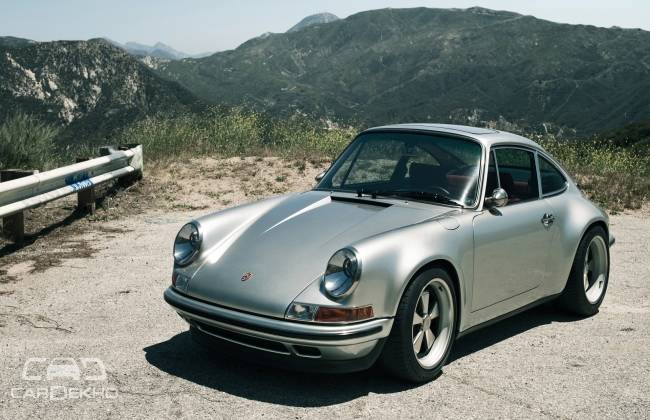 In 1963, based on the sketches drawn by Ferdinand "Butzi" Porsche, son of Ferdinand "Ferry" Porsche, a more powerful, larger and more comfortable replacement for Porsche 356 was introduced, named porsche 901. This gave rise to legal issues, as Peugeot claimed that in France it had the exclusive rights to car names, which comprise of three numbers with a zero in the middle. So the name of Porsche 901 was changed to Porsche 911. This edition of 911 featured a horsepower of 128 hp, which was derived from an air-cooled, flat-6 engine, in the boxer configuration. This particular model was later knowned as, the Porsche 911 Classic.
Porsche Carrera RS

In 1973 to meet the motorsport homologation requirements, Porsche introduced the next installment of 911's, the 911 Carrera RS. These models are revered by enthusiasts as the most "classic" of the 911's. The name Carrera signified Porsche's class victories in the Carrera Panamericana races in Mexico, in the 1950s. RS stands for Rennsport, which is German for Race Sport. This particular model was so sought after that Porsche had to build a second batch after the first 500 were sold. These cars were built to homologate the RSR for competition. This particular model also ended up supporting the iconic ducktail.
Porsche Carrera 3.0

A lightweight-only version of Porsche was introduced, the Carrera 3.0, which featured wide rear flares, optional whaletail, and a variety of other sporty features. This particular 911 is quite exclusive as only 109 cars were built, many of which enjoyed successful motorsport careers.
Porsche 930 SE

80's was a great decade for Porsche. In 1986 the slant-nosed Porsche 930SE, which could hit 173mph was launched. This made it the fastest production 911 ever made.
Porsche 964

In late 1989, the world economy changed. Porsche could not rely on its name alone and so the 911 underwent a major evolution and the result was Porsche 964. Technologies such as four-wheel-drive and aerodynamics, which reduced the drag coefficient to 0.32, were incorporated to demonstrate the company's commitment to engineering. This was also a very important year for Porsche, as features like ABS, coil springs and power steering made their debut. The engine was increased in size and now developed 250 PS.
Porsche 993 Turbo

Porsche's first standard production car with twin turbochargers was the 993 Turbo. Launched in 1995, this car was the first car to come equipped with permanent all-wheel-drive. The 3.6 L twin turbo M64/60 engine, produced 408 PS. In 1998, Porsche 993 Turbo S was the last air-cooled Porsche 911 that left Zuffenhausen. Only 345 cars were ever built, featuring the last air-cooled engine, belting out 450 bhp.
Porsche 991 Series- 2012

In the next 14 years, many enthusiasts made claims that the lure of 911's, had grown weaker. In 2012, Porsche launched the new 911 on an entirely new platform. This is Porsche's third platform since the original 911. The new Carrera S is powered by a 400 hp, 3.8 litre engine. A Power Kit named, optional X51 is also available, which increases the output of the car to 430 hp. The new car is not just better but it is bigger as well. Carrera has grown in length by 2.2 inches and the wheelbase has grown by 3.9 inches.
Over the last decades, Porsche has grown to meet the changing needs of time, but the true essence has been kept alive and unaltered. This is done by ensuring that the traditions are adhered to, without compromising on quality or efficiency. Porsche continues to manufacture its cars with the engine in the back and makes sure that all the issues regarding the placement of the same are addressed. With the standards matched by 911s, Porsche has no substitutes.
Was this article helpful ?
0 out of 0 found this helpful