English Sparkling Wine
Modified On Sep 20, 2012 05:45 PM By Rahul
"Since you are visiting the Windsor Castle Sir, let me offer you something British— the Sparkling Wine. This was introduced by the English, even before the French," these were the words of the person who was serving wine to all those who visited the Windsor Castle. The English might have introduced the Sparkling Wine before the French, but they had to carry forward the French legacy of Concours d'Elegance to their country as the Concours of Elegance. It doesn't really matter who were the innovators. Vintage cars are like wines, their value and importance grows as they age.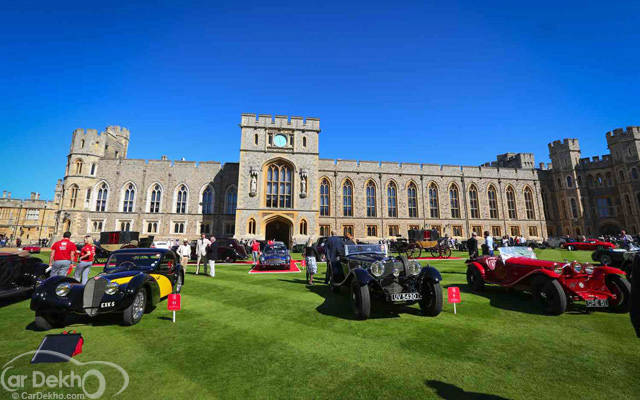 So to mark this event, the English host the event at the Windsor Castle. This is the Queen's weekend home. On a bright and sunny English day, we visited the Windsor Castle after a long walk after the admittance. To mark the 60th edition of the Concours of Elegance, and the top 60 cars made it to the display. As expected most were rare to seen or heard of car models. Beginning from the 1896 Panhard et Levassor Private Omnibus to the 1972 Lamborghini Miura. Each and every car was different and unique from each car.

British, French, German, American. Brands from most of the major players were present. Also at the event were the four Royal cars and carriages and six rare motorcycles. The most eye-catching as per my view was the 1925 Rolls Royce Phantom I Jonchkheere Coupe. This is only of its kind and could have been Batman's ideal car if he was there in the 1920s.

The Jaguar XK 'C' Type and the E Type were present at the event; however we sorely missed the D Type. Also present there were some sporadic vehicles like the Straker-Squire X/2 Prototype and also an Indian connect on the Bentley Six-Speed 'Maharaja of Jaipur'.

The winner at the Windsor Concours d'Elegance 2012 was the 1938 Alfa Romeo 8C 2900B Touring Spider, which was owned by Jon and Mary Shirley. My two hoots on Vintage Cars, are the ones that don't just look stunning about run perfectly. One such example was Chris Blundell's Bentley that ran for 10,000 miles in the last couple of years, despite being as old as 1938. Probably, the Alfa Romeo would have such a history.
Was this article helpful ?
0 out of 0 found this helpful