Best Types Of Cars For Intercity Travel
Modified On Mar 13, 2017 10:45 AM By Raunak
As our highways keep getting better and safer with each passing day, people are more and more encouraged to take the road instead of other means of transportation for intercity travel. The majority of us would agree that hitting a highway gives us the sense of freedom and joy which is rare to find somewhere else. Cruising down an empty road with the people we love the most certainly brings out the best in ourselves!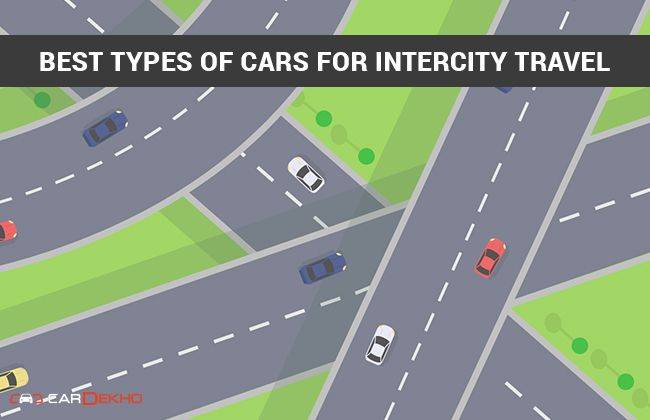 Looking for a set of wheels for your frequent highway jaunts? Do keep these points in mind while opting for your ride.
First and foremost: Safety features

We feel that one should never overlook the safety aspect while buying a vehicle, and absolutely not when looking for a highway runner. This is the first and foremost thing your ride should have before hitting a highway. A lot of sub-10 lakh cars nowadays offer optional safety packs (dual-front airbags and ABS with EBD); always go for it. It's for your own good.

Prerequisite: Cars with powerful motors and good driving dynamics
Power is a relative term – we are not telling you to buy some sports car! But there are cars in various segments which are relatively powerful as opposed to their rivals. Take the Ford Figo diesel, for example. It is packing a punchy 1.5-litre diesel engine which puts out 100PS of max power and 215Nm of peak torque. And it weighs just over one tonne, which has resulted in a sub-10 seconds 0-100kmph sprint time!

But leaving its go-fast attribute aside, it is also an absolute mile muncher. The Figo diesel will effortlessly cruise at triple digit speeds and you don't have to plan your overtakes with it. All these, coupled to its good road manners, makes the Figo a compelling option to look for. On similar lines, there are several cars which are relatively more powerful than its peers in various segments.

Fuel efficiency cannot be ignored
This is an important criterion as it will eventually help your expenses go down. Now cars offer almost similar certified fuel efficiency figures in a particular segment, but you can still find a difference in the range of 2-4kmpl. That said, one cannot go for a vehicle that goes more kilometres per litre but features an underpowered engine. This goes hand-in-hand with the point mentioned above: always go for a perfect balance between power and efficiency in a vehicle for your intercity travelling purpose.

Besides this, even if the efficiency doesn't bother you in terms of expenses, it's important because efficiency is directly proportional to a car's cruising range, which will result in fewer stops for refuelling. Thus saving time, and as they say, time is money!
Spacious cabin and boot
Stating the obvious, larger the size of boot more luggage you can pack for your getaways! For this purpose always look for a car with a relatively spacious boot amongst its rivals. One cannot neglect the cabin as well, because that's where you're going to spend all those hours on highways. Take the Honda Jazz, for example. The hatchback offers segment-leading cabin space, which makes you feel less claustrophobic, and a boot that is more spacious than several compact sedans and sub-4m SUVs! On similar lines, look for options with similar attributes.

And finally some goodies

This is something that will pamper you and keep you entertained on the go! For starters, a decent infotainment system would do. Nowadays several cars have started offering Apple CarPlay and Android Auto connectivity, which really come in handy with navigation based on Google/Apple maps, and other things such access to your music library, and messages along with various third party apps. Even if you don't opt for a fancy infotainment system, at least get yourself a Bluetooth-enabled one for hands-free calling.
Check out: Android Auto And Apple CarPlay: What Do They Offer?
Besides this, there are plenty of other things that one should look for, such as climate control unit (helps in maintaining a preset cabin temperature unlike manual ones), height adjustable driver's seat, driver armrest, and others.
All in all, we have not pointed out cars in various segments that are best suited for intercity travel primarily because cars may come and go, but these points will help you finalise the best possible option for your purpose. Happy Motoring!
Recommended Read: Upgrading Your Car? Check Out These Key Facts
Was this article helpful ?
0 out of 0 found this helpful