Basic Requirements for Bank Car Loan Approval
Modified On Mar 02, 2017 10:13 PM By Anonymous
Just because of the myths related, consumers generally overlook banks as an option for finance while searching for an auto loan. Securing a car loan from the bank has become equally fast and economical. Financing your car from bank benefits you in several ways including a lower rate of interests, money saving, longer repayment durations, etc. So, let us look at the basic things that are required by the banks for the approval of your car loan.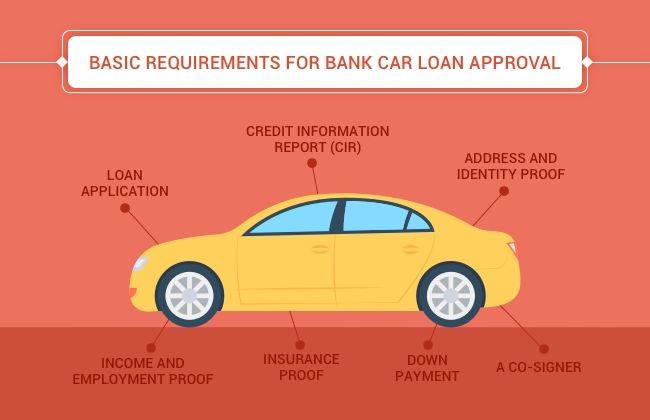 Loan Application: The first and obvious requirement is the completely filled Car Loan Application in a prescribed format provided by the bank. All the personal and purchase related information requested in the application such as your name, address, contact number, identification, etc. must be filled correctly and legibly.
Credit Information Report (CIR): As soon as you apply for a loan in a bank they seek your credit history in the first place. The Credit score and the credit report generally act as the deciding factors in the approval or rejection of your loan application. A good Credit Score helps you get better loan amount at lower APR.
Address and Identity Proof: Banks ask for the proof of identification and residence on a compulsory note to prevent fraud and identity theft. You can submit your Driving License, PAN Card or Passport as an identification proof and Ration card, electricity bill, telephone bill, etc. as an address proof.
Income and Employment Proof: In case you are a salaried person, a bank may ask for copies of your latest pay slips to verify your employment and income stability. In case you are self-employed, they might request for the income tax information or bank statements.
Insurance Proof: Banks may also ask for a proof of your insurance such as insurance card or insurance policy number before the closure of your loan.
Down Payment: Down payment becomes a determining factor especially when you have bad or no credit history. Large down payment reduces lender's risk and ensures him that you are financially sound. Down payment may account to 10 to 20 percent of the purchase price of the vehicle.
Look for a Co-signer: This becomes an important requirement when you want a loan, but you have a bad credit history. A co-signer increases chances of getting your loan application approved as the bank also considers his income and credit history as he will be equally responsible for paying back the loan.
Keep a note of the above requirements in case you are planning to get your car financed from a bank. You can also check your loan eligibility and offers from various banks online in a jiffy - Check Loan Offers
Was this article helpful ?
0 out of 0 found this helpful