DISTURBED CUSTOMER OF MARUTI ZEN ESTILO VXI
Look and Style Look is good, Style is good Comfort Comfort Level, we have a doubt since the vehicle cannot really manage with Indian Roads Pickup We cannot go even at 20km speed in bad roads of Chennai. We have landed up paying Rs.34000/- within 5 months of Buying and before 2nd Service. And Maruti claims they have a good design, when we went for first service, there were 4 vehicles for the same problem. And second breakdown within 5 months and they say it is engine seizure..... Nice Pickup only for MARUTI and their Service... NO AFTER SALE SERVICE by them except for billing and taking money from the Customers.... Mileage Not bad. But we are unhappy for other reasons. Needs to improve Many Venhicles have problem of engine seizure and for our vehicle : on further inspection they found that the engine has seized due to non availability of lubricating oil which has leaked out since the oil filter has damaged due to external impact .So they are not in a position to claim the same under warranty or insurance. Overall Experience Everything is fine, they could not give us any damaged part of the vehicle and they could not even show the same to us even after repeated requisitions to them. They from Indus Motors have written a mail to MARUTI stating that they are getting vehicles of Zen Estilos for ENGINE SEIZURE PROBLEMS and they are not able to handle the same. First of all, the oil filter set is very low touching the groundand the casting is aluminium which is very low quality. They have requested for IRON Oil filters. And MARUTI has said that they will pass it to their TECHNICAL Team. I dont know when it will happen ????
Write your Comment on Maruti Zen Estilo
1
m
muntu
Nov 6, 2014 1:15:18 PM
I would like to buy hatchbag cars for hilly terrian kutcha road with good ground clearance. suggest me which cars i shoud prefer....
Reply
1
R
rajaprakash i m
Mar 13, 2014 6:11:24 PM
I am an owner of maruti Suzuki Zen estilo.I am also one of the sufferers of oil filter problem.I faced this problem when driving on mysore road.My car oil filter hit the road hump and the filter was damaged.At that moment(5:30 am) not even tollfree no and finally maruti breakdown gave us the no of kalyani motors,Ramnagar.they suggested us to drive the vehicle to service station though we mentioned about oil leakage.we filled with some extra oil and drove the vehicle halfway till the car stopped all of a sudden and dint start.Then we again called and informed the kalyani motors when they told that they will bring the towing vehicle.They made us wait till for two hours and then bought the toer and towed our vehicle to kalyani motors.We were informed then that engine was seized and had to replace the half engine which costs about Rs40000.When we reported the problem they are now telling that they dint advice us to drive the car!!!!!!.what a reply by kalyani motors wow!!!!!!!hats off to them.Lovely liers.Im going to report this problem further and try to solve my problem.
Reply
1
s
srinivas
Jan 10, 2014 12:53:22 PM
want to buy estilo come to know abt oil filter problem please inform me new developments of this issue in new cars and other major issues
Reply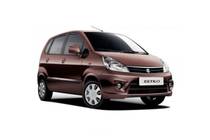 This car model has expired