Nice car with compromised safety
Nice car with compromised safety
It's our 1st family car and I have driven it extensively through Western Ghats, Hyderabad - Pune Highways, Hyd - Mysuru Highways, through ghat road of Ooty. Have enjoyed to the fullest. Drives during Nights are challenging but thrilling.
I have clocked more than 10K KMs in 4 months and done with 1st major servicing with oil change.
Exterior
Exterior looks nice and masculine. The more you keep it clean, it will keep you happy.
But I have some concerns.
1. Sheet metal used for body is too thin. When you lean against it, sheet goes inside and makes noise. I wonder how is it going to save us from accidents!
2. When you shut the boot lid, the thunn sound is not promising. Sound makes me feel like the lid is not closing properly.
3. Locks of bumpers are too delicate. I think, if you kick it lightly also get the locks break. Again poor quality.
4. When you drive with half open door glasses, it makes noise. Again loose fit and poor quality. After driving few kilometers you will be scared to close them, as if glasses will roll up out of the door.
Interior (Features, Space & Comfort) It has all the major features in its segment. ABS works well. Infotainment cluster looks beautiful with all the features. Steering wheel control switches look mounted and durable. The car has 2 cabin lights, 1 at the front and 1 at middle. It has 2 12v outlets, 1 @ front and 1 for backseat. Driver seat height adjustment is very helpful for me. I love it. Interior has been designed nicely and looks comfy because of Dual tone. 6 speaker music system is sweet and powerful. But touch screen display should have been given. AC is very efficient Sound insulation is good And, it has Bluetooth speaker as well as music play option. But again it has its own set of problems. Even if I don't miss anything but has serious doubt about it's quality. E.g.
1. Creaking noise comes from all the door glasses, backside glass after driving few kilometer on rough roads and it remains forever till next servicing.
2. Interior plastic used on doors are thin. If push it with your knee while sitting, it gives a sense of cheapness.
3. Beige colored interior is prone to marks. Gets dirty easily. Regular cleaning is a must.
4. After few thousand kilometers, noises started coming from steering wheel (from beneath the Horn panel), from near the glove box, from doors and no idea from where else. It's kind of awkward feeling with these type of noises.
5. Thermal insulation manageable but not that nice.
Engine Performance, Fuel Economy and Gearbox
Engine performance is good and noiseless. You will hardly hear anything when driving in normal conditions. When you rev engine sound is audible but sweet. Sometimes I get confused like whether the engine is ON of OFF until I look at the RPM meter.
Kitna Deti hey ?
City - 16-17 approx. (17.8 in avg fuel meter reading)
Highway - 18-19 approx.
Engine looks reliable. Gone through steep Ooty ghat roads in 2nd gear all through with 4 persons in the car and luggage wasn't disappointed at all. It has a good set suspensions which rode us through worst quality, unpredictable and killer Hyderabad - Solapur NH safely.
Gearbox is smooth like butter. But it has reverse gear problem and so does all the Swifts.
Ride Quality & Handling
Ride quality is good. slips through city traffic like a snake. Soft steering, smooth gears, adequate power makes driving enjoyable. Good viewing angles, controlled braking is just enough in the city.
On Highways ABS works well. It has already saved me twice from accidents. In high speeds I can feel ABS coming into action as my savior. Haven't tested Air Bags though... And hope that never comes.
On Bangaluru - Hyderabad highway when @ 120 kmph, the car was pretty stable. But 130 Kmph onwards I felt like flying. It felt like tyre was just touching the road. Don't know whether due to more than enough tyre pressure or due to irregular supply of power from engine to the wheels because it's new.
After 1st oil change clocked 150 kmph and the car was stuck to the road. No sign of unstableness.
Final Words
My love, my new BFF.
It's lovely when you drive carefully and take care of it.
I fear anybody will be crushed to death if met with an accident around 100 Kmph with this cheap quality materials. How will AIR bag save someone if the car is totally crushed .
Cutting cost with cheap material. cutting weight with light material for better mileage is not justified when comparing safety.
Areas of improvement
Quality & durability of materials is a big question.
MSI need to and must improve in this segment.
Write your Comment on Maruti Swift Dzire 2014-2017
Maruti Swift Dzire 2014-2017 User Reviews
All (135)
Mileage (78)
Performance (44)
Looks (91)
Comfort (95)
Engine (64)
Interior (54)
Power (47)
More ...
It's our 1st family car and I have driven it extensively through Western Ghats, Hyderabad - Pune Highways, Hyd - Mysuru Highways, through ghat road of Ooty. Have enjoyed ...Read More

Hello all, I bought a Maruti Swift Dzire this year in January and though to share my experience on the car so that others can benefit out of it. To start with I would fir...Read More

When we talk about cars, we want to buy. then we want to have the best one in less price, now the best one here means which is spacious with the best mileage along with c...Read More

This is Ricky from New Delhi, after a long tenure of waiting period, I finally got my Swift Dzire Vdi. I would say that the looks of Maruti Swift Dzire are so- so. Maruti...Read More

Maruti Swift Dzire has stormed the sedan market in India since its launch. I bought the car in 2016 and I am quite satisfied with its performance. The entry level hatch S...Read More

My father bought Swift Dzire in the month August 2009. We family of 4 discussed and finalized this car within 1 day and waited for this for almost 7 months due to the wai...Read More

Exterior Looks are very good, sangria red and Magma gray color are super. Interior (Features, Space & Comfort) Interior is ok, however, driver arm rest is not there i...Read More

I have bought this car in the month of May Swift DZire VDI(0) Manual Transmission. The car performance is excellent, Engine is very smooth. Coming to Power while driving ...Read More

View All Swift Dzire 2014-2017 Reviews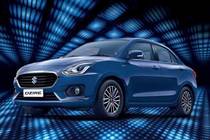 Rs. 5.23 Lakh - 8.57 Lakh*
This car model has expired