Maruti Ertiga: Gear problem
Overall Experience: We started noticing gear problem specifically while bringing it from 2 to 1 gear while in motion, from 20000 km onwards, on mentioning to the dealer, we were informed that it is little hard and is common and will be ok after some time. At 30000 and 39000km it was again mentioned while getting it serviced but was told yes it is little hard but it is ok. At 45000km it was again mentioned as it was getting worse. On 51000 km problem started coming while in motion shifting from 3rd to 2nd or 1st gear. To my surprise TSR from Maruti agreed for the first time about the problem. But in my service record no where it was mentioned about the regular complaint. Any how company agreed to do the needful at a discount of 50%. On enquiring from other users and a few taxi wala every body had a opinion that the gear is a problem with Maruri Ertiga.
Write your Comment on Maruti Ertiga 2012-2015
1
A
anshad
May 7, 2017 10:48:25 AM
Same issue for me gear shifted 3rd to 2nd problem in my Eritga Vdi 2013 in 82000km. really manufacturing defect. company should recall the cars and resolved the issue.
Reply
1
s
s obli
Jun 1, 2015 6:02:58 PM
yes i meet gear shifted 3rd to 2nd and 1st problem in my Eritga Vdi 2012 in 80000km
Reply
1
j
javanya
May 28, 2015 6:36:42 PM
I have Ertiga Vdi - 2012 and I'm facing the same gear box problem. my odometer reading is 43 K.......
Reply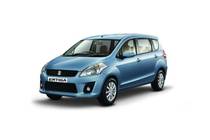 This car model has expired