Beaware of power loss issue in Ertiga Diesel variant
I own an Ertiga Zdi for last 8 months. Since last 4+ months, I am facing issue related to loss of power. The car has visited the service center 4 times. Issue has recurred every time I took the car back. Below are the issues: 1 - Loss of power at 1.7 to 2K rpm followed by lot of smoke at exhaust - occurs when AC is switched on 2 - considerable vibrations at 5th gear just before power loss 3 - Steering jammed while pressed the clutch to bring it back to lower gear followed by power loss from engine. After I engaged clutch, the power came back to steering. My dealer is cooperative and helps me out in terms of providing a standby car and working on the problem with Maruti engineers. But the problem persists till date. I have lost confidence in the car and Maruti service.
Write your Comment on Maruti Ertiga 2012-2015
1
P
pradeep yadav haryana
Nov 28, 2014 12:52:27 PM
I m almost Satisfy.... I m using ERTIGA VDI form July 2012 running More than 1 Lakh KM.... from Haryana to Himachal & more... some gear problem is there & last seat touch with back door & back soaker also not ok..... but over all I am satisfy because rate , mileage & space is good.. for missing after 1-2 Km please change the ERTIGA PUMP costing approx. 28000/- + Tax I am already facing the same...
Reply
1
s
srihari prasad anne
Oct 27, 2014 4:37:50 PM
I bought Ertiga ZDI a month back. With three or four people inside, its performance is more than expected. I sold my Innova before I decided for Ertiga. Fuel economy is as expected. 3rd gear acceleration is not satisfactory. In other gears acceleration is anticipated. Are the gears in Geometric Progression or not? It costed me 10.35 lac Rs. on road in Vijayawada, Andhra. I am happy by its performance excepting in 3rd gear. Compared to Innvoa it is highly fuel efficient, and environmental friendly. First week it gave me 16 kmpl while I travelled from Vijayawada to Bhubaneswar. Interiors are okay for its price but can be better even if it is expensive by another Rs. 15ooo. Srihari Prasad Anne.
Reply
1
S
sreekumar
Jul 22, 2014 9:47:10 PM
Was the problem finally resolved? What was the diagnosis and what was the solution?. Please update. Thanks, Sree
Reply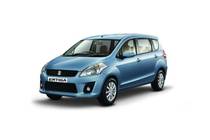 This car model has expired