Hyundai Creta - Diesel Automatic - Excellent !
Hyundai Creta - Diesel Automatic - Excellent !
I drive on an average about 60 Km every day. I might not be an Expert on cars, but here's my Review:The Hyundai Creta Diesel Automatic is nothing but amazing since the day i bought it.The "Pothens Hyundai Dealership in Kollam,Kerala" seems to be pretty genuine and does a good job of taking care of the car.Well as much as i would like to give a perfect rating, I need to be completely neutral on my opinion, Hence i will need to highlight all the Pro's and Cons of this beauty.Yes, we know the Creta Automatic is a little bit pricy when compared to its Competition, but trust me ! It's worth every penny or more ! XDDDPRO's:The Engine: (The Beast behind this Beauty)The BEST thing about this beast is its Sheer Performance ! Its nothing less than EPIC !!! You feel like you own a car worth 30 Lakhs or above for just 13-15 Lakhs. When you step on the Pedal, there is an instant amazing Gush of power that throws you back on the seat.There is instant power when you need it !It has a Beauty of a 1582 CC Engine which produces 260 Nm Max Torque and Max Power of 126 BHP and its acclaimed to be able to do 0-100 in 12.5 Sec, But Honestly it feels like you could do it in 10Sec in Auto Mode and maybe even 8-9Sec in Sports Mode (Manual Shifts).I have personally taken this car upto 160 Kmph and kept it steady at those speeds for about 5 minutes. It still feels like i had so much power more to spare. The pedal wasn't even floored. (The reason i didn't want to push it further was because my car was Fully loaded to the brim with full passenger and luggage capacity) The Ride Stability Was AMAZING even at those speeds. And it felt like it was nothing to reach those speeds.The Engine Noise upto 140 Kmph is almost non existent. From 140 Kmph-160 Kmph engine noise slightly increases and leaks into the cabin. But it's a pleasant background sound to hear that gives the driver a sense of steadiness and the Passengers never once felt uneasy or unsafe. I haven't taken it beyond that so i don't know what the noise levels will be beyond that.Only God knows what this Engine is capable of if one were to Engine Map this already Overpowered Beast !!! :XComing to its Automatic Transmission:It has an Extremely Straight forward easy to use and simple to understand 6 Speed - Automatic with only (Park, Reverse, Neutral, Drive & Sports (Manual) +/- )This Automatic Transmission is honestly not talked enough about, But its Freaking Amazing !! It blends excellently well with the Engine and the Pedal. It's so Perfectly and Precisely tuned that you know a lot of hard work and research has gone behind it. You can barely feel the gearshifts.The instant you need Power, It is Delivered ! Overtaking is a breeze !There is always a sense of power in your hands which gives you confidenceDepending on how you Operate the Pedal, Power/Comfort is your choice. It's like you're in Dynamic Mode all the time :) If you require only Sheer Performance, then you can always shift it to Sports Mode, But honestly there is barely any difference between Sports mode and Drive Mode as the Transmission is that good !!!The Car will NEVER roll back at all unless it's a Very Very Steep climb ! The moment you start to release the brake, the car will start moving forward.The Brakes and Suspensions:It has a Decent pair of breaks. Definitely not bad, but still it could have been slightly better. By default it has 2 front disc brakes and 2 rear drum brakes.It would have been perfect with 4 disc brakes.The ABS is pretty good and easily prevents skids which gives you a lot more driving confidence.The Suspensions are nice and hard and it's tuned for a fully loaded car.If its just 1 or 2 people in the car, the suspension might still feel a bit hard. But its still good. Infact that's how quality suspensions should be designed :)Comfort:Most of the Comfort comes from the beautifully factory tuned Automatic Gearbox. The Default Seating Comfort is pretty good, But definitely could do better. The seating comfort is Designed for 4 people, if 5 people get in, you can start feeling slightly uncomfortable in the back. and if 6 get in your Squeezed but just about manageable. Anything more would be pretty much impossible unless someone doesn't mind sitting in the boot. lolThe Air Conditioning:The Car has an Excellent and efficient Air Conditioning system with good Climate Control and the Cabin Cools Very Fast and no condensation is seen inside. It has 4 Front Vents and 2 Rear Vents. The Car also comes with an ionizer, which purifies the air and also makes the car dust free and odor free. The Small Stuffs That Matters:The Follow Me HeadLamps - Depending on the direction you turn your steering, you have an extra pair of lights on the right and left that comes on accordingly, to give you proper turning side illumination.The Keyless Start/Stop Button is pretty cool and secure with Proximity Sensors.Proximity Sensors for easy Door Lock/Unlock is also pretty cool.The Automatic Side Rear View mirrors that can be opened/closed and also controlled from the inside is Very Handy.The Rear AC vents and Rear Power Sockets are very handy, but honestly unnecessary for a 4 seater car.It has The right amount of Boot Space for 4 BIG Suit Cases and other smaller suitcases / bags or accessories to be added. In short it will have more than enough space than required. (Yes, the boot has decent lighting)Rear Wiper and Defogger is there.The Wheel alignment and balancing are always properly done by the Hyundai Dealer.The Touch Screen Audio Video System and Navigation:It has a very straight forward, easy to use Audio/Video Player. The Player supports Bluetooth Music and Phone Calling facilities.The Player could have definitely been better though. The lack of an Informant System is evident though. The Player can be easily controlled via the Multi Function Steering.The Touch Screen Maps & Navigation are pretty good and handy. It could definitely do better with better ease of use. At the moment it's not as user friendly as one would expect. Google Maps will always be better, but the Hyundai Navigation is more handy since it's integrated into the car. and Yes, the Hyundai Maps can be upgraded at the Service Center. ~~~~~~~~~~~~~~~~~~~~~~Ok, now it's time for the parts i dislike,...the Con's and Problems i faced :CON'S:The Touch Screen system has got stuck 2-3 times when i started the car, but was resolved after i Powered on/off the player Or after keeping the car off overnight.Just before the Second Service i noticed a 'knock' sound every time i went over a big bump or when only one side of the car went over a bump.During the Second Service at around 10K km, This problem was rectified, and according to the Service Center the suspension Screws had got loose. This could be a rare manufacturing side goof up of how the car had come. Nearing the 3rd Service, i noticed the car's engine had become a bit noisy and the milage had greatly dropped. (This is the Oil, Oil Filter, Fuel Filter and Air Filter Change Service) So i guess that would be normal. After the Service it feels Silky Smooth again !Well other than these Rare case which i unfortunately experienced,...The Major Cons are:The Biggest Con would probably be the Mileage:Hyundai Acclaimed Mileage 17-18 Kmpl mileage on the automatic,But Mileage in reality is only about 12-15 Kmpl mileage.Best Mileage was 15, only got this once ! Average Mileage - 13 Kmpl (This is what we get normally)Worst Mileage - 8 Kmpl (This was in Hilly Mountainous areas)Lack of an all wheel drive. The Creta is only a Front Wheel Drive. The Pick Up would have been 10X better with an All Wheel Drive.The Touch Screen Media & Navigation System could have been better and more user friendly.The Touch Screen System does not have an Informant System and does not display any car/drive related information. It only shows information from the Car's GPS, Navigation and Music System.The Audio/Video System System only supports USB/Bluetooth. There is no CD player, which is completely ok for me.The car should have come with Pre-Filled Nitrogen Instead of Air since these are high performance cars with higher top speeds.Hyundai should have offered a cheaper variant of the Diesel Automatic instead of it being available only on the top end. It would have sold like hot cakes.~~~~~~~~~~~In Short,...I would recommend the Hyundai Creta to anyone who is searching for a car between 10-15 Lakhs on road price , and preferably to choose the Automatic Version if possible,...The Automatic is really really worth it !!! :)Thank You for reading & Safe Driving EveryoneEnjoy ~ !
Write your Comment on Hyundai Creta 2015-2020
1
m
m pratap babu
Jan 10, 2018 10:45:58 PM
33 psi. is this correct tyre pressure for creta diesel
Reply
1
N
nikam
Nov 24, 2017 4:10:57 PM
IS IT POSSIBLE IN CRETA AUTOMATIC REAR BREAK CAN MODIFIED WITH DISC BRAKE SYSTEM
Reply
1
R
rajiv gandhi
Jul 6, 2017 5:15:16 PM
Heard a lot of good but how is petrol Creta AT is better than CVT Duster
Reply
Hyundai Creta 2015-2020 User Reviews
Based on
1685 User reviews
All (1686)
Mileage (302)
Performance (233)
Looks (448)
Comfort (557)
Engine (224)
Interior (221)
Power (240)
More ...
LATEST
HELPFUL
VERIFIED
CRITICAL
Excellent car on look and features is awesome but bit expensive if it's a bit lower have more sales

This is a value for money car. And the top model of Creta gives the luxury feel it is a very good car, best SUV i have ever seen in my life i am going to buy it very soon...Read More

Big car. nice space .nice body .excellent car and modification is another car is best. best mileage, best pickup.

In mid-segment SUV, it is a dream car with all feature in its class. Its features are unmatched at this price.

Great car, a small family I happy to use this car. I hope you are happy. Buy the car and go a long drive.

Hyundai Creta is one of my favorite cars as it is in suitable range according to a middle-class man and it doesn't want high maintenance it is very comfortable and secure...Read More

Very comfortable for long journeys and in cities perfect SUV for cities and traveling and have a luxurious feel

View All Creta 2015-2020 Reviews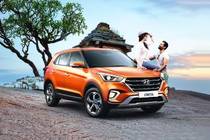 Rs.9.16 Lakh - 15.72 Lakh*
This car model has expired
×
We need your city to customize your experience