Volkswagen Polo GT TSI: Expert review
Published On Dec 04, 2014 By Abhijeet for Volkswagen Polo 2015-2019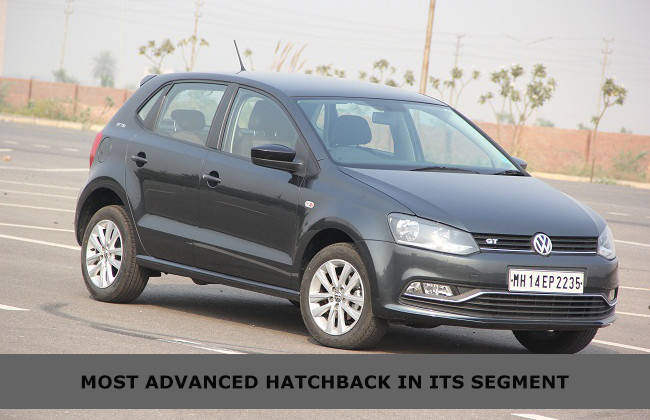 Things to look forward to:
-Fantastic engine and transmission combination
-Admirable performance and handling
-Robust and classy built quality
Things that would make you think twice:
-Expensive service and spares
-Rear cabin space

Very nearly a perfect hatchback, the Volkswagen Polo GT TSI gained a lot of appreciation from enthusiasts across the country. This clever little city runabout came with a very advanced 1.2 litre TSI (Turbo Stratified Injection) engine which was paired to a quick responding 7-speed DSG transmission. Customers loved the ease with which it put a satisfying evil grin on their face and yet remained fuel efficient when it was not decimating other cars. Following the lines of progression, Volkswagen India has given a slight update to this happy-go-lucky hatch. Needless to say this revived our happy time with the previous one.

Design (4/5)
There are updates on the front and the rear which might not look much, but they do freshen up the appeal. The original car was already a fine looking car, and the light chrome strip on the front adds more style.

The rear view mirrors now come in completely deep black colour along with the rear spoiler. Again this sounds like a tiny detail, but adds more purpose to the whole idea of the GT. The front grille and the rear tailgate sport a GT badge on them with GT TSI decals on the rear panels.

The rear remains plain and subtle with a hint of red reflectors at the bottom of the rear bumper. The overall design of the Polo still stays fresh in the entire category. It would have been preferred if VW gave the GT some more style tweaks for this new one. It just looks too much like the regular Polo range. Not that the range's styling has any issues, but an enthusiast shelling out extra for the GT would have liked more to add to its exclusivity.

Interior (4.5/5)
Immaculate, plain and simple are the words used to define the cabin of the GT TSI. Everything is very easy to understand and placed very conveniently for use. The update has given the dashboard lots of piano black inserts around along with the flat-bottomed steering getting blacker as well.

The quality and the fit-an-finish would put many premium saloons to shame, except for the headlight levelling roller which feels a bit cheap. The fine leather finish on the steering wheel, gear knob and hand brake lever is absolutely brilliant to hold. Every feature is present here, automatic climate control, 4-speaker audio system with USB/AUX/SD card/Bluetooth telephony and multi function driver display.

One missed feature here is a hand-rest for the driver as it is essentially an automatic and the left hand could use some support to rest. The aluminium pedal cluster is a very nice touch and adds more to the sporting appeal of this purpose built hatchback. The height adjustable driver's seat and the rake and reach adjustable steering wheel allows you to make several adjustments before you get comfortable in the seat, but it does take time to find the correct position.

One major reason to put your mood off this otherwise complete car is the rear cabin space which falls short against other competing cars in this price bracket. There is space for two passengers who sink in the slightly bucket rear seats but will surely complain for legroom. However this compromise has actually resulted in a larger boot area to store lots of luggage.

Engine and Performance (4.5/5)
Now we come to the highlight of this very charming car, the heart, which actually remains unchanged in this facelift. It sports the same 1,197cc 4-cylinder TSI engine that develops 103.5bhp of maximum power at 5,000rpm. Peak torque pushed out is a healthy 175Nm beginning from as low as 1,500rpm to 4,100rpm.

To put that torque figure in perspective, a 1.8 litre Toyota Corolla develops 173Nm of peak torque. And as an icing on top, the engine is mated to a 7-speed DSG (Direkt Schalt Getriebe/Direct Shift Gearbox) which has seven gears and two clutches.

This super quick transmission enables the Polo GT TSI sprint from naught to 100kmph in a smidgen over 10 seconds. On our test run we saw a solid 190kmph on the speedometer. The gear shifts are extremely quick and you cannot possibly shift faster than the DSG. In 'S' mode, the gear box will even hold the gears for you.

If you fancy, the transmission will let you select gears via the tiptronic gear lever. Fuel efficiency figure returned on open roads was a modest 14kmpl which dropped to 11.3kmpl in bumper-to-bumper traffic. However, high speed runs on the highway and quick slaloms saw the efficiency figure dropping to 7-8kmpl which can be attributed to the fact that it is just a 1.2 litre engine pulling the Polo, hence it has to work harder to perform at the limit. The engine does feel a bit weak at the top end of its performance chart, but not that many will notice.

Ride and handling (4/5)
Again, the fun to drive nature of the Polo GT TSI shines when you introduce it to tight corners and snaking ribbons of asphalt. The sorted chassis is setup for quick slaloms and precise handling. You will be amazed by the eagerness it attacks corners. The steering wheel has nice weight on it and feels very satisfying throwing it around fast corners.

To our surprise, the stock tyres performed very well. The superior braking and satisfactory grip of the tyres ensure you stop exactly where you intent to. Swapping with stickier rubber on the GT TSI will allow you to carry even more speed through corners and find that extra second on lap-times. And it is not just sporty driving where this VW shines.

On everyday roads at slam speeds the GT TSI transforms into a comfortable relaxing car to take you home in peace. Sound insulation is excellent dampening outside noises and lets you enjoy the brilliant engine note from a purr to a snarl. ABS and EBD come as standard fitment on the GT TSI and so do airbags for the driver and front passenger. Another class leading feature is the traction control system equipped as standard on the GT TSI.

Verdict (4.5/5)
One short drive and the GT TSI will completely win your heart. It delivers class leading performance and technology which is light years ahead of it competition. This little hatchback is extremely lively to drive, is relaxing when you want it to and stays decent when you visit the petrol station. We would presume customers will not really be worried by its higher price-tag, but what surely bothers all of them is the service and maintenance setup of Volkswagen.

The spares are expensive and service quality perceived is not yet up to the mark. But it pains to see such a fantastic product suffer because of the after sales issues. If Volkswagen can get us one of the best engine and transmission technologies, we are sure they can work out an even better service support in the nation. As for the car, it stands unhinged as one of the very best cars on Indian soil.