Toyota Prius Expert Review
Published On Jul 13, 2013 By Prithvi for Toyota Prius
This is a premium sedan of a different kind as it provides a combination of a petrol engine and a electric motor that provides power to it wheels. Yes, the Toyota Prius is a name that is famous for its hybrid technology so much so that it recently crossed a total worldwide sales figure of 3 million vehicles exhibiting its popularity in the international market.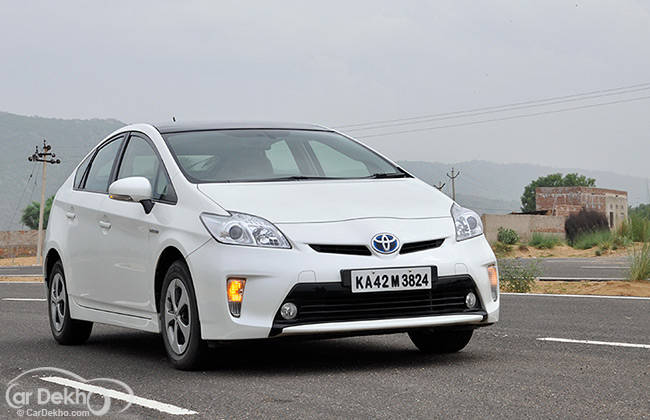 What is its relevance in the Indian market one would ask? Well, the Prius does feature in Toyota's current model line up but somehow hasn't been able to catch the imagination of Indians due to its 'hybrid 'tag and a premium price (Rs 31,42,801 ex-showroom Delhi) which has probably kept it at bay. Therefore to perceive the glitz and glamour of this unusual machine, we took the Prius on an excursion to the state of Rajasthan.

Design

In profile the Prius makes an instant impression of being spectacular and futuristic. Its colour combination of white and black inserts further bring out the brilliance of the product, which is in fact a CBU (Completely Built Unit) being imported by Toyota Kirloskar Motors for the Indian consumers which in a way justifies the steep price.

Head on, distinctive head lamps, a sculpted bonnet and twin radiator grilles with a Toyota logo placed right in between featuring a blue outline indicate towards this vehicle being a hybrid. Further black inserts in the form of slats found within the lower part of the front bumper help in extending its appeal, which is enhanced by additional pair of fog lamps. The provision of vertical indicators make the front end very eye catching while the sides feature a 'hybrid' badge along with plastic hub caps for the wheels.

The most interesting aspect about this hybrid is its rear end, which features a sloping boot lid with a wedged shaped tail gate. Vertical tail lamps and a rear spoiler with a neatly placed brake light contribute to a distinctive rear.

This was evident from the fact that while we undertook this trip, we had quite a number of people coming up and asking whether this was a new launch by Toyota. Its sheer looks does make the Prius stand out both within the city as well as the highway.
Interiors

Its game on when one moves to the cabin especially due to its futuristic appeal. The front dash features a digital instrument cluster placed at the far end that acts as an information display. It shows graphical representations of the electric motor charging, while the vehicle is in motion plus the regular stuff like a speedometer, fuel gauge meter, volume & channel display along with climate control.

Smaller in size, the steering wheel provides a good feel with steering mounted controls. An extended centre console forms the basis for a JBL audio CD player with Bluetooth connectivity. With an in-built monitor that serves as reverse camera, the entertainment system also caters to facilities such as a USB port and an audio jack for i-Pod connectivity.

The lower panel provides buttons for climate control, below which are three modes (Power, Eco, EV) used while driving with an electronic shift lever. The gear shift lever in specific would remind one of a joy stick that is commonly used in gaming console. While for storage, there is a double din glove box placed right in front of the co-passenger along cup holders which can be found between the front and the rear row.

Level of comfort in the Prius is commendable given that we drove it more than 600kms during its stint with us. There is ample of head, shoulder and leg room in front as well as the rear. The under thigh support is also fairly decent which indicates that those long drives are going to be fairly relaxing rather than being taxing. In India, we do not have a concept of seat warmers but since it's there in the Prius one's winter ride is going to be really comforting. As for safety, it comes fitted with front, side and knee airbags while Active Headrests, EPS (Electric Power Steering) & VSC (Vehicle Stability Control) are a part of its features list.
Engine and transmission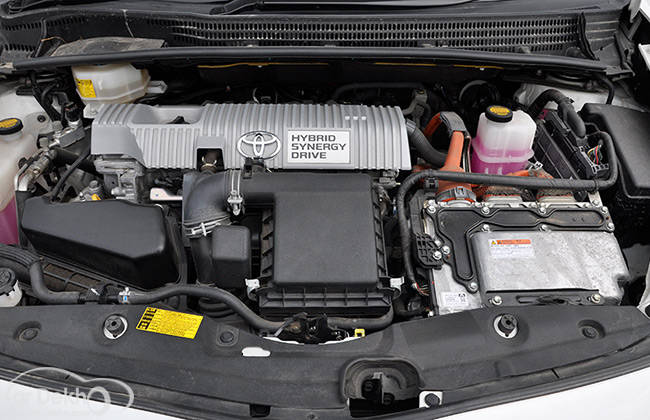 As mentioned just a short while ago, the Prius provides both a 1.8 litre 2ZR-FXE petrol engine plus an electric motor, which along with a Nickel-Metal Hydride battery pack ensures an impressive fuel economy for this sedan. This is evident from the fact that it returned a figure of 20kmpl with a combined driving of city as well as the highway. Therefore the 1798cc, 4 cylinder in-line Twin Cam 16-Valve DOHC petrol engine with VVT-i technology produces a maximum power output of 98bhp along with 142Nm of torque. In simplistic terms, the engine along with its Electrically Controlled Continuously Variable Transmission on board does well to provide a comfortable drive within the city as well as the highway. Meanwhile the electric motor which kicks in on and off produces 650 volts of power.
Driving Dynamics

Well this was the most interesting part of the entire exercise unlike conventional petrol sedans, the Prius is very silent. Just press the start button and its ready to move, there is not even a single squeak that can be heard from its 1.8 litre power plant. When in motion, the sedan caters to three modes of driving – Power, Economy and Electric. The word 'Power' suggests that the engine is going to be far more responsive than other two modes and is ideally meant for overtaking.

The Economy mode on the other hand is well suited to better fuel efficiency while the Electric mode caters to 650 Volts of power that ensures a smooth gradual drive. Its low ground clearance is a bit of an issue especially towards the front where in the bumper tends to touch on big speed breakers. The ride quality matches international standards, however given our Indian road conditions we were well comforted at all times, even while going over potholes and broken roads. Due to its sheer driving dynamics, one does not feel fatigued even on those long distances as handling is brilliant on the Prius. One feels that you are always in control due to the technology this special sedan has to offer. The brakes on this machine work well to keep it in control while plying on our roads.
Verdict

In recent past, the Indian automobile space has seen a couple of Hybrids like the Honda Civic and now the Toyota Prius but somehow the concept of owning one has never actually clicked here in India. This is due to its exclusive price which in today's context matches to that of premium brands such as Audi A4, BMW 3 Series and Mercedes C-Class. Therefore considering that the Prius is more environment friendly and offers technological innovations at its best, one should actually consider it if he or she has that kind of money. In looks, comfort and sheer driving dynamics the Toyota Prius is exceptionally brilliant.