Renault Triber Review- The One For Your Tribe?
Published On Sep 18, 2019 By CarDekho for Renault Triber
The Triber is a 7-seater offering in a small hatchback's budget. With its modularity and sensible approach, can it be the ideal family car?

If you were looking for a spacious family car that can technically seat seven and haul that extra pair of suitcases from the airport or the railway station while carrying five adults, Renault's latest offering, the Triber, would have piqued your curiosity. Not only does the Triber do all of this but it is priced just between Rs 4.95 lakh to Rs 6.49 lakh (even undercutting hatchbacks like the Swift). So has Renault outdone itself with the Triber and is it the ideal family car on a budget? We find out as we get behind the wheel for the first time, and see if that 1.0-litre three cylinder petrol heart underneath can match up.

Looks That Matter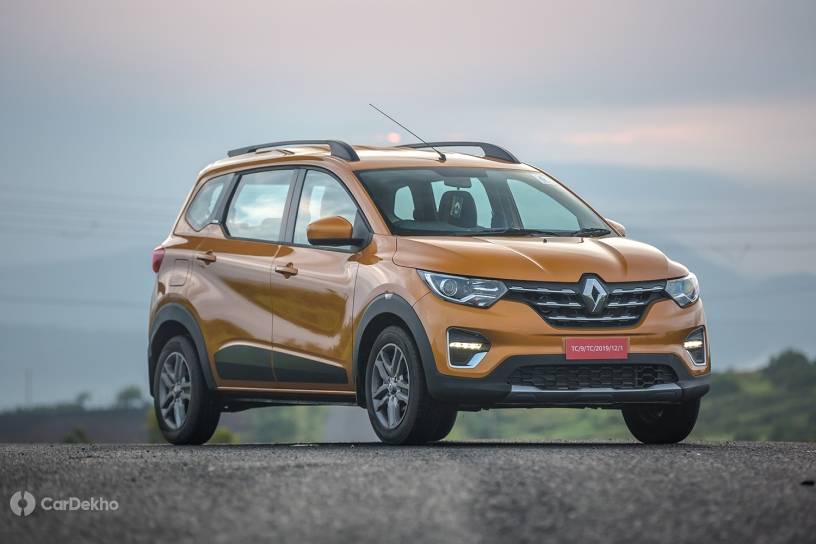 The Triber's design is impressive to say the least. Giving a proper 7-seater in a sub-four metre footprint is commendable and not only have Renault engineers managed to pull this off, they have done so without compromising on the looks. The Triber is a good-looking car and doesn't have the traditional MPV design, which in all honesty is a good thing. It has a more butch appeal to it, which makes it contemporary and pleasing to look at.


It is unmistakably Renault thanks to various styling elements like the grille that leads towards the projector headlamps (which are standard across variants). Lower down, the bumper houses the LED DRLs, where the fog lamps ideally should have been. There is also a large centrally located air dam accompanied by a faux skid plate with silver inserts, which rounds off the look at the front.


The Triber is a tall car, and another nifty design feature is a step up in the roof line after the B-pillar, which is a smart way to increase the head room for rear passengers in the second and third rows. The good thing here is that it is not outrightly visible as the roof rails hide it pretty well. There isn't a lot happening at the rear in terms of design and it's fairly minimalistic, with the highlight being the split tail lamps.

Mindful And Modular


First things first, does it have adequate space inside for a family of seven? The simple answer is yes. The Triber's biggest USP is its modularity. The plethora of permutations and combinations you can use to squeeze every inch of space inside highlights its sheer practicality. You can fit 7 average-sized adults inside without any hassle. The scooped-up roof makes the cabin roomier for rear passengers and the 190mm of travel for the second row gives it flexibility to fit passengers of all shapes and sizes.

You also get air-con vents mounted on the B-pillar with a secondary compressor that can function independently. However, the rear seats could have been a little better as they don't offer a lot of cushioning and underthigh support. Also, the Triber could have benefitted from a little more width in the cabin to aid the comfort levels in the second row with three in it.
Dimensions

Length (mm)

3990

Width (mm)

1739

Height (mm)

1643

Wheelbase (mm)

2636

Boot Space:

84 litres / 625 litres*
*After removing third row

The Triber's party trick inside is the removable third row, which opens a whopping 625 litres of boot space, more than enough to stow away a lot more than just your weekend luggage. It is fairly easy to do so as well and while Renault claims it takes just 15 seconds, we did take over a minute. There are no tools needed for it and with practice you could do it in a jiffy too.

Performance and Handling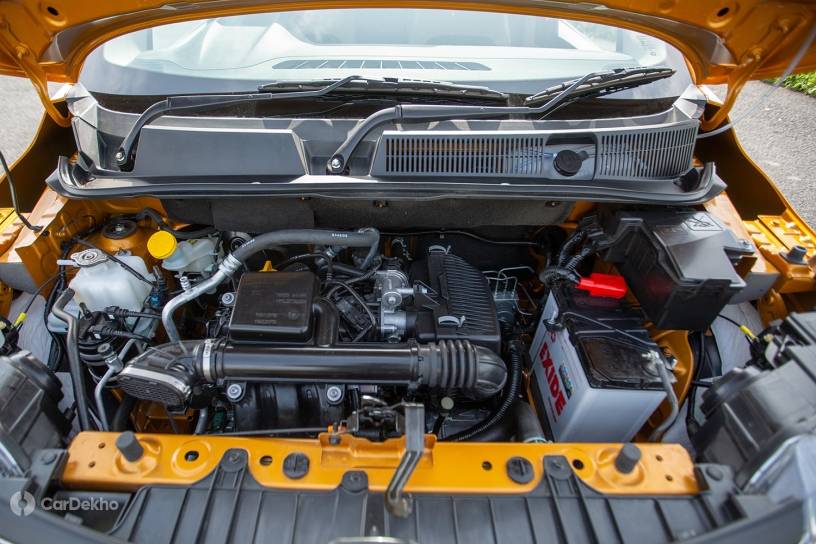 Coming to the most important question next, is the Triber's tiny 1.0-litre Energy engine capable of handling the full load of 7 passengers? Well, it does so adequately but not so enthusiastically! The three-cylinder motor needs some motivation to get a move on. You will need to give initial throttle inputs to get it going, but when you do so, the drive gets pretty relaxed. The clutch feels light and gear action is also pretty smooth. Being a three-cylinder motor the vibrations are noticeable but not bothersome. They do get a little intrusive if you push it hard at around 4,000rpm. Overall, as a city driver the Triber does the job decently.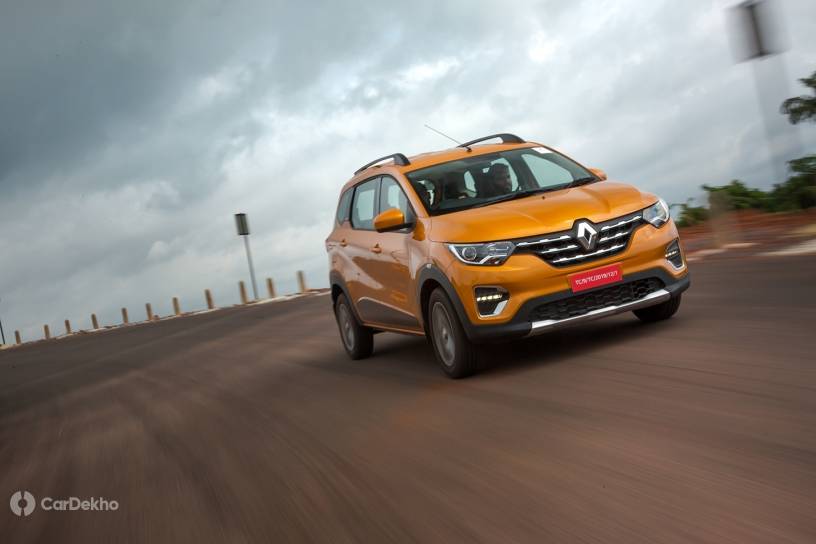 However, if you take it on an open stretch of tarmac, the Triber's motor is only comfortable at speeds between 60-90kmph -- anything above that takes a lot of time and patience to reach. You get the maximum performance in the third and fourth gears, which are fairly tall as well.
With five occupants and a full load, the engine doesn't seem strained as such but on highways overtaking was cumbersome, with constant downshifts, and required a bit of planning as well.
You'll see a similar story if your weekend getaways involve a lot of hill climbs. When starting from a standstill on an incline, the Triber's motor does run out of breath and you'll have to slip the clutch more often than not to get it moving.


Even though the Triber isn't the most eager in a straight line, it handles fairly well at corners. Yes, given its tall stance body roll is evident, but not so much that it cannot be managed. Braking is adequate as well and imparts a feeling of control. It is easy to bring the Triber to a complete halt from high speeds.
However, where the Triber really scores is its ride quality. The suspension setting is apt for our road conditions and can easily soak sharp bumps and potholes without breaking a sweat.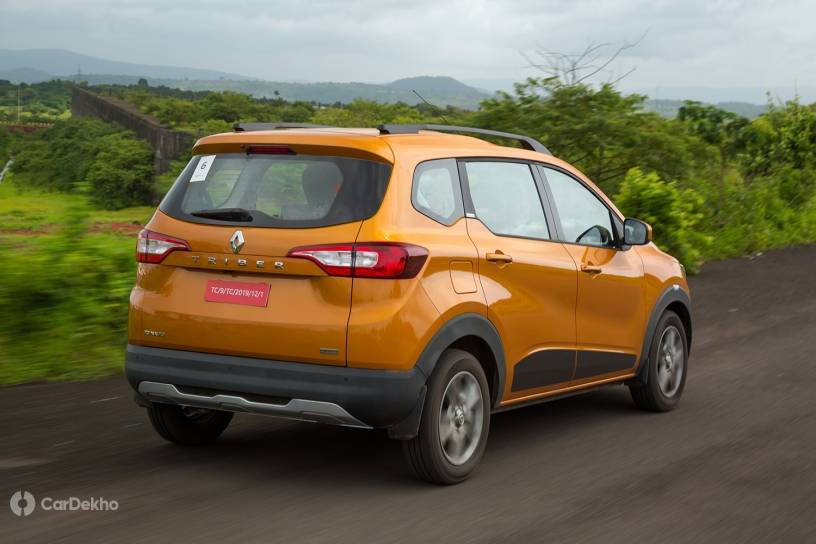 Overall, in terms of performance, the Triber has enough grunt to help you take care of your daily chores and hauling duties inside the city. And with a claimed combined efficiency of 20kmpl, it can do so without breaking the bank. However, if you want a little more pep and fun behind the wheel, it will leave you wanting for more. On that note, we do hope Renault introduces a more powerful version in the near future as an option at least.

Renault Triber

Displacement

1.0-litre

Cylinders

3

Peak Power

(PS@Max rpm)

72PS@6250rpm

Peak Torque

(Nm@rpm)

96Nm@3500rpm

Transmission

5-speed MT

Fuel Efficiency

20kmpl (City & Highway combined)

BS6 Compliant

No

Creature Comforts



The Triber is a sensible and value for money offering, with emphasis on the latter. Despite this, on the surface it does not seem to skimp on a lot of features. It gets projector headlamps and the slide and tumble second and third row as standard across all variants. The top-spec features an all new 8-inch touchscreen infotainment system with Android Auto and Apple Carplay, which is fairly responsive.
There are also some essential features like a reverse parking camera and sensors to aid drivability. Renault has also sprinkled some feel-good features like a digital instrument cluster along with a push-button start/stop and keyless entry, with a key fob that looks more like a remote control.


To amp up the safety quotient, the Triber comes with dual airbags, ABS with EBD and a high speed alert system as standard. Meanwhile, the top-spec variant gets four airbags.

Happy Camper?


So after our short stint with the Triber, we have to admit that it does impress us on a lot of counts. It is practical and brings with it never seen before modularity in a fairly small footprint. Yes, it does leave you wanting for more on highways and on challenging roads, but the 1.0-litre petrol motor does the job adequately within city limits. So, if your idea of a family car is of one with plenty of boot space and a proper third row of seats, the Triber is a solid proposition. What makes it even harder to look past is its aggressive pricing, which makes it a good alternative for those looking for a versatile family car.
Words: Shourya Harwani