Renault Triber 9500Km Long Term Report: A Practical Sub-4m Wagon
Published On Apr 20, 2021 By CarDekho for Renault Triber
A Triber in place of the Maruti XL6 as a shoot wagon for a producer. This could be tricky...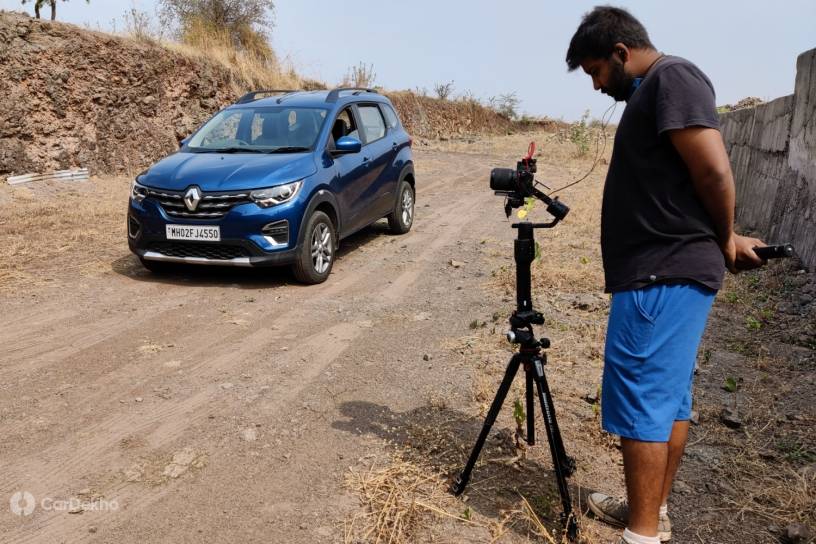 As a producer, the three key requirements I have from a shoot wagon are space, comfort and cabin practicality. Given that my job demands having everything in place during the shoot from fragile snacks to expensive cameras (or vice versa), the later two are all the more important. I guess the same goes for every customer of the Triber who looks to haul people or luggage in the Triber, from their homes to their business or clients. So this report is dedicated to the cabin practicality of the Triber, and if it can deal with the intense requirements of a shoot crew. To know how it fared for a family, do check out our first drive review.

The first thing you will notice after getting in the Triber's cabin is the quality. Given its pricing, of course you are going to get hard plastics, but these bits also make it rugged and apt for a bit of mishandling. And what's pleasant is the way it has been designed with two-tone colours. The combination of beige and black with the large windows makes the cabin roomier. And while demanding soft touch plastics at this price point can be unjust, at least the door pads should have had fabric inserts.

Moving on to the storage space, the Triber's comes across one of the most well thought out cabins compared to similarly priced passenger cars. There is no lack of clever storage spaces, like the two gloveboxes. The top one is cooled and can keep your drinks cool. However, don't expect it to cool one from room temperature. The same goes for the cooled storage between the front two seats. That is the one where I usually store wet wipes, as at a cool temperature they can be really handy for the crew and anchors. The bigger glove box is also a decent sized one which can hold a lot more than just documents. Moving on, right below the infotainment screen is a tray that can easily hold a phone. And the cubby space underneath the phone tray is nice and large, and is usually crowded with bills from the shoots. And of course you have the cup holders, holding coffee for those 4:00 AM call times. All of these spaces make using the Triber as a wagon for many occupants really simple.

Speaking of many occupants, the second row of the Triber comes in a bench layout. The 60:40 split makes life a bit easier while carrying lots of luggage. Seats can also slide and recline individually to open up more room where it's required. Personally, I really like how Renault has smartly placed the A/C vents on the b-pillar, opening up more space.

The third row seats can be folded down or removed altogether. And given my requirements, I've removed them to make room for camera equipment and shoot props. Also, another useful feature for me is the dedicated 12V socket. It comes really handy for charging a camera or laptop during long shoots.

The Triber has impressed us with its cabin storage and practicality. It almost seems like they had thought of a dedicated storage for every item a driver or passenger could carry. And all of this in the size and price of a hatchback is remarkable. But can the Triber be as impressive when it comes to cabin space and comfort? Stay tuned for the next report.
Date acquired: Aug 14, 2020
Km done when acquired: 600km
Km done till date: 9413km
Fuel efficiency: 13.8kmpl
Cheers: Lots of storage space, removable third row seats.
Sneers: Use of hard plastic in the interior, cooled glove boxes are not effective.