Maruti Suzuki S-Presso Review: First Drive
Published On Oct 07, 2019 By Arun for Maruti S-Presso
Small footprint, big ground clearance, and a price that keeps the bank balance happy. Is the S-Presso redefining the small city car?

Maruti's latest small car is named after a type of coffee most of India isn't used to. An espresso is small, bitter and usually an acquired taste. Thankfully, a Maruti Suzuki isn't something we need getting used to. Moreover, the formula here isn't exactly unique either. It's something Renault has done successfully with the Kwid for the past three years. And, Maruti wants to cash in on the love you and I have for cars with jacked up ride heights, and also our collective hate for lunar surfaces the authorities insist on calling roads. Behold, the S-Presso.
Exterior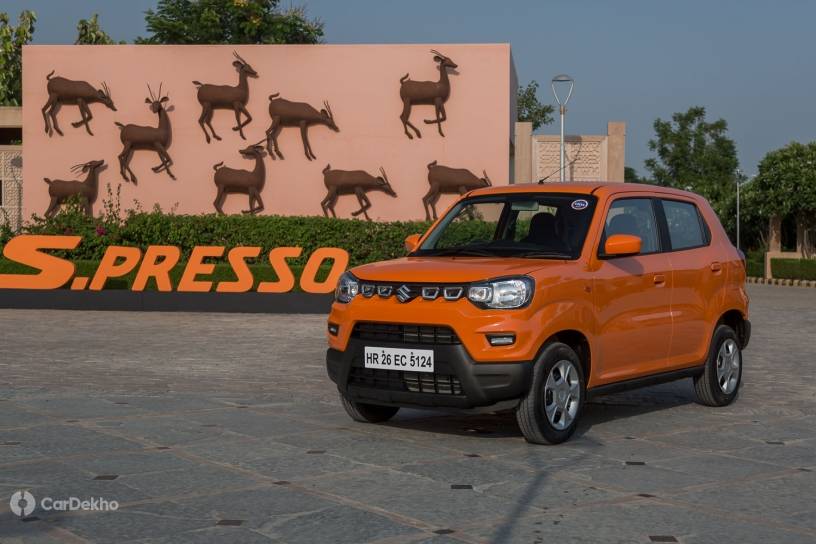 Maruti Suzuki says the S-Presso is a mini-SUV. And, we don't entirely agree with that train of thought. Yes, it does have a rather impressive 180mm ground clearance and a tall-boy like stance too. But, there's no escaping the fact that this looks more like a hopped-up Alto than a scaled-down Brezza.

There's an attempt to connect the dots to the Brezza, however. Viewed from the front, the headlamps, toothy grille and that large bumper will remind you a bit of the compact SUV. Bits like the tall and flat bonnet and the sharply raked A-pillar are more cues for you to think it's got some SUV genes in its design. Viewed dead on, the S-Presso looks tall and narrow. Also (sadly) there's no spunk here. Nothing that'd make you go wow at first glance. That a basic feature like foglamp has been omitted, and the daytime running lamp is an accessory doesn't help either.


From the side, you'd first notice the lack of alloy wheels even on the top-spec variant. The tiny indicator on the front fender is a straight lift from a twenty-year-old Zen, and that does make you question a few design decisions at Maruti. The S-Presso has XL-sized doors, and Maruti could've offered some lower body cladding to help break the monotony of solid colour.


The rather bland rear end isn't anything to write home about. Maybe Maruti Suzuki could've chosen to liven this place up with LED elements in the tail lamps. Even something minor as spreading out the S-Presso badging over the centre of the boot would've added some life to this sedate rear end.
Chances are you'd want to slap on some accessories to make your S-Presso stand out a bit. That list includes daytime running lamps (that seem obscenely priced at Rs 10,000), side and wheel arch cladding and alloy wheels. Tick all of them, and you're looking at a cumulative expense of nearly Rs 40,000. With these accessories, the small Suzuki does look a lot more appealing. But then again, it pushes the overall pricing dangerously close to cars from a segment above.
Size-wise, the S-Presso is a step up from the Alto — it's bigger in every measurable way. It's also the tallest in its class, beating the Kwid by a significant 74mm. But in every other department, the Kwid takes the upper hand.
| | | | |
| --- | --- | --- | --- |
| | S-Presso | Kwid | redi-GO |
| Length (mm) | 3665 | 3731 | 3429 |
| Width (mm) | 1520 | 1579 | 1560 |
| Height (mm) | 1564 | 1490 | 1541 |
| Wheelbase (mm) | 2380 | 2422 | 2348 |

Interior

The doors on the S-Presso open wide, and you can simply walk into the cabin. Compared to the Alto and Kwid where you have to lower yourself into the car, this is much easier. The tiny dashboard, the quirky circular element in the centre and the centrally-mounted speedometer all grab attention instantly. On our orange test car, the bezels on the centre console and side AC vents were colour coordinated. Pick any other exterior colour, and you get a silver finish here. Quality levels here seem acceptable for a car this size. It's a couple of notches up from the Alto, and a notch below the WagonR.


Once in, you'll agree that Maruti Suzuki has managed to eke out some serious space from a car this small. It's a genuine family car that can seat four six-footers with ease. And that's a surprise! The first part of the surprise is the cabin width. Despite being narrower by almost 60mm compared to the Kwid, the S-Presso manages to deliver better shoulder room. At the front, you'll notice the power window switches on the centre console. That saves some vital real estate on the door pad. Then, the door pads itself are super narrow — giving you those crucial extra millimetres of width. Headroom at the front shouldn't be a problem unless you're way above 6ft tall. Surprisingly, the Alto offers more here.
| | | | |
| --- | --- | --- | --- |
| Front Seat | S-Presso | Kwid | Alto |
| Headroom | 980mm | 950mm | 1020mm |
| Cabin Width | 1220mm | 1145mm | 1220mm |
| Minimum Knee Room | 590mm | 590mm | 610mm |
| Maximum Knee Room | 800mm | 760mm | 780mm |
| Seat Base Length | 475mm | 470mm | |
| Backrest Height | 660mm | 585mm | 640mm |


Maruti has opted for super soft cushioning for the seats. And this feels comfy, if you're out and about for a small city sprint. However, if you had to spend upwards of an hour or two in these seats, you'd wish they were a little firmer. On a related note, the seats feel narrow and could've done with more bolstering too. You also miss out on adjustable headrests, but the integrated unit does support the neck and head adequately.


It's delivering enough on storage spaces at the front too. There's a small glovebox, a handy shelf above it for your wallet and phone and 1-litre bottle holders on the door. The floor console gets a couple of cup holders and a small cubby for some knick-knacks. Except for maybe the cubby feeling slightly small for large-screened phones, you shouldn't have any complaints with storage space at the front. Sadly, that's not something we can say about the rear. Save for the small rectangular cubby on the floor (behind the handbrake) - there's absolutely nothing. No door pockets, and no seatback pockets even.


Gloss over that for a bit, and you're met with surprise number two. Knee room! The S-Presso is a big leap ahead compared to the Alto, and noticeably more than the Kwid too. In fact, compare the numbers to the Ignis (that's a bigger car, with a bigger wheelbase) and the S-Presso manages to outshine that as well. Here, headroom is ample even for those slightly taller than six feet. What's likely to be a bother are the integrated headrests. It barely supports the base of the neck for someone who's 5'8"-5'10". If you're taller still, you're left with virtually no support.
| | | | |
| --- | --- | --- | --- |
| Rear Seat | S-Presso | Kwid | Alto |
| Headroom | 920mm | 900mm | 920mm |
| Shoulder Room | 1200mm | 1195mm | 1170mm |
| Minimum Knee Room | 670mm | 595mm | 550mm |
| Maximum Knee Room | 910mm | 750mm | 750mm |
| Ideal Knee Room* | 710mm | 610mm | 600mm |
| Seat Base Length | 455mm | 460mm | 480mm |
| Backrest Height | 550mm | 575mm | 510mm |
*Front seat adjusted for 5'8" to 6' occupants.

It's a bit much to expect a car this small to be able to seat five. Naturally, three abreast at the rear is super tight, and definitely not recommended. It's a comfortable four-seater that leaves ample room for everyone when used as one. And the 270-litre boot is more than happy to swallow luggage too. We could put in two backpacks and two overnighters with ease and had some room to spare for another backpack.
Technology & Features


Even in the top-spec variant, the S-Presso is quite bare-bones. The highlight here is the 7-inch touchscreen infotainment system that comes with Android Auto and Apple CarPlay. Sadly, unlike the Kwid, there's no rear parking camera here. It's responsive and easy to use; although connecting the phone via Android Auto seemed to take quite a while.
This screen is paired with a couple of speakers mounted low in the front doors. Expectedly, audio quality is just about alright. What's rather annoying is that Maruti hasn't even provided slots in the rear door to get speakers fitted from the aftermarket. You'll have to use the parcel tray to mount the rear speakers. Speaking of the rear, there are no power windows here, nor is there a charging socket for your phone — both of which are offered on the Kwid.


Expectedly, you get manual air-conditioning. And this, we believe is among the best we've seen on a small car. It can get seriously cold (and we mean shivering cold) inside the cabin in no time. We tested the car in hot and humid Jodhpur, and the car had no issues keeping the cabin pleasantly chilly.

The centrally-mounted speedometer will take some getting used to, especially since you need to take your eyes off the road to view it. The orange backlit display is home to the usual information including two trip meters, instantaneous fuel efficiency and distance to empty. It's missing a tachometer, though.
We expected the S-Presso to be slightly better equipped. And we aren't really talking about the flashy bits. Smaller elements such as a day/night mirror, powered ORVMs, a pair of washer jets (instead of one), and a rear wiper/defogger would've strengthened the S-Presso's practical appeal. A height-adjustable driver's seat and (at least) tilt adjust for the steering would've been a bonus.
Performance


With the S-Presso, you get the tried and tested 1.0-litre, 3-cylinder engine that we've seen in the Alto K10 and the WagonR. While power outputs remain the same at 68PS and 90Nm, the motor is now BS6 compliant. Start the engine up and you hear the familiar thrummy 3-cylinder note. Vibrations, however, are quite well controlled. Unless you're driving at a really slow speed in a high gear, it wouldn't be bothersome.
Thankfully, the stricter emission norms haven't really choked the performance out of this engine. It's the same peppy, thrummy engine that loves to be revved up. It's quite easy-going inside the city. You can practically stay in second or third gear throughout the commute, and the engine wouldn't protest. It does just fine crawling over speed breakers in second and pulling up to speed in the same gear. This also makes darting in and out of gaps in traffic stress-free. What makes the drive experience easier is that controls - typical of a small Maruti - are super light, and require no effort.


On the highway, this engine is at ease cruising between 80-100kmph. But overtaking fast-moving traffic in fifth is a no-no. You will have to downshift to get the acceleration you need. However, if you are cruising around 60-70kmph in third or fourth, you can simply step on the accelerator and make progress.
Of course, you can pick the AMT and leave the gear changing business to the car. It's a commuter, so make sure you temper expectations before you head out for a test drive. Performance from the AMT is as you'd expect - it gets the job done. Upshifts, for the most part are smooth; but you'd notice the downshifts. If you press the accelerator fully for an overtake, it'd take a second or two to downshift. This is why highway overtakes in the S-Presso AMT requires a little more planning.
Between, the two, we'd pick the manual. It's simply effortless to drive inside the city. Second, it also makes the driving experience that much more involving.
Ride and Handling

Light car, skinny tyres, tall height: do the math! Naturally, the S-Presso feels slightly bouncy as you tackle bumps at city speeds. Through the sharper potholes you'd notice some side-to-side rocking motion too. However, there is an easy fix to this problem. Speed up a bit! Going over potholes slightly faster than usual manages to keep the cabin better isolated from the bumps.


On the highway, the S-Presso is composed while maintaining 80-90kmph. Even small irregularities in the road/expansion joints are dealt with confidently at this speed. However, stray into triple digits and the experience feels floaty and light. Also, we'd recommend you avoid swerving or changing lanes at triple-digit speeds. At these speeds, you'd wish for more weight in the steering as well. As you'd expect, it's finger light to use inside the city. Combined with a high seating position, thin A-pillars and a clear view of the edges of the bonnet: the S-Presso is super kind to driving newbies.
Safety

Maruti's 'micro-SUV' gets a driver airbag as standard across the range, along with ABS with EBD and reverse parking sensors. Notably, a passenger airbag is available only in the top-spec VXi+ variant, and is a Rs 6,000 optional extra for every other variant. We would urge you to not buy any variant that doesn't have the passenger airbag.
The S-Presso hasn't been crash tested by an independent authority such as the NCAP yet. However, it complies with the crash test norms laid down for India.
Variants
You can choose between four variants: Standard, LXi, VXi and VXi+. Save for the top-spec VXi+ trim, all other get a (O) sub variant that adds a passenger airbag and front seatbelts with pretensioners and force limiters. The base variant can be left out of the consideration list since it misses bare essentials like a power steering, air-conditioning and a power socket.
The mid-spec LXi (O) variant can be considered if you're on an absolutely strict budget. This just adds power steering and AC to the bare bones standard variant. Between the VXi (O) and the VXi+, we'd recommend stretching for the latter. That's because for not a lot more money you get internally adjustable rearview mirrors, a touchscreen infotainment system, and steering-mounted audio controls.
Verdict
Is the S-Presso redefining the small city car formula? Not really. Granted, it does excel in the bare basics you expect from an inexpensive hatchback. It's among the most spacious entry-level cars you can buy, seating a small family with ease. The boot too is a pleasant surprise that can handle a weekend's luggage. The package is rounded off by the 1.0-litre motor that's proven to be reliable as well as efficient. You get to pick an AMT too, which we think is a bonus. The real highlight for the S-Presso is how easy it is to get used to, and drive. Couple the light controls and high seating position together, and it's easy to favour the little Maruti as the first car in the family.


Where the S-Presso fails to wow is in the design department. It doesn't make you want it, for example, like the Kwid does. Also, when you factor in the features you get versus the price you pay — it's not scoring particularly high on value for money either. For a similar budget, it's Renault again that seems to offer so much more for your money. That said, the biggest reason for one to not buy the S-Presso comes from within the Maruti Suzuki family in the form of the WagonR. Prices for the S-Presso (between Rs 3.69 lakh to Rs 4.91 lakh) are dangerously close to that of its elder sibling. If you're willing to stretch by Rs 50,000 - Rs 70,000 (around 1000-1500 per month in EMI terms), it's a bigger and better car in every way.