Hyundai Kona Electric: India First Drive Review
Published On Jul 11, 2019 By Tushar for Hyundai Kona Electric
The Hyundai Kona EV is India's first long-range electric vehicle. But at its price, it has rivals that offer the best in premium packaging. So who is the Kona EV for?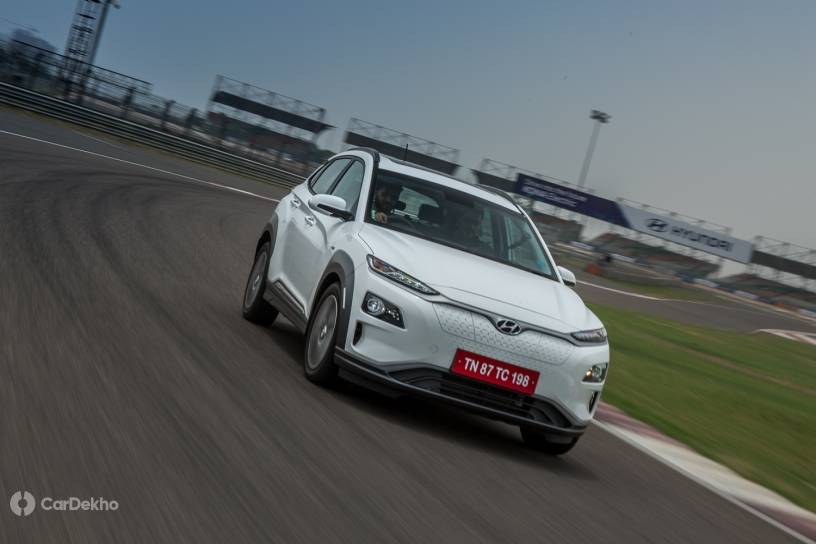 Priced at Rs 25.30 lakh (ex-showroom India), the Hyundai Kona Electric is many things. A long-range EV, a well packaged car and something that promises green tech without a compromise in usability. But a mass-market car it isn't. At this price, you could buy excellent all-rounders like the Jeep Compass, MG Hector, Tata Harrier or even Hyundai's own Tucson.
So if we were to disregard the electric car technology of the Kona, is there something this crossover offers that its rivals don't? And if not, is there anyone who should consider buying one?
Exterior

If you think the price gets you a car that's big on size and road presence, you'd be let down. In fact, in dimensions, the Kona EV falls somewhere in between the sub-4 metre Hyundai Venue and the mid-sized Hyundai Creta. Although it's longer, wider and has a bigger wheelbase than the Venue, it's 20mm shorter than Hyundai's new baby SUV.
| | | | |
| --- | --- | --- | --- |
| Dimensions | Kona EV | Venue | Creta |
| Length | 4180mm | 3995mm | 4270mm |
| Width | 1800mm | 1770mm | 1780mm |
| Height | 1570mm | 1590mm | 1665mm |
| Wheelbase | 2600mm | 2500mm | 2590mm |

Compared to the Creta, the Kona is wider and has a bigger wheelbase but falls short in length and height. So, no, you won't get the same commanding road presence you would with similarly priced rivals. Truth be told, the crossover stance and curvy styling would have you thinking this is a larger and more purpose-built version of the i20 Active.
What will mainly get you eyeballs in the Kona EV are two factors. First, the quirky styling. The faux front grille (where the charging port is hidden) and the unusually styled 17-inch alloy wheels, combined with the distinctive black body cladding, especially on the rear fender, do make the Kona electric look interesting, if not beautiful.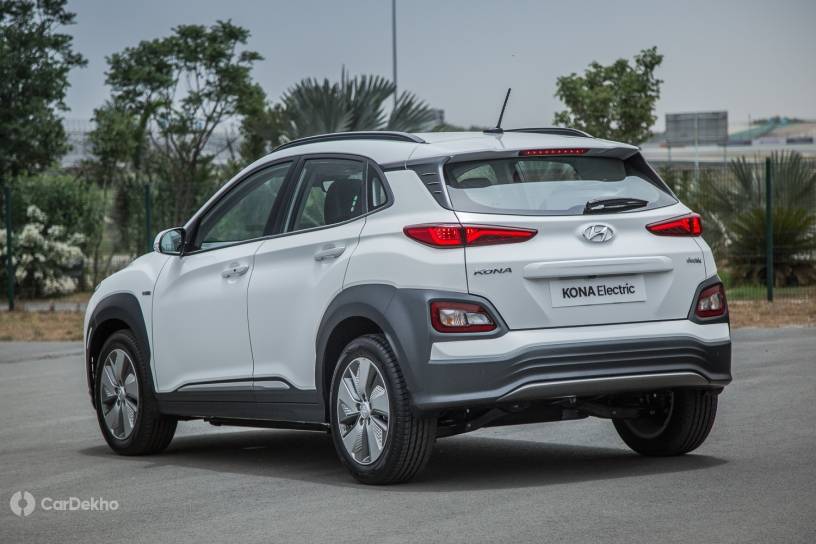 The second attention grabber is the car's rarity. Even a year down the line, it's unlikely the Kona will be as common a sight as a Jeep Compass or Tata Harrier. So any eyeballs turning your way will be out of curiosity and intrigue.
But it also gets some sweet design highlights, like LED projector headlights mounted in the bumper (a la Venue), the LED DRLs up top and the LED tail lights.

Interior
As is typical of Hyundai car interiors, the quality is top notch and consistent, and all the controls are as easy to use as they are in the Tucson. And that's where the Kona EV's charm lies. Most people interested in the Kona may not have driven or even been in an electric car before but once you're in, nothing seems unfamiliar.

The overall visibility is great, and everything from the drive mode button (Eco, Eco+, Sport & Comfort) to the button-type drive selector (park, neutral, reverse & drive) fall to your hand with ease. What's different vs say, the Tucson or Creta is that the centre console of the Kona EV sits high up and is finished in dull silver. Combine this with the low-slung seating and you get a driving position that's akin to a hatchback's or sedan's. It's not a tall driving position like in the Venue or Creta, where your line of sight is above the bonnet.
While the Kona EV's low height doesn't present any issues for headroom, drivers over 6ft tall will have to set the driver's seat height at a lower point. However, you are aware that this isn't a very big car.

The cabin space, particularly at the rear, is on par with some sub-10 lakh Rupee premium hatchbacks. The knee room and headroom at the rear, while usable for 6-footers, isn't what you'd get from petrol-/diesel-powered SUVs at the same price point. A bigger problem in the rear, though, is how close the seat base is to the floor. So even users under 6ft in height will not be able to use the underthigh support, since the seating position pushes your knees up.

We have to face some facts: The Kona EV would've undoubtedly been cheaper had it been made in India. At the moment, it is being assembled here with imported parts, which is why it's priced on par with larger cars. In fact, it is cheaper in India than it is in Hyundai's home market, South Korea, and even Hyundai India admits this isn't a model they're expecting any profits from. Why are we mentioning this? It's simply to provide perspective that this isn't meant to rival the big SUVs it does and its pricing is simply a function of how it's being produced for sale in India.

Expectedly, even the boot space isn't on par with its price rivals. While the Tucson gives you 530 litres, the Compass gives you 438 litres & even the Creta gives you 402 litres of trunk space, you only get about 334 litres with the Kona EV. That's less than the new WagonR's but still enough for two large suitcases.
Where the Kona's cabin redeems itself, though, is with the tech on offer. Which brings us to.
Technology
You can buy the Kona EV only in one fully loaded variant. As such, it gets goodies like auto AC with a driver AC-only mode (to reduce AC load and consume less charge when there are no passengers with the driver), a smart key with push-button start, cruise control and an electric sunroof.

The seats and steering get leatherette upholstery, along with seat cooling and heating. It also has a wireless phone charger, steering-mounted audio & phone controls, an 8-inch touchscreen infotainment system with Android Auto & Apple CarPlay, along with a 6-speaker music system. Other goodies include tilt and reach adjustment for the steering, heated wing mirrors, an auto-dimming IRVM, LED cabin lights, front and rear armrests, and adjustable headrests for all occupants, including the rear middle passenger.

There are some misses like rear AC vents or Hyundai's BlueLink connected car technology but we wouldn't call these deal breakers. So while the cabin space and practicality may not be on par with similarly expensive rivals, the feature packaging doesn't leave much to be desired.
Performance

The Kona Electric isn't just India's first long-range EV; it's also a very good car to drive. Unfortunately, our drive experience was limited to just a few laps at the Buddh International Circuit, but in that time, we tasted enough to tell you that this car is no laggard.
Electric cars deliver their torque instantly. No waiting for an engine to rev up to a certain rpm, nor is there a gearbox to shift your way up. Slam the throttle from a standstill or even while rolling ahead at 50kmph, and all 395Nm is put down to the road immediately. The Kona EV gains speed with gusto and you will run past 100kmph effortlessly.

Overtakes will demand no planning at all, be it at city speeds or out on the highway, because the acceleration has a very direct relationship with how much you press the, ahem, electricity pedal. Remember pushing the joystick ahead on your remote control car? Visualise how quickly that car darted ahead and now imagine you're in that very car. That's the Kona EV. This is what helps it get its claimed 0-100kmph time of 9.7 seconds.

What's also addictive is how noise- and vibe-free the experience is. There is some tyre noise that gets into the cabin, but since there's only an electric motor and no engine, the experience is very peaceful inside. Combine these two factors and you get an amazingly smooth and predictable drive experience that drivers used to petrol or diesel cars will not only find easy to understand but, perhaps, even more enjoyable!

Aside from the drive modes that alter how dull or sporty the power delivery is, you also get paddle shifters. But why? Well, the flaps behind the steering don't control a gearbox but instead, manage the brake energy regeneration system.

This is what turns the Kona into a single-pedal car. There are 3 levels of intensity to choose from. Once engaged, the system doesn't let the car coast, but instead, slows it down by a certain degree (depending on the intensity chosen) in a similar way as engine braking does. So instead of wasting energy by generating friction by braking, the system uses the wheels as generators to charge up the battery.

The good thing is, the regen, even at its highest setting, is not very intense. It's the same as using downshifting to reduce your petrol/diesel car speed, so it's not sudden/jerky or the same as braking hard.

This contributes to the Kona EV's ARAI-claimed range of 452km on a full charge. But that did raise a question. Internationally, the Kona EV is available with two options: a 39.2kWh battery with a 100kW electric motor and a 64kWh battery with a 150kW electric motor. India gets the smaller battery and as per the European rating i.e. by the New European Driving Cycle (NEDC), this car in the same spec as what we get in India has a claimed range of 345km.
The difference is in the testing method. The NEDC method includes top speed testing at 120kmph, while in the ARAI method, the top speed doesn't cross 50kmph. Due to the difference in average speeds in the test cycles (set based on the average drive cycles of the respective regions), the India-spec Kona EV has a considerably higher full charge range.
The Ownership Experience
What if I have to drive through water-logged roads?

First, this is not an SUV with a high water-wading depth. So don't venture into territories you wouldn't take your average hatchback or sedan into. However, electric cars have an advantage here as they are protected from the biggest flooding related car killer: hydrostatic lock.
This occurs when water enters the engine block, usually because backflow from the exhaust causes water to seep in, damaging the piston and cylinder. Electric cars don't have an exhaust, so risk eliminated! Next, the battery itself is IP67 waterproof rated. It is completely sealed from dust and employs liquid cooling. Additionally, if the water level rises to a risky level, the electric motor automatically shuts off, to prevent damage or electrocution.
How can I charge my Kona EV?

There are 3 methods, detailed below.
| | | |
| --- | --- | --- |
| 50kW DC Fast Charger | 7.2kW AC wallbox charger | 2.8kW Portable Charger |
| 57 minutes for 80 per cent charge | 6 hours & 10 minutes for 100 per cent charge | 19 hours for 100 per cent charge |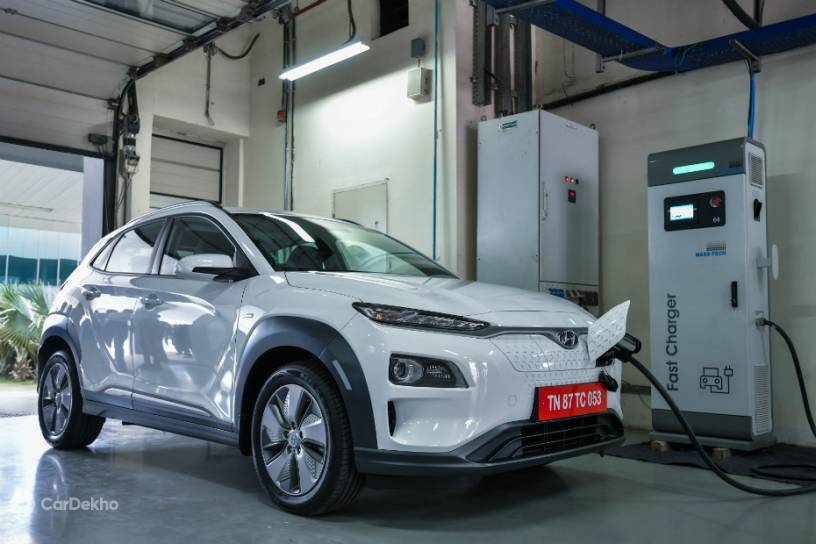 DC fast charging: This will be set up at select Hyundai dealerships & service centres. It can also be set up in corporate parking lots and through Hyundai's partnership with IOCL, will also be seen at some Indian Oil petrol pumps, starting with Tier I cities like New Delhi, Mumbai, Bangalore & Chennai. Using this, the Kona Electric can be charged up to 80 per cent in 57 minutes.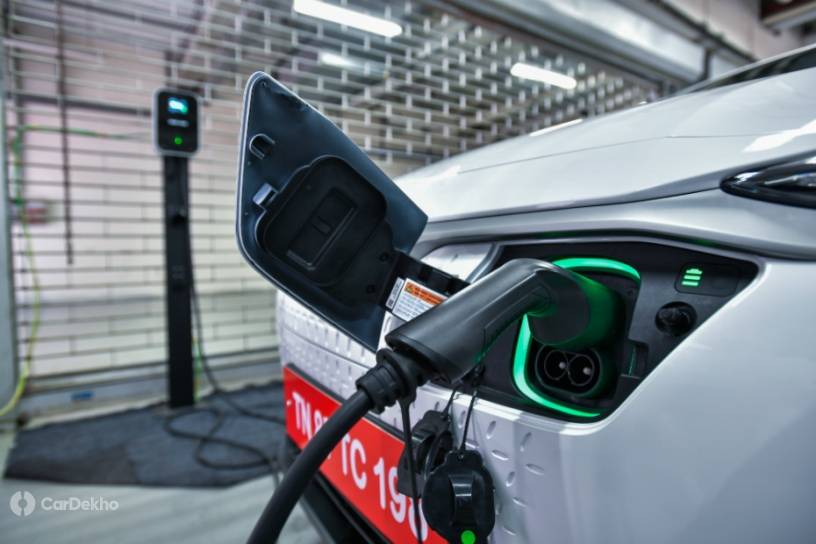 AC wallbox charger: This setup comes as standard with the Kona EV. Through a 7.2kW wallbox charger that will be set up at your residence, the car can be charged from 0-100 per cent in approximately 6 hours and 10 minutes. An hour's charging with this method adds about 50km of range. Hyundai, through a third party, will have your home electricals inspected and install this charger free of cost. However, if you live in an apartment complex, you will need a dedicated parking spot (ideally, a stilt parking spot) and of course, permissions from the housing society.

Portable charger: This too is included with every Kona. This 2.8kW unit, which can be plugged into a 3-pin 15amp charge point, takes about 19 hours for a full charge. It isn't the best charging solution but it still is something you can use in case no other option is available.
Will it cost me more in maintenance?

Not at all! Electric cars have fewer moving parts, so consumables like engine oil, parts like an oil filter or fuel filter don't exist to need replacing. Even the battery coolant has to be replaced once every 60,000km! In fact, Hyundai claims the average running cost of the Kona electric is 1/5th of an equivalent petrol or diesel car.
What if I want to go for road trips?

With its claimed range of 452km, theoretically, a short road trip is feasible even if you discount the claimed range by a big margin. The issue, however, is that you can't carry the wallbox charger with you and will largely be dependent on the availability of a fast-charging point. You can of course use the portable charger but that will need a few hours worth of a buffer in your travel plans. So can you manage roadtrips in a Kona EV? Yes. Can they be unplanned? Probably not.
What about the warranty?
Hyundai is offering 3 years/unlimited kilometres warranty with the Kona EV as standard. The battery pack itself is covered as standard by an 8 year/1,60,000km warranty. Technically, this is great for resale value but how the market responds to such a car in terms of resale is still unknown. Hyundai isn't offering a buyback plan at the moment either, so there are no guarantees.
Related: Hyundai Kona Electric Charging, After-sales Support Explained
Safety

The Hyundai Kona electric gets 6 airbags, ABS with EBD, ISOFIX, vehicle stability management, electronic stability program and traction control as standard. It also gets hill start assist, rear parking sensors, a rear camera with dynamic guidelines, auto headlamps and tyre pressure monitoring.
While there are no major misses in terms of features, it would've been nice if Hyundai offered front parking sensors as well.
Verdict

So, is the Hyundai Kona electric better than its price rivals? Well, it offers better noise insulation along with a smoother drive experience and looks them eye to eye when it comes to features. However, as a family car, it doesn't offer the kind of cabin space, practicality or bad-road ability a similarly priced petrol/diesel SUV does.

Does that mean it's unusable? Not at all! The Kona makes a lot of sense as the second or third car at home. As a daily commuter, it's actually quite sensible and once you appreciate how smooth and even punchy it is to drive, you will find yourself using it more regularly. It's for the person who wants to be counted among the first electric car adopters in India and wants the bragging rights of owning a unique car, without a major compromise on daily functionality to get that very right.

Owners of the Kona EV will become the brand ambassadors for upcoming electric cars in India, given that this is the first electric car in India that doesn't come with some major caveats or serious limitations, especially range. So while we or even Hyundai won't expect this to be a hot seller at its price, it is a car and a landmark moment that paves the way for every electric car that follows.
But until India can develop and produce batteries locally, and the government provides stronger benefits for electric car buyers, EVs cannot reach the masses.
Related: How Much Do You Stand To Save On An EV After GST Reduction?