Ford Figo Diesel : Expert Review
Published On Jan 08, 2016 By Konark for Ford Figo 2015-2019

Ford Figo when launched in 2009 surprised everyone with its handling characteristics. It became an instant hit for Ford and can be credited for keeping the American car maker's ship afloat in our market. It was based on the European Mark V Fiesta's platform and had a go-kart like feel in the way it used to take on the corners. Ford cars have always been known to be good handlers and this trait was quite evident in the first generation Figo.
However, the first generation Figo had the most under powered engines in its segment and were unable to exploit the car's brilliant dynamics. Things have changed for the American hatch and it now packs a frugal 100 PS diesel engine. Can it carry forward its predecessor's legacy? We find out.
PROS
-Punchy 100 PS Diesel engine with 25+ kmpl
-Safety Features- 6 Airbags in top end variant
-Segment-first features- MyKey, MyDock, SYNC with AppLink
-Brilliant Pricing- undercuts all of its competition
CONS
-Undersized Tyres
-Generation 1 Figo's handling characteristics were better
-Limited rear seat headroom/ protruding transmission tunnel
-Poor rear visibility, Small ORVM's/IRVM/, No parking sensors
-Interiors don't feel plush/ Build Quality not robust like 1st gen Figo

DESIGN
How does it look from the outside?

Figo's design is very to-the-line yet elegant. It surely isn't the best-looking hatch that you'll come across and neither is it that bad to disinterest probable buyers. It has a very no-nonsense approach in the way it has been designed. From the huge chrome grille in the front to the B-pillar, the Figo is identical to its elder sibling; the Figo Aspire.

A very "Aston Martin-ish" front grille with good chunks of chrome slats along with the swept-back headlamps define the front end of the Figo. Fog lamps are housed inside big plastic surrounds which give it a very torch-like look.
The side profile is purely defined by the large windows and a protruding waistline which starts from the front fender and runs all the way to the tail lamp cluster. Turn indicators are located on the ORVM's and there is a small chrome insert on the front quarter panel which looks neat.

The side profile looks a bit identical to the first generation Figo, which is again mainly because of the sweeping bulge. The 14-inch rims are a big turn off and Ford should have given an option of 15-inch wheels in the top-end variant. Competition like the Hyundai i20 gets 16-inch wheels and this is one area Ford needs to work on. (Let's hope Ford addresses this issue in the next update.)




Rear-end again exemplifies simplicity. A sharp crease runs in between both the tail-lamps adding some character to the plain rear profile and even the exhaust has been neatly tucked away under the rear bumper. Nothing has been done to make the car look over the top and this is the exact reason why it looks alluring.
How is it from the inside?


Step inside the Figo and you are welcomed by a very Ford-like center console. Just like the exteriors, Figo extracts a lot from its elder sibling, Figo Aspire. You get the same dashboard as the Aspire, though, in a blacked out setting with silver inserts. Many similarities can also be seen with EcoSport's interiors – SYNC connectivity, a similar steering wheel with some brushed silver accents along with a blue-illuminated speedo console, adds some futuristic feel to the cabin. However, the infotainment's display is pretty small and looks a bit dated when compared to its rivals.

The rear seat of Figo is best suited for 2 adults. Transmission tunnel bulges out in the center and it would be a reason of distress for the center traveler on the back seat. Additionally, lack of shoulder and head space for the back inhabitants make things even tougher for the rear seat passengers.




The new Figo gets numerous cubby openings around the cabin just like its sedan iteration and an amazing of boot space of 257-liters. It does not offer a telescopic steering but one can easily find a comfortable driving position as the driver seat gets height adjustment along with other normal seat adjustments.
What's under the hood?

Ford has done a commendable job by plonking in the 1.5-litre TDCi diesel engine which it uses in the Figo Aspire and now in the EcoSport (10Nm less torque). For a car that weighs just around 1 ton, 98.6 Bhp of power along with 215Nm of torque give it an incredible power to weight ratio of 95 Bhp/Ton. Less weight, more power ensure that Figo reaches 100 kmph from a standstill in around 10 seconds, which makes it one of the fastest car in its segment.
Unlike the Fiat 1.3-litre Multijet, which is our country's most selling diesel engine (seen in the Swift diesel), this unit delivers power in a very linear manner and there is hardly any noticeable turbo-lag. Low-end torque weighs out well and there is no 'one-second delay to glory' moment and that 'rubber-band power delivery' effect which is very common with the Multijet engine. This engine has excellent city drivability and there's enough power in between 1600- 4000 rpm so you don't require to shift gears as often to stay in the meat of power band and it is adequately tractable to continue along on speeds as low as 45 kmph in fourth gear.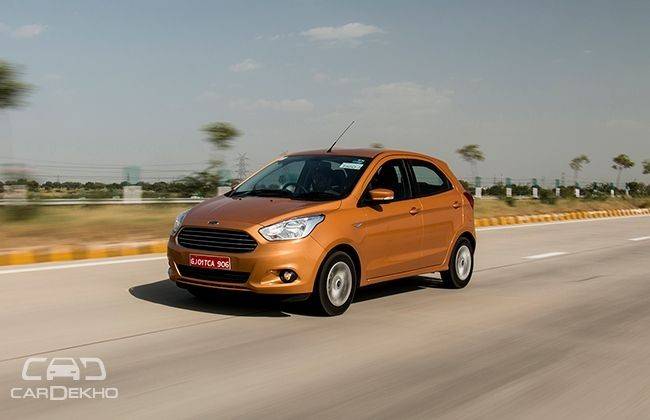 Out on the highway, Figo impressed us with its cruising ability as well. 100 kmph mark comes in between the 2000-2500 rpm mark. It has a strong mid-range which ensures that you have optimal power for those quick overtakes. 5 speed Ford IB5 manual gearbox does the job decently well although you need to get used to the clutch's bite point to avoid its spring back action. Clutch travel is minimal, though the clutch could have been a bit smoother.

The petrol variant of Figo also gets a dual-clutch automatic gearbox. Read more about it- Figo Automatic 'Left Foot Savior'
Ride and Handling
To start off, newly added electric power steering is a boon for city rides and it weighs up nicely as the car gains speed. A lot of Ford loyalists are disappointed by the shift to an electric power steering over the hydraulic unit. The new unit does not have the go-kart like character that its predecessor had but it's not extremely disappointing and in fact is a better proposition for your daily city runs. Like mentioned before, it does weigh up as you gain speed.




As most hatchbacks, Figo also uses a monocoque chassis and is based on the popular B2E platform which is also present in its sedan iteration, Figo Aspire. The earlier Figo was based on the European Mark V Fiesta's platform and the new Figo had big boots to fill which it has done in very Un- Ford-ly manner. Ford has taken a leaf out of Maruti and Hyundai's booklet and has made the new Figo more mass-centric with the lighter steering and a softer suspension.

Safety


The baby Ford has definitely impressed us on the safety front. It gets a driver's airbag as standard in the base variant, while the middle variants (Ambiente, Trend, Trend+ and Titanium) get dual front airbags and the range-topping Titanium + variant gets 6 Airbags (segment-first) along with ABS(anti-lock braking system) with EBD ( Electronic brake-force distribution) that balances brake force between front and rear wheels and prevents them from locking. Ford has been prioritizing safety in our market in recent times (Aspire launched with dual airbags as standard) as a result of which homegrown manufacturers like Maruti and Mahindra have also started taking safety seriously by offering airbags even in the base variants of their products.
Evolution, what all has changed?
The Figo was launched initially in 2009. A lot has changed since then. Let's have a look at its evolution over the years through this infographic-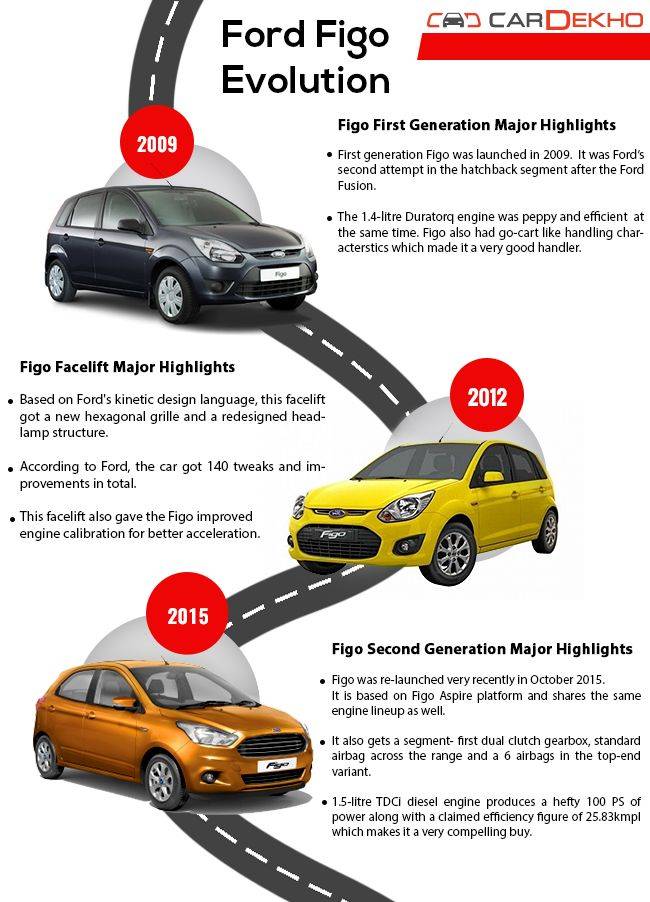 Competition


How much does it return?
Ford claims that Figo returns 25.83 kmpl which is pretty good considering it has 100 PS of power on tap. Low kerb weight, plenty of minor aerodynamic tweaks like a rubberized underbody speed lip which deflects air away and a small ridge-like design behind the mirrors which further helps in reducing the aerodynamic drag. Our test vehicle returned around 16-17 kmpl in test conditions and if you drive it with a light right foot, you can expect this hatch to return around 20 kmpl in your daily runs.
Sales Figures New Figo
Sep'15- 1547
Oct'15- 3534
Nov'15- 2790
Dec'15- 2191

Source- SIAM Data

Verdict
It's powerful, adequately spacious, efficient, offers decent equipment and safety features and buying it won't burn a hole through your pocket. If you are in the market looking for a driver-focused diesel hatchback which can do your daily city runs and can also satisfy the enthusiast inside you on the weekends, then the baby Ford is definitely the car for you. All it needs is a better set of shoes (we suggest (195/55/R15) and you will be able to take on the Volkswagen Polo GT TDI with ease. With a brilliant power to weight ratio, slight modifications will make the Figo take on the likes of the Abarth Punto, Polo GT TSI and that too with the efficiency of a diesel engine!

Also Read- First Ride Ford Figo