Audi Q3 2022 Review: So Much WANT!
Published On Dec 02, 2022 By Arun for Audi Q3
Audi's new Q3 ups the 'want' quotient significantly.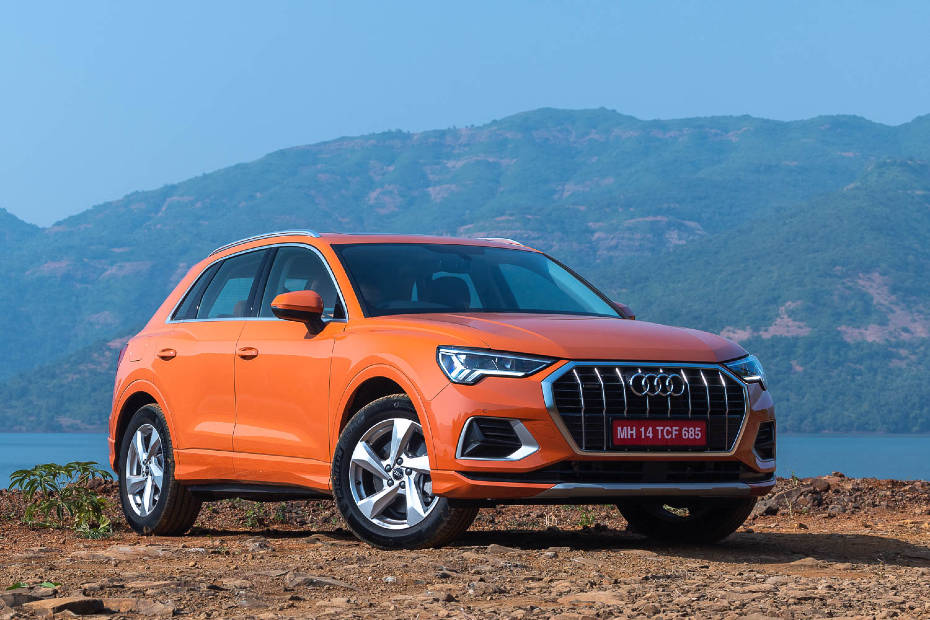 Yes, it's late to the party. Not even fashionably so. However, for what the brand-new Q3 packs, it's easy to forgive Audi's lethargy in bringing it to Indian shores. If you value substance over gimmicks, the Q3 will be hard to fault.
Hello, Q!

Size for price? The Q3 will have you snigger immediately. It takes the 'compact' in a compact SUV quite seriously. Even though it has grown in size compared to the previous iteration, it very much looks like a large hatchback on stilts.

There are two interesting colour options: 'Pulse Orange' and 'Navarra Blue Metallic'. Pick one of these for extra eyeballs.

Audi's website shows a decked-out Q3 in the S Line trim. Big wheels, sportier bumpers — the works. Too bad you can't buy it in that spec.

We know Audi's light game is next level. Surprisingly, the signature dynamic turn indicators are missing on both the headlights and taillights. Why!
Classy Inside

Pick between two colours for the upholstery: Okapi Brown (Tan) and Pearlescent Beige (Almost White). We like the tan upholstery our test car had better. Easier to keep clean, and classy too!

The Q3's dashboard is as German as it gets. Straight lines, ergonomically sound and dripping with quality. Dashboard and door pads (rear ones too!) get soft-touch elements that feel rich. This quality is among the prime reasons why the Q3 will rank high on your consideration list.

Configurable ambient lighting in the top-spec variant really elevates the experience after sundown. The 'quattro' badge on the dashboard also lights up — sweet touch! Lower-spec 'Premium Plus' variant gets a standard white ambient light.
Space Out

It's a great four seater. Four six-footers? No problem at all. There's enough kneeroom, foot room and headroom here.

Three abreast at the rear is a very obvious squeeze. Not recommended. Enjoy the center armrest instead.

The rear seat gets fore-aft adjustment and the seat back recline can be adjusted too. This is more to let you eke out some extra boot space if needed than make more room in the rear.

Practicality is well thought out. Bottle-holders in the doors, storage trays at the rear, a deep centre armrest storage, it's all there!
Boot Space

Boot space is a generous 530-litres which can be expanded up to 1525-litres by folding the rear seat. A 40:20:40 split adds more versatility to the mix.
What's Enough?
Audi seems to have asked themselves that question when speccing the Q3 for India. They've stuck to nothing more than the basics.

Highlights: powered front seats, 12.3-inch virtual cockpit, 10.25-inch touchscreen, Audi Sound System (10 Speakers), dual-zone climate control, powered Tailgate, panoramic sunroof and rear AC vents

The entry-level Premium Plus variant gets a smaller 10.25-inch display for the instrument cluster, no powered tailgate, and a six-speaker sound system to keep the price in check.

What's missing? Compared to what other luxury brands offer, practically nothing. But it'd have been great to see Audi push the game further by offering seat ventilation and memory, and a 360° camera at the least. These features are available in cars that cost a third nowadays.
Petrol Power ONLY!

Both BMW and Mercedes offer a diesel engine with their entry level X1 and GLA. Audi is sticking to petrol power only. A 190PS, 320Nm, 2.0-litre turbo-petrol motor is your only choice.

In their defense, what a riot of an engine this is! It's extremely versatile, and at equal ease pottering around the city at 20kmph and rocketing you to ten times that nonchalantly if required.

The seven-speed dual-clutch gearbox is smooth, quick and happy to dish out shifts the instant you ask for them.

Choose between three drive modes: Eco, Comfort and Sport. This alters the engine response and the steering weight. You could leave it in 'Auto' and the car decides the mode for you based on how you're driving. There's also 'Individual' if you want to be specific.

Highlight of the Q3's drive experience: the EASE of driving. If you're upgrading even from a small hatchback or sedan, getting used to the Q3's driving dynamics takes absolutely no time at all.
Ride Comfort

Ride quality continues to be a highlight, along with stellar noise insulation. Typical of most Germans, there's side-to-side movement to be felt over bad surfaces at crawling speeds. Other than that, it will eat bad roads and undulations for breakfast. High speed stability is confidence inspiring; the Q3 makes for a great highway companion.

If you are a seasoned driver and appreciate a spirited drive up the mountains, the Q3 will feel rewarding. Between the responsive drivetrain, the balanced chassis and the wizardry of 'quattro' all-wheel drive, the Q3 can be a hot hatch if you want it to.

Effortless, comfortable and fast — it's quite easy to sum up the way the Q3 feels on the move. The drive experience is another strong reason for you to consider it.
Why Buy? Why Not?

Let's address the elephants in the room first. Yes, you can buy SUVs that offer a whole lot more in terms of size and off-road ability in the whereabouts of Rs 50 lakh (read: Fortuner, Gloster). You can also buy SUVs that offer a little more tech and a little more versatility for less (read: Tiguan, Kodiaq).
The Q3 is about that little extra in terms of polish, feel-good and most importantly — badge value. It's well built inside out, has enough room for the family and is comfortable and hilariously fast at the same time. Remember this will be an SUV you buy because you 'want' it, not 'need' it. While Audi isn't rewriting the rule book with this generation, it certainly is a whole lot more desirable.