2020 Mahindra Thar First Look Review
Published On Aug 17, 2020 By Tushar for Mahindra Thar
From a bare-boned off-roader to a desirable modern terrain tamer that meets more than just one need, the all-new Thar has truly been worth the wait!
Update (02/10/2020): Mahindra has launched the second-gen Thar with prices beginning from Rs 9.80 lakh (ex-showroom). Read more about it here.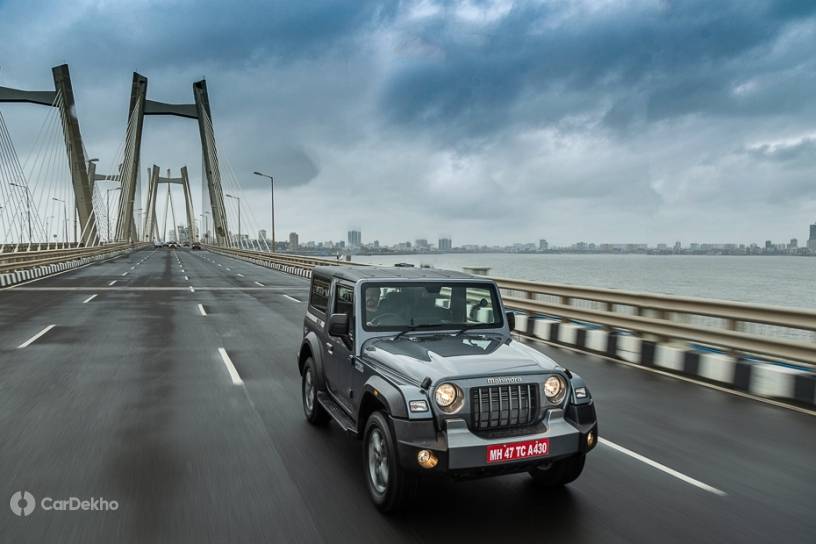 Exterior

It's always difficult to update an age-old design without upsetting anyone, but Mahindra has, for the most part, done it right. We're sure that a certain carmaker whose name starts with J will be foaming at the mouth because there's no denying how much this new Thar looks like a Wrangler two door. But design rights aside, the Thar is a very tough and modern-looking SUV with even more road presence than before.

On our drive through the streets of Mumbai, there wasn't a single motorist who wasn't checking it out or giving it some very excited thumbs up. Every panel is now chunkier, the new 18-inch wheels have been very smartly designed, and the car itself has grown in terms of length (+65mm), width (129mm) and wheelbase (+20mm). Interestingly, the overall height is shorter, especially if you get the hard top or convertible soft top.


But for all its modernities, it retains various old-school elements. You still get exposed door hinges for the removable doors, bonnet clamps mounted on either side of the hood, a modernised take on the old CJ series' square tail lamps, and a tailgate-mounted spare wheel (alloy in the top end).

Even the front grille adds some retro, albeit, controversial charm and the front end seems to draw inspiration from the old Mahindra Armada Grand. While you do get fender-mounted LED DRLs, the headlights themselves use basic halogen bulbs as do the fog lamps. The most interesting bit is how Mahindra has been subtle with some things and over the top with others.

We liked the little easter eggs, like the Thar with two camels insignia on the front windshield and tree branch insignia on the rear windshield. But then, there's no mistaking this car for anything else with 'Thar' branding on the front bumper, front fender, wheels, mirrors and tail lamps! Look at the rear end of the old Mahindra-SsangYong Rexton and you know that Mahindra's obsession with badging is consistent.


A big plus this time around is the number of options. The base AX variant comes with a fixed soft top as standard, while the top-end LX can be had with either a fixed hard top or a convertible soft top. The latter two can be fitted to the base variant as options. Colour options on offer are Red Rage, Mystic Copper, Galaxy Grey, Aquamarine, Rocky Beige and Napoli Black. Unfortunately, there's no white colour option which comes as a big surprise!
Interior
This is possibly the biggest area of improvement in the new Thar. While the old Thar appealed to enthusiasts, your family would question its Rs 11.50 lakh on road price tag. Outside of an AC and a basic instrument cluster, you had essentially nothing, with budget hatchback interior quality to top.

So the new cabin is nothing short of a revolution. Climb in using the side step and you're still welcomed with that badass driving position that overlooks the bonnet. But now, it's accompanied by a brand new dashboard that both feels and looks well built and designed. In classic off-road SUV style, the dashboard is rather flat to keep you close to the windshield. The dashboard gets an IP54 waterproof rating and the cabin is washable with drain plugs provided too. However, with this rating, best avoid power washes and stick to a good old fashioned bucket and cloth.

The plastic quality feels thick, robust and thankfully, isn't a mix and match of one too many textures. We particularly liked the serial number embossed on the front passenger's side that's part of more Thar branding on the inside (also seen on the seats and doors).

The interior layout is reasonably practical too with a large storage area ahead of the gear lever that hosts two USB ports, an AUX port and a 12V socket. There are also two cup holders between the front passengers.

Above all else, the severe ergonomic flaws of the old car have been largely corrected. The seatbelt is now usable even for very tall occupants, the steering and pedals aren't misaligned anymore and reaching the air con, and the infotainment system or transfer case lever is easy. Basically, anyone can use a Thar now without having to deal with off-putting quirks.

That said, it isn't flawless. The footwell offers no space to rest your left foot and it gets taxing even on short journeys. Even the automatic variants don't offer a dead pedal and the central panel juts into the footwell, pushing your left foot inward and hampering comfort. This issue holds true for short and tall drivers alike.

Cabin space, though, is usable even for tall drivers with good headroom and knee room available. As standard, the Thar comes as a 6-seater with side-facing rear seats (like before) but is now also available as a 4-seater with front-facing rear seats (AX option and LX). You access the rear seats using a front seat backrest mounted release that pushes the front seat ahead. You then climb into the rear through the gap, which is wide enough for average sized users to get in with a little bend of the back.

It does work decently as a 4-seater but isn't a rear seat charmer by any means. Four six footers can fit in with reasonable comfort, especially because there's good headroom and shoulder room even at the rear. However, the foot room is compromised near the front seat rails and it makes the seating position awkward. To top it off, at least in the hardtop model, the rear windows don't open at all. Fortunately, rear seat occupants do get large adjustable headrests and roll cage mounted 3 point seatbelts. And yes, the rear seats do fold down.
Technology
The amenities list is far better now, considering you actually have features to talk about! The new Thar gets front power windows, electrically adjustable mirrors, tilt steering, a height-adjustable driver's seat, steering-mounted audio/phone controls, and even cruise control!


It also gets remote keyless entry, a colour multi-information display, and a new 7-inch touchscreen with Android Auto, Apple CarPlay and navigation. The touchscreen itself has some cool drive displays that show you roll and pitch angles, a compass, tyre position display, G monitor and more. It even gets a 6-speaker music system with two speakers and two tweeters mounted to the roof!
Performance


A new generation brings with it more versatility. The Thar is now offered with a 2.0-litre petrol engine that makes 150PS and 320/300Nm of torque (AT/MT). The diesel is a new 2.2-litre unit producing 130PS and 300Nm of torque. Both engines are turbocharged and available with a 6-speed manual transmission as standard with the option of an AISIN 6-speed automatic. A rear biased 4x4 drivetrain comes as standard.
We only had a brief drive in Mumbai in which we sampled the petrol automatic, diesel automatic and diesel manual.
Diesel Manual
The one big difference you first notice is the refinement. The new diesel is extremely smooth at start up and vibrations are controlled very well too. If you drive an old Thar, this one is a giant leap ahead in the NVH department. The controls are light and easy to use as well. The steering is about as light as it is in the XUV300 and the clutch throw is neither too long nor too heavy to manage traffic. Even the gear lever is smooth to use and slots in without a fuss. That's a big relief compared to the old one which had different time zones for each gear.

What also stands out is the low rev torque. Second gear, 900rpm at 18kmph on a sharp incline and the Thar shows no signs of struggle! It climbs with joy inducing ease which is a good sign for its off-road ability. The motor itself isn't too vocal. Yes, you can tell it's a diesel and it does get loud after 3000rpm but the noise doesn't boom or reverberate inside the cabin. Once you're cruising in top gear, the engine noise is negligible and the car feels relaxed.
Diesel Automatic

The 6-speed automatic transmission of the Thar feels similar to use as the XUV500 AT. It's a torque converter and is reasonably responsive for regular use. With part throttle, gear changes can be felt a little and hard downshifts will be accompanied with a head nod. It's not lightning quick by any means but gets the job done and makes daily drives hassle free. Yes, you do get a Tiptronic-style manual mode as well but no paddle shifters.
Petrol Automatic
What stands out the most in the petrol is its refinement. If the vibrations at startup/while driving hard are acceptable in the diesel, they're negligible in the petrol. It's not a dull engine either. Sure, there's some turbo lag but it doesn't feel lazy and picks up pace very quickly. Throttle response is good too and it's a reasonably rev happy engine. The automatic transmission also feels smoother here than in the diesel, though the difference is marginal.

One oddity is a loud fluttering noise that you can hear from the exhaust when you floor it. It doesn't show up in regular driving conditions but is quite noticeable when you get close to the redline.
The petrol will probably be the engine of choice for the urban Thar buyer. It should match the diesel for off-road performance and makes a lot of sense for those who just want a cool retro SUV as a second or third car. However, our experience with big SUVs running turbo-petrol engines tells us that fuel efficiency could just be a weak point and we'll know better after a proper road test.
Ride & Handling
It's an old-school ladder frame SUV and behaves like one. The Thar's ride quality is noticeably stiff and imperfections on the road do unsettle the cabin. Its ride feels jiggly over small bumps but it'll blast through big potholes without a fuss. There's also heaps of body roll and it doesn't take much time to realise this isn't an SUV you can chuck into a corner without your heart rate seeing a big spike. Even hard braking sees the car dive forward and you can feel your position change in the seat.

Simply put, if you own a compact SUV/subcompact SUV, do not expect that hatchback/sedan-like drive experience here. So as it stands, the Thar is still an off-roader that can handle tarmac decently. It is, by no means, an alternative to regular urban SUVs.
Off-Roading

The Mahindra Thar gets a shift-on-the-fly 4x4 system as standard with four modes: 2H (two-wheel drive), 4H (four-wheel drive), N (neutral) and 4L (crawl ratio). It also gets an auto-locking rear mechanical differential as standard, while the LX grade also gets ESP and brake-based electronic locking differentials (acts on front and rear axles). The brake locking differential activates when a wheel speed difference of over 60rpm is detected. Theoretically, the system negates the need for the mechanical rear differential lock, which is active after a 100rpm difference is detected.
There are also differences in the approach, departure and breakover angles and a bump up in ground clearance too, illustrated below.
| | | | |
| --- | --- | --- | --- |
| Parameter | Old Thar CRDe | AX / AX (O) Variant | LX Variant |
| Ground Clearance | 200mm | 219mm | 226mm |
| Approach Angle | 44° | 41.2° | 41.8° |
| Rampover Angle | 15° | 26.2° | 27° |
| Departure Angle | 27° | 36° | 36.8° |
Safety

Safety is taken care of by dual front airbags, ABS with EBD, brake assist, ESP, hill hold, hill descent control, rear parking sensors and ISOFIX. It also features a tyre pressure monitoring system and tyre position indicator which should prove handy, especially off road. Oddly, there's no rear camera.
Variants

The Thar will be offered in three variants: AX, AX (O) and LX. The AX/AX (O) are available with both engine options but only with manual transmissions, while the LX gets all the options, save for the petrol manual.
Verdict
The Mahindra Thar always felt more crude and basic than it needed to be, especially considering the price. It was still a great off-roader but those who bought one would struggle to justify the cost outside of its off-road hardware.

But now, the Thar is a truly modern off-road SUV that can handle the rough stuff without making you rough things out as a penalty. In no way is this something you should consider buying INSTEAD of a similarly priced compact SUV. It doesn't have that comfort, on road manners or features. However, the Thar is now a machine you'd be happy to live with and the idiosyncrasies are both lower in number and less upsetting individually. It will most likely be the secondary car in the garage, but is, with some small caveats, good enough to be the only one.