2020 BMW X1: First Drive Review
Published On Mar 05, 2020 By Dhruv for BMW X1
BMW's X1 has always been a driver's car but the 2020 update will impress your family too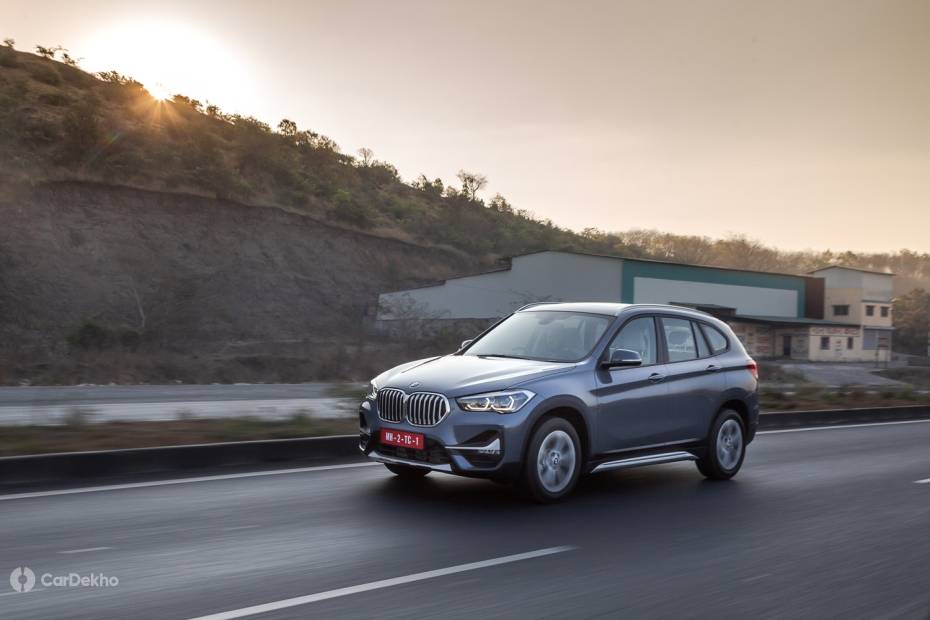 BMW's X1 has always been a rewarding experience for anyone who spends time in its driver's seat. The excellent punch on offer, the quick steering, and the sorted dynamics of the chassis meant the driver was always engaged. However, pleasing as it was for the driver, it fell short on offering comfort for the whole family.
That is not the case anymore. While it may not look drastically different from the version it replaces, BMW has made some small but significant improvements.
Looks

The second-gen X1 was always a handsome car to look at and keeping that in mind, BMW has decided not to tinker too much with the formula. If you look at the X1 head-on, you'll be able to notice most of the changes. The LED DRLs look sharper than before, and now bear more of a resemblance to its elder siblings, the X3 and X5. BMW's kidney grille is still outlined in chrome but it's now joined in the middle. Take a closer look and you'll also notice that the vertical slats in the grille now feature a brushed aluminium finish. The fog lamps, which were round halogen units before, are now sleek LED lamps. The bumper has also been redesigned to keep things fresh.

Take a walk around the 2020 X1 and you'll also notice that the 17-inch alloy wheels have a new design (18-inch alloys on the top-spec M Sport version) and that the tail lamps now feature a new L-shaped light signature. BMW was also kind enough to point out that the chrome exhaust tips have grown in size.
Interior

Inside the cabin, you'll find it hard to spot the changes. Take a good hard look and you'll realise that the dashboard is leather-wrapped. And only if you were driving around at night, and tinkering with the iDrive system, would you notice that the ambient colour lighting options have gone up from two to six. The 8.8-inch touchscreen, which was previously on offer in the M Sport variant only, has now made its way to the xLine as well. That's it.

You will, however, feel that the X1's cabin is a premium place to be in. Soft plastics are present almost everywhere in the top half of the cabin and it is only in places like the storage compartment on all four doors where you'll find hard plastics. The general theme inside is that if you don't go looking for cost-cutting measures, you'll hardly find any. The one place that is the exception to this rule is the steering wheel. The buttons on it feel a tad-bit tacky to use, and lack that tactile feel that we are used to from BMW cars.
Features

The X1 was always under equipped for its price, but it made up with the smile it put on your face when you decided to hoon around a bit. However, with this facelift, BMW had the chance to make things right. We weren't really asking for anything fancy but misses like a head-up display, a passive keyless entry system, a powered tailgate, a sun-shade, a 360-degree camera, front parking sensors, and a digital instrument cluster will leave you a bit unsatisfied. Especially since most of these features are available in cars half the price of an X1.

Not to say that the X1 doesn't pamper you. You get a panoramic sunroof, power-adjustable front seats with a memory function for the driver's seat, cruise control (can you believe that it was not offered previously?), dual-zone climate control, AC vents for the rear passengers, and a tyre pressure monitoring system (you'll have to hunt in the iDrive controller to activate it).

So, you do get your dose of features but the fact that everything that's been left out in the X1, is present in cars priced below it does make you feel shortchanged.
Powertrain

The X1's engines are now BS6 compliant and we had the diesel with us. Prod that throttle and you'll find that the X1 is still very fast. However, BMW has made the power delivery a little bit more linear, not that we had any problem with it before. The BS6 conversion has also resulted in the engine feeling more refined. If you have music playing inside the cabin, you will have to strain your ears to listen to the engine.

Performance Figures

0-100kmph acceleration test

7.99 seconds

Quarter mile

15.79 seconds

20-80kmph roll-on acceleration test

4.75 seconds

100-0kmph braking test

2.75 seconds/37.46metres

80-0kmph

2.21seconds/25.05metres
The 8-speed auto gearbox complements the refinement of the engine quite well. Under normal use, you'll find it next to impossible to discern between shifts, which are not only smooth, but also quick. It's quite intuitive and at no point in our test did we feel that it was hunting for a gear. Play around with the drive modes (Eco, Comfort and Sport) and it is only in Sport that you can feel the gearbox making a shift, but you'll still find them comfortable.

The drive modes also tweak your throttle response and steering weight. We recommend Eco mode for city use and Comfort mode for your highway journeys. Sport mode should be best left alone, that is, until you are in the mood for some sporty driving action. It weighs up the steering, which feels quite reassuring at triple-digit speeds, but making a U-turn while having the X1 in Sport mode does make the steering feel a bit heavy. There is no individual mode like before so you can't choose individual characteristics for the engine, steering, and gearbox. Why BMW, Why?

Fuel efficiency test

City

13.43kmpl

Highway

21.71kmpl

Also, there is no four-wheel-drive system anymore. While we know you would never use your X1 to go off-roading, get ready to deal with loads of torque steer when 400Nm of torque goes straight to your front wheels. Getting off the line or powering out of a corner, the torque steer does take away from your experience of driving the X1, and requires you to be a little more gentle with your throttle input.
Ride and Handling

If you have driven or been driven around in an X1 before, the first thing you will experience is an improvement in the ride quality. Before, you had to be really careful going over broken surfaces in the X1, but that is not the case anymore. Sure, you'll hear that thud when going over a big pothole but you'll hardly feel it inside the cabin. You'll glide over small bumps now because the X1 not only damps them really well but the suspension also hardly makes any noise while doing so.

There is no discernible difference in the X1's handling when going around a corner. It will feel like the same old car that used to be quite composed when you showed it a corner and lane changes on the highway at triple-digit speeds were handled nonchalantly.
Safety

There are six airbags ready to deploy during a crash with three point-seatbelts all around to hold you in place. To prevent that crash, BMW offers the X1 with a bunch of acronyms such as ABS, ASC, DTC, CBC, EDLC, and DBC. You also get a Dry Braking Function, Fading Compensation, Start-Off Assistant, Tyre Defect Indicator, and Performance Control.
Verdict

BMW's X1 might not have changed enough on the outside for you to distinguish it from the outgoing model in one glance, but the changes lie where they matter. Under its skin. The refinement of the engine and ride quality mean the X1 will not only please you, but also others around you who wouldn't mind spending time in that cabin.

Yes, BMW had the chance to give you more bragging rights with this facelift by making the feature list meatier. But instead, they chose to focus on making the X1 a better package for the family as well, without corroding its core fun-to-drive nature. Overall, the X1 is the enthusiast's pick in the segment, but now your family will also be enthusiastic to be driven around in it.