Nissan Micra 2012-2017 Comfort User Reviews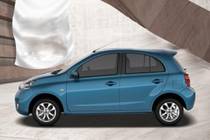 This car model has expired
Comfort User Reviews of Nissan Micra 2012-2017
All (54)
Mileage (36)
Performance (9)
Looks (37)
Comfort (33)
Engine (17)
Interior (17)
Power (8)
More...
Look and Style It's a cute little car I bought for my wife. I love the looks. It's neither big nor too small. Nissan needs to put more rubber on the door and hatch as dust and water easily get into these large cavities. The extra rubber will also help in reducing cabin noise. Comfort Roomy enough for the driver and front passenger. Less leg room...Read More

Nissan Micra is a premium luxury hatchback with features better than a 10 lac priced car. It's low on maintenance and is very high on the fuel economy (mileage is as good as 26kmp on the highways in the Micra diesel). Awesome comfort features, some of them are the smart button entry on three doors including back door (without actually using key/re...Read More

Look and style Stylish looks with plenty of chrome at the front as well as the rear. ABS and Disc brake enhance the safety aspect. LED Lamps and smart focusing lamp make it more adorable. Comfort: Good for a family member of 5. Nissan Micra has got a nice suspension and is good for Indian roads. Pickup: Micra is designed to give better mileage. You...Read More

Nissan Micra, which I bought and used last 6 years and I am sharing my experience that Micra was incredible with Body weight and build quality, I ride the same 1,10,000 km and still there is no noise at all. I am using Diesel fuel option variant and still I am getting 23 km per litre mileage. that also very useful for a city and long drive. Now am ...Read More

I have the 2011 model Micra diesel variant top end XV premium model. Superb car in the hatchback segment. Very easy and smooth to handle even on high speeds. I can drive my Micra even for 1000 km. Very comfortable to drive. Once I drove 700 km in a day. The top speed was 154 kmph but it can reach 175 kmph. The car sticks to the road even on high sp...Read More

Look and Style - Just ok. Interiors are quite poor. Comfort - Fine, not quite good. Pickup - Pick up is good, but how long your vehicle will serve you, no guarantee from Nissan. Mileage - The car gives a mileage of approx 15 kmpl. Best Features - Nothing is good about this car. Needs to improve - Quality of the whole vehicle is poor and needs ...Read More

Look and Style: The facelift has made Micra look neutral if not totally masculine. Looks great. With nice looking chrome grill and rear visor, it looks great. Good looking chrome handle from inside. Comfort: With driver seat height adjustable and great interiors with good head rest at the rear, Micra gives a sedan comfort. Comfortable leg room and ...Read More

Well, the first and only hatchback from Nissan in Indian market is Micra, which got fame for its driving comfort and exiting features like push button start. Now this wonderful car came with new looks in its facelifted version. The new version has got new attractive looks, sufficient power, comfortable and well-designed interiors. I have thought a ...Read More

Look and Style good Comfort good Pickup best Mileage average Best Features. Needs to improve. Overall Experience sub se bekar compney h koi bhi custmur support ni h na hi after sales service to h hi nahi kisi bhi dealer point pr koi bhi parts avalable ni h meri car nissan micra xv primimum brick red colour pichle 2 month se bhopal (m.p) ranjeet me ...Read More

Look and Style: best in its class .... it looks fresh   Comfort.. : everything is very nice ... but lack the support .. except that ...everything is nice   Pickup : BEST and challenge to competitors like polo , swift & fabia ... best engine . 1.5L ..who wants peppy And damm speed go micra for sure ... I will makes u happy. Mileage : my avg milage i...Read More

Look and Style it's amazing according to me!!! Comfort superb comfort , arm rest is missing. :( Pickup excellent pickup:) Mileage giving me 20 in normal traffic without ac and 15.9 with ac even in high traffic:) Best Features key less entry,push button, electrically folding and adjusted orvm!!! rear wiper! :)) Needs to improve gear shift is a bit n...Read More

I got a New Micra XV Premium on 16th Oct 2012. I am really impressed with overall performance. Look and Style: Eye catching. Interior is classy good. Leather Steering give you good feeling. Comfort : Its a comfort car.  I drove in single stretch about 330 KM and on the way I didn't felt tired due to comfortable seats and good suspension. Even on bu...Read More

I own a Nissan Micra, bought it on 31st march, 2011 orange colour as shown in TV add. In my opinion extremely bad quality of parts used, Lifting Jack got broken during first lift in 2 months of purchased, complained to dealer but said accessories not covered under warranty, Front drivers door push button stopped working in 2 months complained about...Read More

Look and Style Good, which is why we bought this car in the first month of launch. Comfort OK Pickup Bad Mileage OK Best Features Design and Style Need to improve The pickup, the working, feels very crude...not like a world class car from a world class Japanese company.  The service and dealer customer service needs to improve a lot.  Because that ...Read More

Look and Style:- Awesum design, But ligt body.   Comfort:- Excellent comfort while long drive. Excellent seat, Back seat Good for 3 persons, Great boot space.   Pickup: pick up- Little disappointed fpickup, It is a cty car. But it is very stable car at high speed. I use to go jalandhar, usually I drive on 110 kmph. this car is very stable. On this ...Read More

Look and Style-Look is definitely unique and looks striking ! Comfort-There is scope for improvement in seats, but otherwise comfort when in the vehicle is good! Pickup With 4-5 people in the car, and with AC on, at first and second gears the vehicle has less power. Especially, the lag in the first 2 gears is quite visible! Mileage-Awesome. I get 2...Read More

Look and Style.Comfort surely better than swift. Mileage i'm getting around 21 in town n 24 in long drive   Best Features airbag even for basic model,button start,door censor,good speakers,great mileage,good space,good pick up. Overall Experience 100 times worth for this rate   Read More

I had selected this car after comparing with almost all the hatch back Indian cars. Good interiors. Good Boot and leg space. I am traveling 150Km/day.Average in the city I am getting 20+ mileage(diesel) and long 24+. I had crossed 28000Km within 6 Months and there is no service problem. One stretch I had reached 1350Km within 21hrs (Single Driver)....Read More

Look and Style-ok   Comfort -not good   Pickup -good   Mileage-good   Best Features-Needs to improve a lot of improvement in sump & engine   Overall Experience-it not good on village road it was designed for only high way road & lot problem with sump when we cross the speed breaker sump will and it will break down and engine not good. Lot of proble...Read More

Look and Style-Ok Comfort: Good Pickup: Good Mileage: getting 17KMPL in City & 19 on Highway. Best Features: Smooth drive Needs to improve: Service network + repair diagnosis capability in service dealers Overall Experience: Good. Expecting that NISSAN will work on closures of my complaint of underbody noise in my car which is open since one year. Read More

Look and Style-I like the looks, also likes auto closure option for the side mirrors that folds the mirrors while the car is locked, the car has good ground clearance. Nissan should have considered wider tires for the diesel model since it comes with a heavier engine and tragically no ABS. Comfort-Intelligent key is really cool. Leg space is OK, dr...Read More

Look and Style average good looking car. front view of the car is good..but the back side is not that much impressive comparing with swift or polo or i20.. Comfort: best comfort in this class of cars. Pickup: superb clutch action. I am really astonished by the 1st gear clutch movement. Mileage: not yet gone for a long drive..in city drive around 17...Read More

Really Good Design & Performance It is Euro Standard Car, safety In this car only have the basic model itself air bag system in the safety from in this interior & Keyless system also amazing & Wonderful Nissan Micra XV diesel is a nice car comparing to punto, polo, fabia, beat nd i20. Hyundai i20 price is much higher, Micra has electronic steering ...Read More

Look and Style- It looks good from outside as well as inside and seems to be small from its outer appearance, but decently spacious inside. Comfort - It is a very comfortable car to drive and travel, especially for long drives. Pickup - Good Mileage - I am getting a mileage of 20+ in Highways 16 in town. Best Features - 1. Power steering is very sm...Read More

Look and Style-fantastic look in front but rear look to be improved Comfort-very comfortable and spacious. Pickup-very good pick up Mileage I bought my car on feb11 mostly traveling in city traffic the mileage is 16KMPL. On highways, it goes upto 21KMPL. Best Features keyless  start , good cooling system , spacious, good mileage Needs to improve mu...Read More

Look and Style- Nothing more to say. Comfort- Right for a long drive. even from kannur to new delhi.2760KMS, within 3 days. Pickup- Good mileage nothing to say more.It is 22 in NH4 and NH8. Best Features- No compromise with the quality and specifications.Needs to improve- Front storage needs to be added, simply wasting the dashboard. Overall Experi...Read More

Look and Style-I like its Retro look. May not be appealing to many. Comfort-Can seat 5 persons comfortably and riding pleasure is superb. Pickup- marvellous particularly when it comes to Highway, You can take over easily with one stroke in the paddle. Mileage-Best in its class. I drove last week from Chennai to Bangalore with 23km as mileage.  Best...Read More

Look and Style-Was happy, but not attracted the first time I saw it Comfort Amazing.. have been enjoying every drive of mine. Pickup Is good. Mileage-Excellent... Highway 18.10/ 18.80 is wht i usually get , in city u can expect around 12. as Mumbai Trafic is worst.. Needs to improve-Interior  plastics quality and need to add an USB port for the aud...Read More

Look and Style- Not seen only checked it on the internet. Comfort Not seen only checked it on the internet, Pickup Not seen only checked it on the internet. MileageNot seen only checked it on the interne ..Overall Experience-i am sending mail for Micra diesel but not received any call from a nearest dealer for car.  I think they are busy all toll p...Read More

Are you Confused?
Ask anything & get answer in 48 hours