What is City Safety by Volvo Cars?
Published On Dec 10, 2014 05:30 PM By Abhijeet
Volvo Cars has been mouthing the praises of its new unique City Safety feature equipped in its vehicles. What exactly does it do? Volvo is considered a byword for vehicular safety with bags of awards for its innovations in car safety.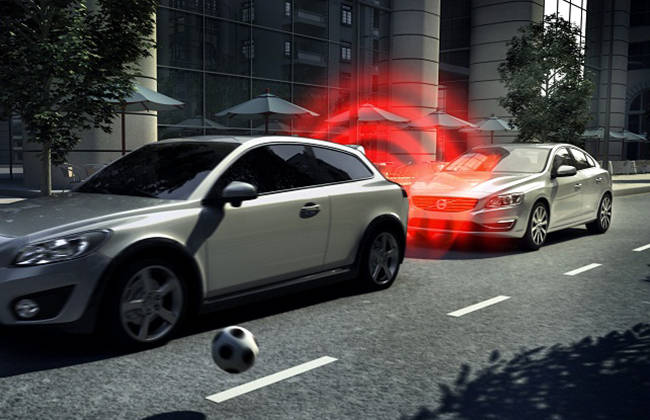 How does it work?
The City Safety feature by Volvo is an autonomous braking system that assists a driver to avoid a low speed crash or reduce the severity of a crash. The system uses a lidar, which is a Light Detection and Ranging sensor that is mounted on the top of the windscreen. This lidar monitors an area of up to 6 metres ahead of the vehicle's front bumper for possible threats.

The City Safety feature reacts to either stationary or moving vehicles in front travelling in the same direction. The sophisticated system makes 50 calculations per second to determine the required braking force to avoid a collision. These calculations are done on the basis of the distance between the colliding objects and speed differences between the two.
If the driver is distracted and fails to brake in the case of an imminent crash, the City Safety assists by avoiding or reducing the impact speed of a collision by preparing the car's brakes or braking automatically when the driver does not and disabling the accelerator pedal.
What are the benefits?
In today's jostling and haphazard traffic, rear end collisions have become very common. Since the City Safety feature works up to speeds of 30kmph, which are the kind of speeds in everyday traffic, soft tissue injuries like 'whiplash' can be avoided a great deal. The system starts by default when the driver starts a journey, but can be switched off if the driver desires. City Safety will come back online on the start of the next journey.

What are the shortfalls?
City Safety functioned between speeds from 4kmph to 40kmph. It came up to 50kmph in the Volvo V40 Cross Country, and hence cannot assist braking at highway speeds. The lidar sensor is able to detect stationary or moving objects in the same direction of your travel, but its effectiveness gets compromised if it gets covered by mud, dirt, or adverse climate conditions such as thick fog or heavy rains.

In an attempt to avoid ineffectiveness, the sensor is located in a region that gets wiped off by the windscreen wiper. And for the new XC90 which will be soon be launched, City Safety will remain active from 4kmph up to all speeds. This will certainly help avoid or reduce impact of crashes at highway speeds as well. "Statistics show that about 90 per cent of all accidents are caused by distracted drivers. Since City Safety remains alert even if the driver is distracted or tired, it helps to bring collision figures down considerably. We have, for instance, seen a documented reduction in frontal collisions in low-speed car-following situations by over 20 per cent," says Lotta Jakobsson, Senior Technical Leader Safety, Volvo Car Corporation. She concludes, "Our aim is of course to continuously extend the City Safety auto brake technologies to cover more objects and traffic situations."
Was this article helpful ?
0 out of 0 found this helpful