Welcome to Lalit Modis Car Collection
Published On Oct 15, 2015 07:41 PM By Manish
Cricket is a religion in India, maybe that is why all renditions of the sport are followed so fanatically, irrespective of its transformation from " a gentleman's game" to that of its "short-attention span generation" incarnations. So it won't be a leap to say that Mr. Lalit Modi, the man with family money and accreditation of creating IPL, lives a lavish life. So from one religion of cricket to another, that of cars, let's see how Mr. Modi bridges the gap between the two.
8) Range Rover Autobiography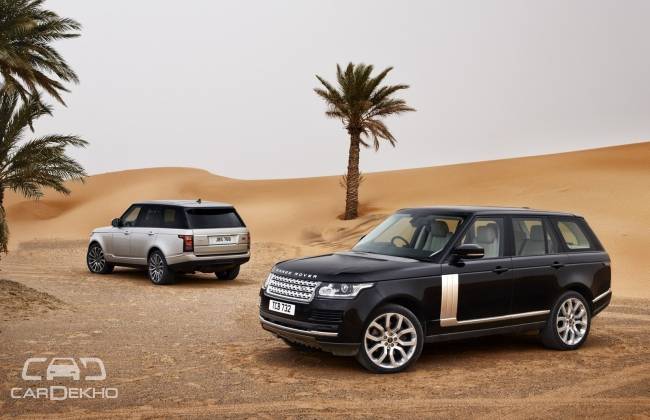 Your ordinary six-pack joe may not be able to comprehend buying the flagship Range Rover SUV, let alone fathom finding faults in it. But Mr. Modi is no ordinary Joe and when he isn't satisfied with a particular aspect of the car, he makes sure that his concerns are heard by Ratan Tata himself. To join the club of Range Rover Autobiography owners, membership fees comes at Rs. 2.75 crore.
7) Mercedes Benz G63 AMG

Mr. Lalit Modi's arsenal of cars features Mercedes Benz G63 AMG SUV. The car is the perfect blend of power, performance and freedom of treading on any terrain (or lack there of) choosing. The SUV iis Merc's performance version of its Gelandewagen (G-Wagen). The car features a 5.5 liter, bi-turbo engine, which is capable of belting out 544bhp and 768Nm of torque. This monster of a car, can be yours for a mere Rs. 2.2 crores.
6) BMW 7-Series 760 Li

A man of Mr. Lalit Modi's stature, prefers to be chauffeured around and this reflects in his fleet of cars. One of which happens to be a BMW 7-Series 760 Li luxury saloon. This car is as close as close to the ultimate luxury saloon, as you can get without transcending into Rolls Royce territory. Under the hood the saloon is powered by 6 liter V12 petrol engine, which is capable of producing 540 Bhp and 760 Nm of torque. This ride could be yours for a price tag of Rs. 1.95 crore rupees.
5) W221 Mercedes Benz

A tycoon's fleet of cars can never be complete without having a couple of Merc's thrown in there. Mr. Modi owns a W221 Mercedes Benz S-Class, which features a 3 liter V6 turbo diesel engine. This helps the car maintain decent fuel-efficiency stats, while bestowing the greatest and latest creature comforts that money could buy. The car is no slouch either and is capable of going from naught to 100kmph in under 6.8 seconds. If you want to own this epitome of luxury and performance, it can be yours for a price tag of Rs. 1.2 crores.
4) W222 Mercedes Benz S-Class Luxury Saloon

Lalit Modi is definitely a Merc S-class fan, his car collection includes both w221 and w222 Mercedes S-class. The Mercedes Benz W222 is company's flagship luxury saloon and was often accompanied by a fleet of armed guards for protection of Mr. Modi and his family. The car is capable of producing 900Nm of torque and 577bhp.
3) Aston Martin Rapide

If you ask any resourceful man, there won't be a snowball's chance in hell that he would not opt for anything that is designed based on a flamboyant Italian's rendition of British sophistication. But in this case it was a Woman, Lalilt Modi's wife Minal in fact, who received an Aston Martin Rapide as a gift from her husband. The car costs around Rs. 4.4 crores and for that you get a 6-liter naturally aspirated V12, which produces 350bhp and 600Nm of torque. The engine is mated to a 6 speed automatic gearbox.
2) Ferrari California

If diamonds are a woman's best friend, then Ferrari's have got to be the ultimate companion a man could ask for. Lalit Modi's wife Minal returned her husband's favour by gifting him a Ferrari California. The California is a convertible GT car, which also happens to be the cheapest Ferrari on sale today. This probably makes the sports car the most value-for-money Ferrari one can buy. The Ferrari California is another common link between Mr. Modi and Ratan Tata, other than the Range Rover Autobiography of course, and you can join the duo on their sprints in this Italian exotic at a cost of Rs. 3.3 crores.
1) Ferrari F12 Berlinetta

From the cheapest to the most expensive Ferrari! On completing 5 decades of his blessed life, Mr. Modi got a treat (like he needed it), in form of the most powerful car in Ferrari's stable, the F12 Berlinetta. The car was a gift from Lalit Modi's son Ruchir, who also happens to be a car enthusiast. The car features a vanity number-plate "CRI3KET", which we feel is a tad on the point, but a laugh nonetheless. These number-plates cost a fair share and are Britain's equivalent of "Indian VIP number-plate". The Ferrari F12 Berlinetta (without vanity number plate) costs around Rs. 4.7 crores.
Was this article helpful ?
0 out of 0 found this helpful