The rides that Indian cricketers own, love and flaunt!
Modified On Oct 15, 2015 01:12 PM By CarDekho
13857 Views

Write a comment
'Men in Blue' have always been known for their flamboyant ways, both, on the field and off it. So what takes care of their pride when they aren't busy flaunting their game on the field? What is their game off the field? Well, it is their rides of course. Seriously, no points for guessing for this one. After their game, it is their cars that speak for the superstars of the Indian cricketing world. And as much as we, the people, love to rate their 'X-factor', the 'Men in Blue' are equally conscious about the wheels that rest in their respective garages. While some of them believe in going all out and owning the hottest pair of wheels, some of them are satisfied with modest cars, which, in turn, speaks for their humility despite their awe-inspiring achievements. But let us not begrudge the ones with the rather flashy rides, everyone has their own way of expressing and dwelling in on their success. Everyone is entitled to their own opinion, right? So behold, for here is an inventory of the rides that our cricketers own, love and flaunt as much as their cricketing skills.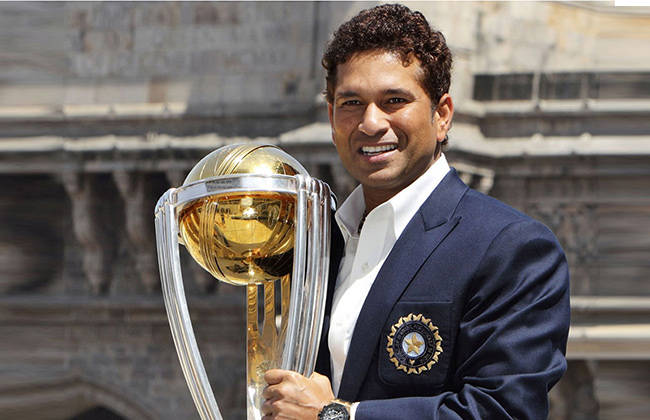 A. Sachin Tendulkar: Better known as the 'God of Cricket', Sachin Tendulkar is an avid car enthusiast. His car collection started with the modest Maruti 800, but as of now, Tendulkar owns a few of the flashiest rides in business. His romance with cars started in his childhood, as he watched all kinds of cars drive by his then residence, a building in Bandra East (Mumbai). However, such was his love for cars that it took a tangible form via his first luxury car, a second-hand BMW 320i, which he purchased at the mere age of 20 in 1993. From the second-hand BMW320i to the latest BMW 7-Series sedan, he owns a total of 40 cars, which include highly coveted cars like the 252.1bhp Porsche Boxster, the 276bhp Mercedes-Benz C36, the 480bhp Nissan GT-R, which was air-freighted from Japan for the Master Blaster. Other names that find a mention in his collection of cars are the BMW M5, BMW X5, Volvo S80 and a black Opel Astra that he won during the Sharjah Cup. At one point of time, his magnanimous collection also included the Ferrari 360 Modena, which was gifted to him by Ferrari to commemorate his feat of equaling Don Bradman's 29 centuries in Test cricket. However, Sachin sold off his Ferrari to a Surat-based businessman in 2011.

B. Sourav Ganguly: Regarded as one of India's most successful captains ever, Dada is no less a car fanatic himself. His affection for premium roadsters reflects in his fleet of 36 cars that include 20 Mercedes-Benz and 4 BMWs, the price of which ranges between Rs 40 lakh to Rs 1.20 crore. The Bengal Tiger is truly a maharaja, in terms of both, cricketing skills and car collection. He is also known to have gifted a red Mercedes-Benz convertible worth Rs 46, 55, 000 to his wife, a car which is celebrated to be his absolute favourite. However he upgraded to the BMW 730Ld in 2009, much before the car was launched in the Indian automobile market and was shipped directly from the German auto giant's factory in Munich especially for Team India's ex-captain. Besides that, he has often received magnificent cars owing to either his match winning innings or his superlative skills as the team's captain. And despite a truly royal choice of cars resting in his garage, Dada prefers driving around his hometown Kolkata in his Opel Astra.

C. Rahul Dravid: Despite the greatness that Rahul Dravid is, he is one of the most simple, humble and unassuming cricketers to have ever played for the Indian cricket team. Given the stardom and celebrity spectacle that is an integral part of any renowned cricketer's life, he has yet managed to keep his feet on the ground without even the slightest hint of stardom. And this humility runs not just in his nature, but also his possessions. Frankly, this legendary player has more nicknames than cars, i.e. three much known monikers (The Wall, Mr Dependable, and Jammy) in comparison to just two cars. While his peers from the cricketing world prefer zipping around town in the likes of premium cars like BMWs and Mercedes-Benz, Rahul's cherishes his white Hyundai Tucson. He received that car as a gift from the International Cricket Council after being declared the 'Test Player of the year' for the year 2004. Though he also owns a BMW, Rahul is said to be deeply attached to his Hyundai Tucson.
Also Read: Top 10 Land Speed Records of the World

D. MS Dhoni: The Indian skipper's love for cars is no secret, which translates into several cars that have found home in Dhoni's house in Ranchi. The star of his garage full of cars is the Hummer H2 that he purchased in 2009. Priced at Rs 1 crore, Dhoni's shining silver grey Hummer measures 17 feet in length and 7 feet in width and runs on a mighty 6,200cc engine. What really adds to this dominating car's charm is the fact that it is considered to be one of the most powerful SUV in the world and also has the highest ground clearance in the world. However, General Motors has now shut down the brand despite its magnanimous success. Other than that, Dhoni also owns a Toyota Corolla, a potent Mitsubishi Pajero, and a customised open-topped Mahindra Scorpio, which he received as a gift from the Mahindra Group.

E. Yuvraj Singh: Team India's macho lad from Chandigarh has fairly earned the right to be considered one of the best batsmen that India has ever seen. And even though his spectacular set of skills with the bat have never gone unnoticed ever since he found his place into the Indian cricket team. However, this Jat boy's flamboyance goes far beyond than just the field. Though his penchant for a cars is a much recent development, his 'oh-so-characteristic' macho enigma definitely transcends into his collection of cars. His first car was an emerald 2001 Honda City, which came as a gift from his father for securing a place in the Indian cricket team in the year 2000. From being the celebrated ex-captain of the U-19 Punjab cricket team to achieving the magnificent feat of hitting six sixes in just one over against England in the 8th match of the 2007 ICC World T20, Yuvi has gone from strength to strength in the world of cricket. The same applies for his car collection. His famous achievement during the 2007 ICC World T20 got him a Porsche 911 from BCCI. Furthermore, the German automobile manufacturer Audi gifted him an Audi Q5 for his breathtaking performance in the 2011 ICC Cricket World Cup. Other than the very premium gifts, Yuvraj also owns a Mercedes-Benz, a BMW M5, and a BMW M3.

F. Harbhajan Singh: Going by the cars he owns, it looks like this bowler from Punjab has a thing for premium SUVs. Harbhajan became the second person in the Indian cricket team, after MS Dhoni, to own the American crossover SUV Hummer. Though Bhajji is a very proud owner of a Hummer H3, getting the car wasn't really easy for him. It took him six months to get the car's possession due to a delay in formalities from US. But that wasn't the end of his problems; the spinner incurred a fine from the traffic police after being caught driving without a license plate. The D+ segment Hummer H3 is powered by a 3.7-litre diesel engine mated with a 4-speed automatic transmission. Harbhajan also has a Ford Endeavour in his garage.
Also Read: Bollywood Stars and their Super Rides
Was this article helpful ?
0 out of 0 found this helpful